Does gender matter when it comes to those who manage technology? Does the conventional perception of IT being a man's job still exist?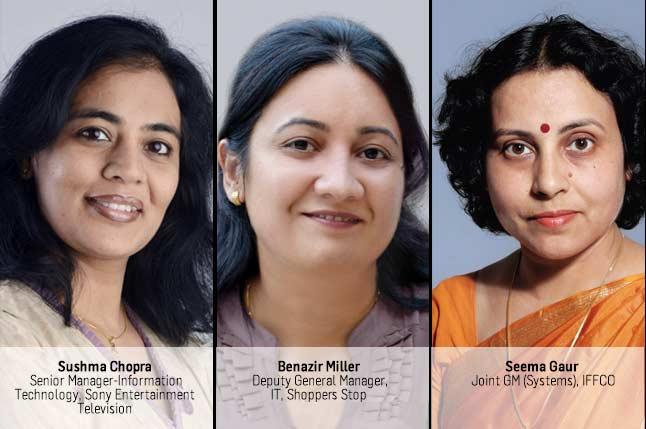 Several women  IT managers across industries believe that women in senior IT manager's positions seems less an issue today than it used to be years back, though some of them are yet to figure out if it's true for women in general, or if it is because of women's advancement and growing confidence as senior IT managers.
Most women IT managers have seen the transition through. A couple of decades of ago, it was critical of women IT managers to do a lot extra to prove their capabilities but today, it's more of a level playing field.
Sushma Chopra, Senior Manager-Information Technology, Sony Entertainment Television (SET), has won awards for her skills in enabling business with IT. She is one among the very few women IT managers in the country.
Like most, she doesn't feel she faced too many organisational barriers. There were barriers, but none gender-specific.
Do women find their careers compelling?
Chopra finds her career compelling. She says, "With changing business dynamics and increasing competition, IT is the captivating factor for all. This is one function that needs to have far-reaching vision to encompass the requirements at the shortest possible time. Most business strategies are fulfilled by the use of one or many components of IT."
While gender bias seems to be the culprit for the contrasting ratio of men to women IT managers, the growth in interests and increasing number of resumes from potential women IT managers is something that appears quite positive.
"I am the only woman to have reached this level in IT or any other technical area in the organization, though my management provides equal opportunity for both men and women to excel," Seema Gaur, Joint GM (Systems), IFFCO.
Organisations too, these, days have matured beyond the gender barriers of yesteryears. Says Seema Gaur, Joint General Manager (Systems), Indian Farmers Fertiliser Cooperative Limited (IFFCO), "As my organisation is a manufacturing chemical industry, there are minuscule (less than 0.5 per cent) women employees in the manufacturing plants/ technical area.
I am the only woman to have reached this level in IT or any other technical area in the organisation. My management provides both men and women equal opportunity to excel. It is sheer hard work and dedication of an employee that makes him / her excel. I feel, as a woman, I need to perform better than others to be treated equally and be recognised in the organisation." 
Challenges
The challenge of integrating the continuous changing processes and upcoming new technologies to benefit business makes a career in IT most enthralling for most women IT managers. 
Benazir Miller, Deputy General Manager--IT, Shoppers Stop, is from the retail industry and finds IT quite exciting, and at times, full of surprises, too.
As part of a retail organisation, Miller's key focus has always been on customer satisfaction and providing an exceptional shopping experience. "Customer service always remains a focus area and it is our constant endeavour to raise the benchmark for the industry," says Miller.
She adds, "At the same time, pressures at the backend are mounting. Being in the current role of handling customer facing solutions, the biggest test is to ensure satisfactory customer experience by providing faster and cost effective technology solutions."
"Strategic and long term planning helped me in addressing these challenges by creating strong back-end processes in terms of infrastructure and support programs. By deploying technologies, many of the processes are targeted for automation so as to minimise failures as well as manual effort", adds Miller.
Optimising cost and maximising revenue is also a big challenge as also the mantra for most successful organisations. With effective ROI calculations in hand, it becomes easier for management buy-in, which can then be seconded by the benefits achieved with such implementation.
Chopra says, "I find it most challenging to strike a balance between implementing innovations and keeping cost to the minimum. To ensure that the management buys in into the proposed IT solutions and also provides continuous support, I ensure that all such solutions are presented to the business with details on return on investments (ROI)."
Gaur faced a similar challenge: "The biggest challenge is to be able to convince the heads of the main line of business of the benefits of adopting the latest technologies in IT," she says.
Innovations – Drivers of Motivation
Chopra understood that mobility was the need of the hour, and every organisation pushed for efficiency from their workforce. 
Chopra says, "In an environment like SET, it was vital for the sales force to provide the right information at the right time at the right place, a no-brainer for any organisation. Though it's not an exception, the information provided to the sales force by us was very different and appreciated well by users."
The application created an iOS, Android and Blackberry platform which provides timely information on the revenue generated by a channel, drill down to a program, region, sales executive and the advertiser. The mobile application implemented has great ability to get information to the lowest transaction level. The application also has the ability to view the available inventory per program per day. It provides the sales team information on the deals nearing expiry and the available balance, which is much needed to optimise sales. All such access to data is completely restricted on the basis of roles, region, channel and teams, and helps the sales team in decision making while on the move. It has brought in 20-30 per cent efficiency in booking inventory and optimisation of under-utilised deals.
For Miller, a Point of Sale solution for group companies with recent implementation was done for Shoppers Stop with Oracle 360 Commerce. The need was to have a point of sale solution with an agile promotions engine to handle complex business rules and better features of check out, something the existing solution lacked.
Miller says, "We had to evaluate various best-in-class solutions meeting business needs. I steered the project with a small in-house team of four key members alongside managing  support teams from multiple partners to ensure smooth liaison among all involved. Apart from business benefits, the key focus of this project was automation, and optimum utilisation of resources which was successfully achieved."
Apart from the point of sale solution, Miller conceptualised and developed (in-house) a solution to manage automated and system-led employee offers at POS across the group level. This helped in doing away with the manual process of paper-based vouchers, resulting in costs saving for the HR team, by automating related processes. Notably, she takes pride in having initiated and deployed a solution to capture customer feedback across major formats, which helped in getting and providing insights into the customer's voice. This solution has helped business to a great extent in improving service levels and product ranges.
Seema Gaur has innovated a Plant Maintenance Management System--which is very crucial for a manufacturing process plant like IFFCO. It covers all aspects of equipment maintenance--equip data bank, maintenance work requests, daily log books, preventive maintenance schedules, equipment history, annual turn around planning & tracking and finally, breakdown/maintenance/cost analysis. Apart from that, she has brought about innovations in the product Dispatch System, technical and production reporting system, and spare part items codification system.