Top tech innovations that made the 29th edition of iconic games more hopeful and hi-tech than ever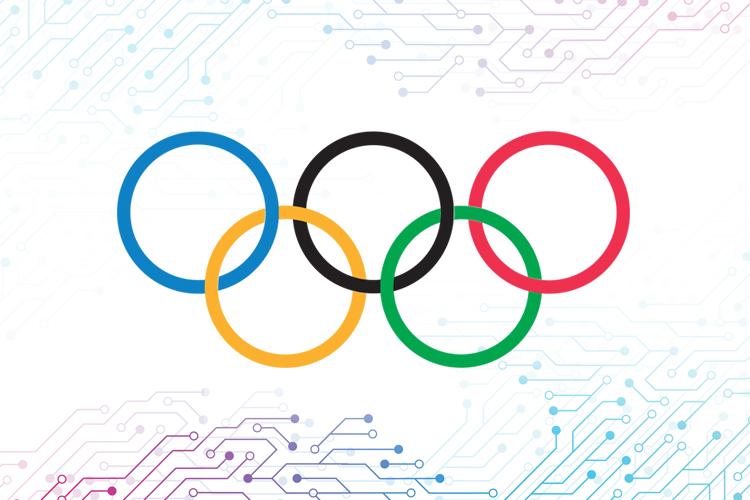 A few months back, the rising cases of COVID-19 made it almost impossible to think that over 11,000 athletes of 205 nations would be able to compete without much hassle in 330+ events of the world's biggest quadrennial sporting extravaganza, the Olympics. But thanks to the indomitable human spirit and the role of advanced technologies, we witnessed one of the most successful global sporting events in recent times at the comfort of our home.
In continuance with the rich legacy of tech innovations at the Olympics, the 29th edition of the mega event also saw a range of cutting-edge technologies powered by Artificial Intelligence (AI), 5G, virtual and augmented reality, robotics, and automation.
Before the event started, a lot was at stake for the International Olympic Committee (IOC), the Japanese organizing committee, and the event sponsors. The games were already postponed by a year due to the pandemic. Not many people within Japan bought IOC's decision to organize Olympics in these unprecedented times. There was relentless anxiety among the masses, fearing an uncontrollable surge in COVID cases and a possible impact on Japan's global stature if anything goes wrong.
Amidst the pandemic considerations, one of the significant challenges for authorities was to deploy contactless processes while ensuring greater efficiency across 42 Olympic venues in Tokyo. Not to forget the enormous pressure on everyone involved to ensure the safety of the participating athletes, who have prepared rigorously to compete at the major sporting competition.
In addition, providing private training facilities to every athlete at the Olympic Village while monitoring their health round the clock had been a herculean task. With no spectators allowed at the venue, it also became critical for organizers to improve the remote viewing experience of people to cheer and celebrate the victories of their favorite athletes.
In 2013, when Tokyo won the bid to host the 2020 Olympics, nobody would have anticipated that it had to organize the event amidst the crisis of the worst order. Conducting the entire two-week event with COVID-19 safety protocols, where 3,00,000 lakh people, including athletes, journalists, volunteers, staff, and delegates, were involved, was not only challenging but also unprecedented.
However, with the support of some outstanding and inclusive technology interventions supported through AI, analytics, automation, and cloud, the entire sporting action became exceptionally enthralling for viewers and the participants.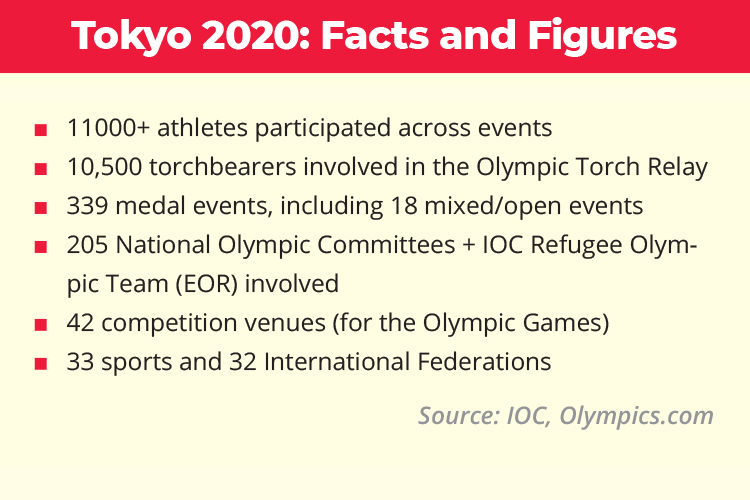 Artificial Intelligence at the forefront
Across industries and sectors, the interest in AI/ML and analytics has grown manifold after the onset of the COVID-19 pandemic. The Olympics were no exception either. AI/ML tools can forecast future outcomes and provide valuable insights in real-time by detecting and analyzing patterns in the data.
At Tokyo Olympics, the most critical priority for organizers was to ensure the safety and security of all athletes, staff, journalists, and other supporting delegates while adhering to the COVID protocols. The massive heat and high levels of humidity in Tokyo had further augmented the risks of heat-related illness, making it even more challenging for everyone to wear masks all the time.
With so many events and everything happening at a breakneck pace, keeping a tab on everyone's health and extending timely support was very taxing through any manual process. To tackle the intricacies of the situation, the Tokyo Olympics team took several initiatives where they leveraged AI/ML and big data to track real-time conditions of all staff and venues.
Real-time health analysis and alerts: This was the most critical area for the entire administration organizing the Olympics. As part of their efforts, IOC and Tokyo Olympics Committee collaborated with a leading tech company to deploy an AI-based system on the cloud that would trigger health alerts in case of any unusual or perilous signals.
At the mega sporting event, the entire staff was provided with an AI-based black earpiece that would send an individual's heart rate and body temperatures condition to the cloud system in real-time. By leveraging AI and big data and combining it with cloud computing, the system would analyze individuals' pulse rate, body temperature, and heart rate through a diverse set of intelligent data algorithms to determine the real-time risk levels to their health.
The system would then send recommendations and cautionary advice to people at higher risk or showing unfamiliar risk symptoms. Athletes were also seen wearing a wide array of wearable tech, intelligent clothing, and augmented reality glasses to achieve a maximum of their performance levels.
Facial recognition: The COVID-19 pandemic has proved to be a compelling driver in the adoption of facial recognition technology that has grown by leaps and bounds around the globe. Harnessing AI and neural networks' potential, the technology enables users to map visitors' facial and audio patterns with pre-collected data stored in the existing database to decide their entry into specific areas.
It was the first time the IOC used automated facial recognition technology to give accredited delegates, staff, and athletes entry into the places across the Olympics Village, main stadium, and International Broadcast Center. The technology replaced the traditional and cumbersome process of ID checks, which required extensive manual effort and high chances of lapses. The entire system was designed and implemented by Japanese IT company, NEC Global, in collaboration with Intel, to strengthen security and decrease the waiting time.
In the wake of the high frequency of movements across the Olympic site, this effort made it possible for everyone to travel easily within the designated premises while averting hoaxing and unauthorized access into VIP areas.
Earlier, Tokyo had also planned to integrate facial recognition with AI-enabled drones at Olympics for effective crowd management and timely risk assessment. However, with no stadium spectators allowed due to the pandemic restrictions, the Tokyo Olympics Committee could not implement many of those add-ons at a broader scale.
Improving the performance of athletes: By applying the capabilities of AI technologies such as deep learning, machine learning, and language processing, many athletes at the Olympics understood their and opposition strengths and weaknesses better. In many sports such as swimming, gymnastics, equestrian, and hockey, coaches used AI-driven tools to evaluate a player or team performance and how it can be improved.  
While Olympics 2020 may not be the first international sporting event where the potential of AI and ML-driven tools has been leveraged to get the best from a sportsperson, it was undoubtedly the event that raised the bar of using these advanced technologies. For instance, the coaching staff of the Indian Hockey Team, which won an Olympic medal in hockey after the gap of four decades, taps into AI to analyze the recent matches to track the movement of its players at every stage and how they play at different positions against different opponents.
Even before the Olympics, many coaches in the international circuit had been extensively using machine learning algorithms to provide real-time feedback to warn players if they are training too hard and prone to injuries.
An exciting concept called 3D Athlete Tracking (3DAT), developed by Intel and hosted on Alibaba's cloud platform, gained substantial interest in the Tokyo Olympics. By capturing additional images from its unique wide-angle cameras, the AI-based system enables coaching teams to leverage deep learning algorithms to get a three-dimensional view of a competitor to identify the potential of athletes to win a medal. The technology also enables broadcasters to present detailed analysis to the viewers on the performance of specific athletes.
The army of robots came into the limelight
The Olympics at Tokyo seemed to be a perfect ground to test and validate the future robots, equipped with AI, automation, digital eye, and automation capabilities.
Delegates at the Olympics witnessed a fascinating sight of an army of robots actively executing several human-oriented tasks. They were seen everywhere from surveillance, patrolling, greeting athletes and delegates, helping guests locate their seats, carrying luggage, and providing on-field support for the ground events such as javelin throw and discus throw. Practical usage of robots ensured that minimum staff members were required for many tasks, a far less health threat to athletes and delegates during these uncertain times.
Categorized as Human Support Robot (HSR), Delivery Support Robot (DSR), and Field Support Robot (FSR), these robots use omnidirectional wheels and several integrated cameras and sensors for free movement even in a jam-packed environment without colliding with anyone. They are multilingual and trained to communicate with delegates and athletes in their preferred language and often act as a catalyst to bridge any language gap between athletes of different nationalities.
According to Olympics.com, the official website of Olympics, these robots were designed and developed as part of the 'Tokyo 2020 Robot Project,' being managed by the Government of Japan, the Tokyo Metropolitan Government (TMG), and official marketing partners Toyota Motor Corporation (Toyota) and Panasonic Corporation (Panasonic) with the cooperation of robotics experts.
"Developed by Toyota Motor Corporation, The Human Support Robot (HSR) and the Delivery Support Robot (DSR) are designed to support people's activities in everyday life and will be able to assist those with impairment and in wheelchairs. The HSR is to guide people to their seats and deliver beverages to them. The DSR is designed exclusively for moving items and collecting garbage," according to a report titled Tokyo 2020 Robot Project: Toyota Motor Corporation - Supporting people by planting 'seeds for the future, published in the official website of Olympics.
The debut of driverless electric vehicles
While the success of driverless cars on roads is yet to get tested, they grabbed massive headlines at the Tokyo Olympics 2020. Leveraging the capabilities of 5G, Japanese automotive company, Toyota, deployed a range of Palette electric autonomous vehicles, box-shaped future-focused buses, to ferry athletes and officials around the Olympic site.
Fans and spectators around the globe were especially thrilled to see the mini version of the e-Palette that was employed as a ball boy for rugby matches at the Olympics. The little autonomous car moved across the field and was cheered by spectators on social media. In its 2019 press release, Toyota explained that these multi-passenger vehicles are equipped with preventive safety technologies and intelligent senses to avoid any collision.
Some notable features include Intelligent Clearance Sonar (ICS), designed to assist the braking in any unintended misapplication of the acceleration pedal; contrasting colors interior and exterior so that people suffering from color blindness have no hassles to board the vehicle at ease.
Besides Toyota, several global car manufacturers such as Tesla, Renault, Volvo, Mercedes, and Audi are continuously testing new and advanced technologies to design successful autonomous vehicles for the mass market.
Visitors and delegates at the Tokyo Olympic Village also witnessed a fleet of hundreds of zero-emission fuel cell cars in action, considered one of the most aspirational hydrogen experiments in modern history.
Enhanced 5G experience
Well, this is an area that would have gained great coverage across media should there be no restrictions on spectators' attendance at the Olympics. 5G has been seen as a gamechanger in every aspect, from accelerating the adoption of the Internet of Things (IoT), AI, augmented, and virtual reality to enabling autonomous vehicles, remote healthcare, and exceptional broadcasting experience.
The Tokyo Organizing Committee of the Olympic and Paralympic Games (Tokyo 2020) partnered with Intel Corporation, Nippon Telegraph and Telephone Corporation (NTT), and NTT DOCOMO to showcase innovative sports viewing experiences deploying the 5G technology at three competitions venues during the Tokyo 2020 Games.
"These brand-new sports viewing experiences will allow spectators to enjoy events in hitherto unimaginable ways. These will include broadcasts of ultra-high-resolution videos and simultaneous multipoint videos leveraging the high-speed and capacity offered by 5G technology, as well as an AR experience that takes advantage of 5G's low latency. These facilities will be at the respective venues for sailing, swimming, and golf," stated an earlier update from the Tokyo Olympics.
However, since this Olympics edition deprived stadium spectators, the end-users could not showcase the 5G-based innovative real-time and immersive experiences. Nevertheless, the sporting event delivered meaningful 5G experiences to athletes by providing them high-resolution videos, insightful data, and analysis, helping them focus on their skills while observing the performance gaps in their competitors.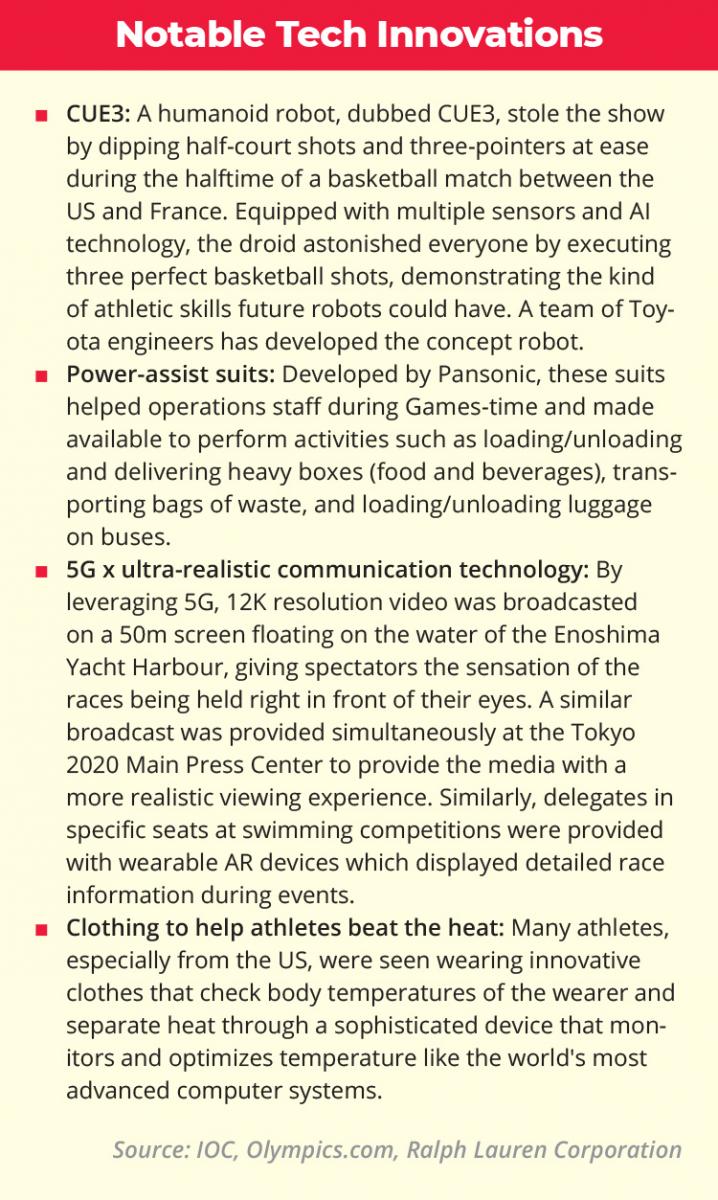 Next level of broadcasting through cloud
These unprecedented times have thrown unexpected challenges for broadcasters, who will have to rely on innovative measures to provide real-time coverage of the Olympics with an improved end-user experience.
Tokyo 2020 saw phenomenal broadcasting innovations, numerous AR experiences, and live fan interactions and video messages for athletes for an engaging experience for athletes and audience even if they are not in the stadium together. The Olympic Broadcasting Services (OBS) help broadcasters worldwide with content production and delivery workflows of broadcasting the Olympic Games through a cloud broadcasting solution. All visual and audio assets of the Olympic Games were stored in this cloud platform and delivered on-demand to all rights-holding broadcasters (RHBs).
The cloud technology enables athletes to watch their fans cheering for them from their homes on the big screens installed at the different competition venues.
Many engagement efforts were also made by users and global technology giants to keep the enthusiasm alive. Google, for instance, brought many leading athletes such as gymnast Simone Biles, tennis player Naomi Osaka, and India's bronze medal winner PV Sindhu to its Augmented Reality (AR) athlete list on its search platform. The feature enables viewers to see the skills and shots of their favorite athletes in real-time with custom backgrounds.
To summarize, the Tokyo 2020 Olympics' success showed us that sports and technology could inspire us to do more incredible things even in challenging settings. The success of various advanced and innovative technologies at the biggest sporting event could also further spark new working models and collaborations for businesses across all sectors.