It is not the traditionally blamed gender-bias that is the top challenge for organizations wanting to employ more women in enterprise IT. Rather, it is attracting more women employees, thanks to the tough competition it faces from the huge Indian IT industry.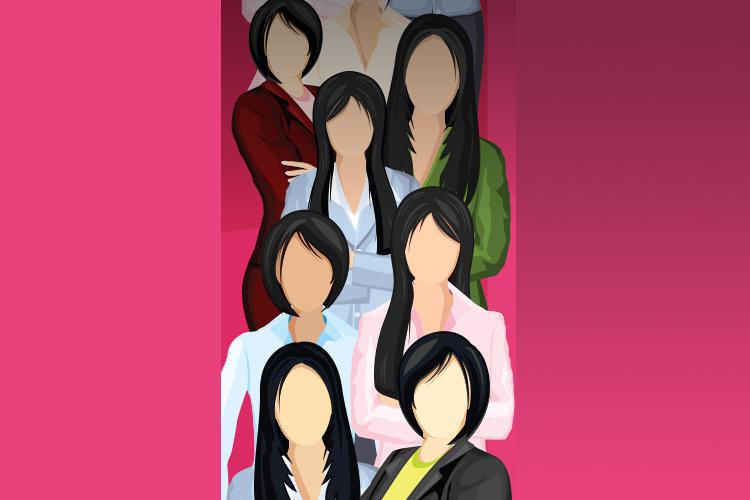 Enterprise IT is a study in contrast. The numbers are low. Often, many computer science or electronics students do not want to be identified with an old economy company. Hardly any company goes to campus for hiring
On International Women's Day on March 8 this year, there were quite a few discussions, events and celebrations planned around women IT leaders. We, at CIO&Leader, hosted one. While this trend in recent years of highlighting women's role and celebrating them in corporate India is a welcome change, it does not take away from the stark reality. That is, it would be difficult to count even two dozen of women CIOs in India. Percentage calculation may mean little, but just for the record, lest we may be accused of selective presentation, it is surely less than 2%. Maybe less.
We do not have the stats to show how many women actually are in enterprise IT—in all levels. But two of the women IT leaders, out of four who participated in our discussion on March 8, lamented that they had no women in their teams. And they represented fairly large companies. 
"I don't get too many applications from women at all. So, very little choice about whom to hire," says Nirita Bose, Senior Vice President and CIO, Axis Mutual Fund. Agrees Shobhana Lele, CIO of Bombay Dyeing. "Even for hiring just one woman in the team, I struggled a lot," she says. Other women CIOs too agree that the problem starts in getting enough women applicants. "We waited for a month, we still couldn't find women candidates," adds Pooja Chatrath, CIO, Cryoviva Biotech.
And here, we are not talking of women in leadership positions; or even in senior middle-level positions. We are talking at all levels. Just getting applications from women is a huge issue.  
Compare this to the 34% women representation in the IT industry's workforce. That is not just huge compared to the enterprise IT's share of women, that is arguably the best across industries in India. 
Considering that the input to both these streams, IT industry and enterprise IT, is the same—engineering graduates and MCAs—it seems perplexing to see the huge contrast.
It may not be that much of a mystery. 
A retired HR head of a large IT company (a woman herself), who does not want to be named, attributes it to two reasons. 
The first, she says, is the more global nature of IT industry. Globally, services industries, including IT, are large employers of women. And since Indian IT industry is more globally integrated and had to compete with established players in the developed markets, they adopted their practices quickly.
"But the more important reason," she says, "is compulsion." 
"Indian IT services industry competes on scale. They want numbers. Their hiring targets are tougher than sales targets. Can they afford to ignore half the population?" she questions. 
She says this need for scale 'forced' (and she emphasizes on that) the IT industry to go all out to hire women and make whatever was needed to make the workplace suitable for them. As IT industry soon caught the fantasy of engineering graduates, they succeeded in attracting younger workforce, including women. 
Competition for talent
The pool from which the IT industry hires—engineering graduates and MCAs mostly—is the same pool that enterprise IT looks at for its entry-level positions. 
But the similarity ends there. 
The IT industry hires in huge numbers. Most of the IT services companies in India are strongly identified with technology. And because of the criticality of scale and speed of hiring to their business, IT services firms go for huge campus hiring drives. To top it all, there is high-pitch employee targeted marketing. Anyone who has been to IT hubs like Bengaluru, Pune and Hyderabad has seen the huge hoardings with brand reinforcement and social messaging that IT companies place throughout the cities. 
Enterprise IT is a study in contrast. The numbers are low. Often, many computer science or electronics students do not want to be identified with an old economy company. Hardly any company goes to campus for hiring. Overall, the visibility is low. 
That is the first set of disadvantage that enterprise IT hiring starts with. In fact, as a CIO quipped, India's success in global IT is the biggest challenge for hiring IT talent by others. 
Beyond the visibility contrast, there are a lot of things that are very different between the two, in the eyes of the potential employee, especially from women's point of view. 
"Women tend to go for easy jobs in order to balance work and home life," says Meetali Sharma, Head - Risk, Compliance & IT, SDG Software India. By 'easy', she clarifies, it is 'well-defined' jobs. You do not have to be an HR expert to know that IT services industry, with its factory model, offers far more 'well-defined' jobs for its employees. On the contrary, in a small team supporting a real business directly, an enterprise IT person, right from day one, has to take on the responsibilities that requires understanding of business and is not purely metric-driven.  
Switching jobs too is easier. An IT services worker is identified with her technology and software skills. Since most services companies work on those few skills, switching from one to another is easier. On the other hand, in an enterprise IT job, a good employee is identified with the responsibilities that she has handled and the business understanding that she has. And that varies from industry to industry, company to company. 
When it comes to women, the reasons to switch jobs are like their male counterparts. Better salary, better work environment, new challenge....but they have two more reasons: working closer to home. Many women do not find it stressful to do more difficult jobs. They would rather put all their energy on work than in commuting. And especially, if you are using public transport in India, the challenges are of different proportion. Second, however politically incorrect it sounds, is marriage. In an internal study a large BPO company had done a few years back, the number one reason for switching jobs for women was marriage. 
But a little analysis would show that the situation reverses completely after 10 years of working. Women—or men for that matter—want stability and growth in responsibilities and positions, not just money. The project-driven, scale-based IT industry often looks for low-cost resources. In a new project, unless you switch to a project management role—which are few—you will essentially be doing the same things; maybe slightly better. But the responsibility, financial expectations changes on part of the individual. And actually experience, barring some exceptions, becomes a liability, rather than an asset. It is just the reverse in enterprise IT. 
Same with location choice. While in the initial career, moving across cities is not an issue, in the latter career, it becomes a big challenge, with so much family constraints—for both men and women. But more for women. Because a man leaving the family and staying in a different place to work may be not very common but there are enough examples. For women, that is an exceptional situation. 
In short, while IT services jobs are a better attraction for women in the beginning of the career—both for the money, glamor, brand names as well as for some real priorities—the same is not true as the other familial responsibilities increase. 
The onus is on the enterprise IT community to drive home this point—among younger women, students and early career professionals. 
This cannot be done at the company level. While some companies do have a gender diversity target, it is across the organization and it is difficult to expect that it will reflect in diversity in the enterprise IT function as well. 
This is something that the enterprise IT women leaders must collectively take up as a goal. In the discussion organized by CIO&Leader, women IT leaders admitted that mentoring of younger women IT professionals cannot be done at the company level and acknowledged the need to do it collectively at the community level. The same applies for attracting women to the area as well. As identified by the group unanimously, the biggest challenge is not having enough women interested in enterprise IT. That is a more fundamental problem and must be taken up on a priory basis. And must be taken up collectively.
Pandemic as a great leveller
COVID-19 has most definitely shown the value of actual work and not commuting to office. In a way, it has addressed one of the biggest concerns of women. Apart from working from home, it has also driven the value of flexible working. Both these make a stronger case for what women professionals desired. The false notion about the value of many non-essential layers associated with work has been completely exposed by the pandemic. If at all, with the energy not getting wasted on commuting, the productivity levels have shown tremendous improvement.
"Although the pandemic and lockdowns have been very tough on us, it has come as a blessing in disguise for working women. Its "now or never", there will be no better time like this which can offer a flexible work environment along with rewards," says Sharma. 
Not only has it made organizations realize that work does not always require physical presence, it has also shown the family members the importance of work that women do. Says Chatrath, "The families have realized the amount of pressure on women. WFH has shown them how they're juggling their lives every day." This itself is a great positive fallout in a country like India, where many blame the societal attitude as a greater barrier than organizational biases against women. 
Sums up Sharma, "This is the perfect time for women to accelerate their career and pave their own path."
If they can effectively do that, we will see the biggest positive for Indian businesses that has come out of the COVID-19 disruption—arguably far more than even digitization. That is because it will not just impact businesses, it will impact the economy and society as well. 
It is up to women leaders to grab the opportunity and create a better tomorrow, not just for fellow women professionals—but for all of us. 
Panel Discussion
'There is little gender bias or stereotypes now, yet very few women come forward for enterprise IT roles'
In a panel discussion, organized by CIO&Leader, on the International Women's Day on 8th of March, the participating women IT leaders deliberated on the challenges for women in enterprise IT. The discussion, moderated by Vandana Chauhan, Associate Director - Enterprise Technology, 9.9 Group, busted many myths, while agreeing on some actionables.   
The IT leaders who participated in the discussion included Nirita Bose , Senior Vice president,  Axis Mutual Fund; Pooja Chatrath, CIO, Cryoviva Biotech; ShobhanaLele, CIO, Bombay Dyeing; and Meetali Sharma, Head - Risk, Compliance &  IT, SDG Software India. They were joined by Shyamanuja Das, Editorial Director, CIO&Leader.
We provide excerpts from the discussion.
Vandana Chauhan: About 34% of the Indian IT industry workforce is women, one of the highest across industries. Yet, when it comes to Enterprise Technology, the number is surprisingly low. The number of women CIOs is even less. While efforts are underway globally to close the gender imbalance in technology leadership, the future is not looking too different, with only about 4%-5% NEXT100 winners being women. NEXT100 is 9.9 Group's 11-year-old program for identifying future CIOs. 
What are the reasons? What needs to be done to attract more women to Enterprise Technology? How can we help them to get into leadership roles? 
Nirita Bose: I don't get too many applications from women at all. Almost 95% of the applications are men. I have very little choice about whom I'm going to hire because women don't even apply. 
I have been around for very long. In the last five years, we have been witnessing some changes in attitudes, when it comes to facilitating things for women. There are women who step up. In the middle management roles, we have been seeing women taking up enterprise IT roles. I cannot exactly verbalize the issues that women face – possibly, one of them is long hours because IT has irregular working hours and it is also not always a routine job. Those emergencies can also be very disruptive in anybody's life, especially for women, there are certain things that women dread. Typically, these could be the reasons why women do not apply. We do not have gender stereotypes anymore. We eagerly look out for women to the extent that if we have a woman and a man competing for the same job and both are equally positioned to take on the role for diversity reason, we encourage the women candidate. We've also seen women go on maternity leaves and then take on leadership roles. During the pandemic, women have been a lot more productive. I stay in Mumbai and commuting long hours to work and back is another issue So,women, have actually started to become more productive with the travel out of the way. They're able to spend time with their families, children and do the household duties as well. Traditionally, we still have this mindset and women have a much heavier role at home.
Vandana: Meetali, what is your take?
Meetali Sharma: I agree with Nirita. Very few women apply. In the last five years, gender bias is slowly fading. Balance out the ratio. Organizations are proactively making policies flexible for women. We want to bring in more women in the workforce. However, the cultural shift is yet to happen, when it comes to women coming forward, speaking out. Women tend to go for easy jobs in order to balance work and home life. They are reluctant to take up jobs and roles, such as C-suite level profiles because there's additional responsibility on your shoulders being at that position. Education wise, we are at the same level but the willingness to move ahead is our responsibility as women. When you're new to the industry, there's immense passion but slowly with newer responsibilities, that zeal is lost from both the employers and the employees' end. 
Vandana: As per Trust Radius' 2021 global report, 57% of women in tech feel burned out at work this year, compared to 36% of men.What are the challenges that exist for women working in corporates, in technology, and in Enterprise Technology in particular? With the pandemic making work from home, flexi working a normal in the workplace, has the equation changed for women?
Pooja Chatrath: The situation after the pandemic has become better. Women at the mid-management level – balancing work and the household become a challenge which leads to women quitting their jobs. The kind of responsibilities on a woman's shoulder and the kind of response that is required from a woman in the industry. After the pandemic, it has changed for women – families have realized the amount of pressure on women. Working from home has shown everyone how they're juggling their lives. Time on travel have reduced greatly, WFH has provided a sense of flexibility as a working parent. Now we have more agile and effective ways of communicating with colleagues. The pandemic has brought in that and further helped women be in a better place.
Vandana: What are your thoughts on gender bias at workplace?
Shobhana Lele: I haven't faced biases or stereotypes. I've been lucky to have mentors who have encouraged me to take up leadership positions. I haven't witnessed women being purposely pulled down for being women and not being able to take on leadership positions. 
When we were hiring for senior positions, we weren't able to find women candidates. I was looking actively because currently I'm the only woman on my team. One of the reasons is that the lack of confidence in women to take up leadership positions. Many questions arise, how would one tackle an entire boardroom full of men along with the responsibility of the familial duties and running a household. Possibly the fear and mental blocks that exist restrict women from taking the next steps. We need to mentor more women and ensure they gain that confidence to take up the opportunities.
Vandana: Do gender stereotypes still exist in the corporate sector, especially the technology sector? Progress has no gender, yet why women's progress is viewed from a gendered lens. Why is this so and how can we change the perspective of employers and management? Nirita, what is your take on this?
Nirita: In Axis Bank, we have women-friendly policies along with maternity leaves plus a two-year sabbatical during which individuals can preserve their seniority. While being reinstated post the maternity leaves, I'm not sure how progress is viewed in a gendered lens. We have 15-20% representation of women in the organization. Progressive organizations want to tap into opportunities to hire and retain women. I wouldn't agree with the gendered view of looking at progress.
Vandana: Today when you recruit women in your team, what are the expectations from women technologists?
Meetali: Firstly, we receive very few applications from women. We often ask women why they want to join our organization – the various factors at play are the pay scale, and working hours but the most important question we ask is that what will keep them happy. It is imperative to meet the candidate's expectations and give wings to their aspirations. Their comfort level is pertinent, as a manager it is my responsibility to understand what my employees need.
Pooja: There was a point in time where we had no women on my team. We wished to employ more female employees. We introduced flexi-hours to enable and incentivize women. The exercise was in vain as we did not receive any female candidates. I always remind my male counterparts that we should mentor women employees in the organizations. Women tend to give their 100%, whether it's applying for a job or a C-suite position. We are also conditioned to believe that women won't excel if selected. A woman would think a thousand times and build a checklist in adherence to the job description while a man would apply for the job without meeting half the requirements on the job description. So there's definitely a lack of confidence in that aspect. I ensure that within my company, I try to provide preference to female employees.
Vandana: How can we, as leaders, encourage more women to join Enterprise Technology? What are some of the initiatives that organizations can take to encourage participation?
Shobhana: We need to have programs for women circle wherein they can mentor and be mentored. The organizations can contribute in this sphere. Rather than keeping it centric to the organization, the circles should be wider - women tech circles – where we 
can help and support fellow women in the industry. We would have access to women who are seeking the positions and also ready to employ women in various positions within the organizations. We need to bring about a societal and cultural change in order to encourage women to join the workforce.
Vandana: Shyamanuja, you have heard our women IT leaders. Do you have any comments or observations?
Shyamanuja Das: Not enough applications. So, the problem lies in the beginning. Maybe, the big IT industry which looks for similar employees is the reason. So, maybe we need to tell them why enterprise IT is a good career option for them. Numbers are so small here. So, collaboration across the industry would help. First few years in the IT industry are rosy but slowly the opportunities get restricted. It is just the reverse in enterprise IT. We must get that message across.  
Vandana: What is your message to younger women IT professionals?
Nirita: Be prepared to do long hours. Don't restrict yourselves. Sky's the limit.
Meetali: You have to bring about the change. No one else will do that for you. Set goals. Pursue them relentlessly. Achieve. 
Pooja: Create support systems - at work, at home. Choose your fights carefully. Not all fights are worthy enough. Fight only for the high goals. 
Shobhana: Trust yourself. Get out of the guilt. A good career does not mean compromising your duties towards family. Be the change agent yourself.
Vandana: Thank you for the pearls of wisdom. Shyamanuja, if you would like to add.
Shyamanuja: I cannot, of course, advise. They have got it from the best possible people already. But I will just emphasize that as you have realized, like mentoring, even attracting women to this area, is a collective work. And women like you must come forward to make it happen. Today, the awareness about this opportunity, that is enterprise IT, is very low as compared to say one of India's most successful industry, IT industry, which competes for such talent. You have no option but to collaborate. We, with our NEXT100 platform, can offer whatever help would be required. 
Vandana: Thank you all for taking time off to participate in the discussion. Wish you again on the occasion of International Women's Day.