NEXT100 Winner 2011 Dinesh Tandel, Presales Lead, Global Solutions, Schneider Electric outlines the key components of BPM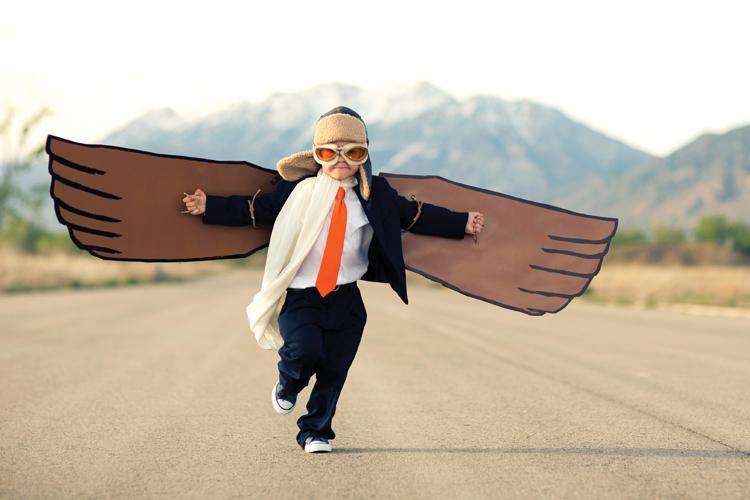 Real value to customers lies in making meaningful business context of the data and delivering actionable information and value for the business. BPM of things is the right choice to secure success when digitizing your business
Disruptive technologies like IoT, robotics process automation, AI, machine learning, AR/VR, social mobile, analytics and cloud are transforming the way enterprises think and operate today. Enterprises face multiple challenges like managing global operations, increasing operational efficiency, ensuring compliance, enabling continuous automation using various technologies and responding to market dynamics.
In this customer-centric and rapidly changing world, is there any chance digital enterprises are still using Business Process Management (BPM) the way we know it? No.
There is a paradigm shift in the way applications are configured, implemented, simplified and consumed by businesses. Now is the time to think differently about BPM that drives the digitally-enabled enterprise. We need to analyze how digital transformation will influence people, processes, and systems and revise established BPM concepts in order to define, design, execute and optimize the processes. Consumers become the key to defining the way forward. Advanced BPM with low code that enables rich and complex business applications to be rapidly developed and implemented as a key enabler for business transformation will lead the way.
Role of BPM in Enabling IoT
The IoT is a network of internet-connected devices able to collect and exchange data using embedded sensors. Gartner predicts in 2020, around 21 billion physical things will be connected to the internet; the estimated market size is projected to increase from USD 1.9 to USD 7.1 trillion. BPM is a vital component of any device that has IoT connectivity. IoT devices excel at sensing, alerting, augmenting reality, and generally interacting seamlessly with the wearer, but are somewhat lacking in areas such as system integration, data processing and process logic. BPM fills this gap by integrating people, processes, tools, systems and devices.
BPM's role in IoT is to determine what is to be done with data received from other devices. BPM supports time sensitive, dynamic business processes, and takes advantage of the real-time data coming out of and going back into IoT devices. Growing adoption will result in more data and more connected devices. Digitalization using BPM involves using digitized data to enable organizations to make quicker decisions, enable optimization of processes and, ease the life of users. BPM provides the ability to integrate processes that involve devices, systems, and humans. Advanced BPM solutions provide access across devices with responsive user experiences, allowing access-driven information sharing across the enterprise. It offers powerful business activity monitoring for business intelligence and actionable alerts against KPIs and thresholds.
RPA and BPM Applications: Complementary Technologies
There is a similarity between the goals of BPM and robotic process automation. The goal of BPM implementation is to increase process efficiency, improve agility, achieve better control and governance by streamlining and automating business processes. It also helps companies identify improvement areas and ensure best practices. The goal of robotic process automation is to reduce cost and headcount by providing automation of repetitive and standardized tasks. Both aim to achieve similar goals with different approaches. It's very important for enterprises to know and understand the scope or need of BPM that would provide agility and most effective return on investment. Robotic process automation and BPM are complementary technologies; combining them will result in a powerful collaboration, enabling "Intelligent Business Process Automation" resulting in a far more efficient and effective automation solution for both knowledge capture and repetitive tasks. Fundamentally, an important aspect of the assessment would be to create a business case and use these technologies to their best advantage.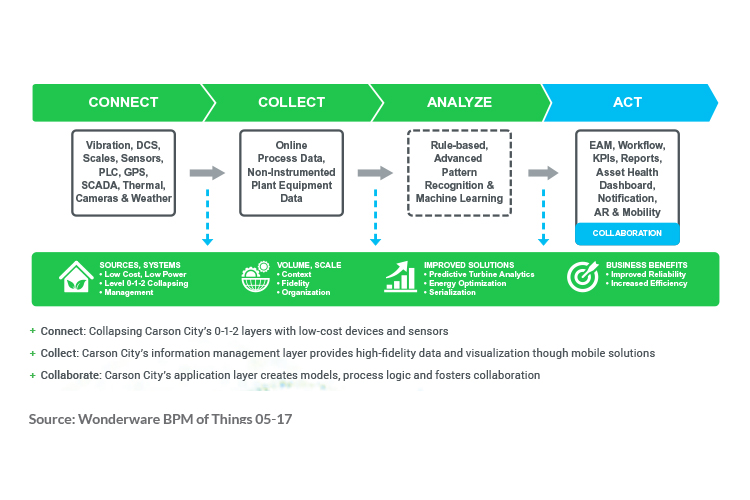 In the past few years, robotic process automation has been widely adopted by BPO providers to create "virtual workforces" instead of physical workforces. This implementation was originally driven by the need to reduce costs, time, and human errors associated with employing people to work in service centers and perform routine and transactional IT-related tasks. Robotic process automation is designed to operate processes at the user interface layer. It doesn't require developers to develop interfaces and adaptors to connect to the applications and it can be easily enclosed as an API. By contrast, BPM requires web services and APIs to integrate with applications which requires a certain amount of development effort. On one hand, if you are looking for automating specific human activities mainly on structured data and relying on a surface-level fix, robotic process automation would be the right choice. On the other hand, if you are looking to transform entire existing process with complex business rules, better control and governance, then BPM would be the right choice.
Critical Components of a BPM Suite
The BPM solution for successful digital transformation comprises process, analytics, collaboration, integration, automation and flexibility to access from anywhere, at any time. Let's look at the critical components of a BPM solution and the roles that they play to secure success in digitization.
Process Engine
Essentially the core of a BPM solution, the process engine takes on the responsibility of managing all transactions, notifications, task scheduling and much more. The process engine has all the built-in technology and code of the BPM. Each business has different methods, processes and action items. The BPM process engine provides an easy approach to design, simulate and maintain these disparate processes. The process engine will act as a middle layer between the various disparate systems and applications.
The process designer that is typically user interface based enables users to drag and drop the steps or activities to create the business process. An activity is a building block for the available process; it is a reusable component available ready to use, just by configuring the relevant properties.
The forms designer allows users to create the UI for the said business applications. Again, drag and drop re-usable controls that make creating an user form or input form simply and easily. Multiple options of styling are available to jazz up the user interface as needed.
The task notification mechanism, unique to each BPM solution, offers different ways of communication to the users. Advanced BPM would have many delivery channels and integration options for user communication as well.
A BPM solution allows users to create enterprise level portals for the various users. The process engine captures all data with respect to the processes created. Digital evolution occurs when all the systems are brought together on a single platter, be it IoT connecting all devices or robotic process automation that uses the automated scenario for repetitive tasks.
Business Analytic Monitoring
An integral part of a BPM solution is monitoring automation, bringing into perspective the whole process. The process data captured in the BPM engine is most useful when presented in a user friendly dashboard. The data captured is made actionable because of the Business Activity Monitoring (BAM). Each process will have specific metrics that are monitored and presented such that critical business decisions can be made. Monitoring also involves performance analysis for each resource, activity state and user. KPI reports, overall bottlenecks, and status are displayed in easy readable format. BAM involves debugging of stoppage issues, online, near real time tracking for business critical decisions. BAM gives organizations powerful leverage to adapt to ever changing market dynamics.
Collaboration
The most tangible benefit of a BPM solution is the ability of the underlying technology to talk across various disparate applications and act as a single collaborative tool. This allows users access to all applications, notifications and tasks anytime anywhere in an access-controlled environment. And since each step and activity is tracked on the system, BPM offers the most secure yet collaborative user environment for business users. With digitization consumers expect updates at the tip of their finger or in their palms, on their phones, collaboration is arguably the most important benefit for the organization choosing to use a BPM solution for process automation and optimization.
Document Management System (DMS)
A BPM suite intrinsically has the capacity to maintain and process document centric processes as well as electronic forms based processes. The document management capability brings in to picture various aspects, such as version control, assess management, storage, indexing, archival and retrieval. The advantage of using a BPM suite for a document centric process is that in addition to the above said features, the full blown BPM features such as monitoring, designing and maintaining the process become easy. The BPM suite will act as a single platform for complete process automation.
With the entry of emerging, disruptive technologies like IoT, robotic process automation and advanced machine learning, the source of receiving data is changing and the way of consuming data in the business process has also changed. Now is the time to think differently and revise the established BPM concepts in order to design, automate and optimize the processes. Nevertheless, emerging technologies are in the introduction phase (as shown in Figure 2).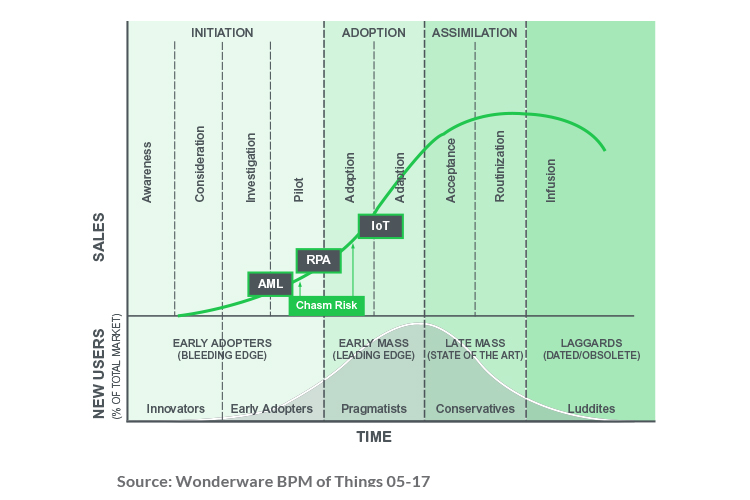 Companies are still experimenting and waiting to realize the benefits of these technologies whereas BPM has already made itself indispensable. BPM is seen as very strong in process automation and optimization interacting with multiple core applications/systems like ERP, SCM, CRM, PLM, MES and other third party applications along with human intervention.
IoT and BPM integration helps enterprises achieve not only cost savings but increased efficiency and improved reliability by way of real-time data collection from connected devices and consuming them through business processes. BPM solutions are comprised of process, analytics, collaboration/integration, automation and flexibility to access from anywhere, at any time.
The article has been co-authored by Keith Chambers, Director of Operations and Execution Software, Schneider Electric and HimaBindu Gadhe, Technical Consultant, Schneider Electric