The first part of the this series on digital transformation journey of Indian companies focused on the imperatives; the second part highlighted the outcomes that they are working towards through digital. In this third part, we present the approaches and models of the transformation journey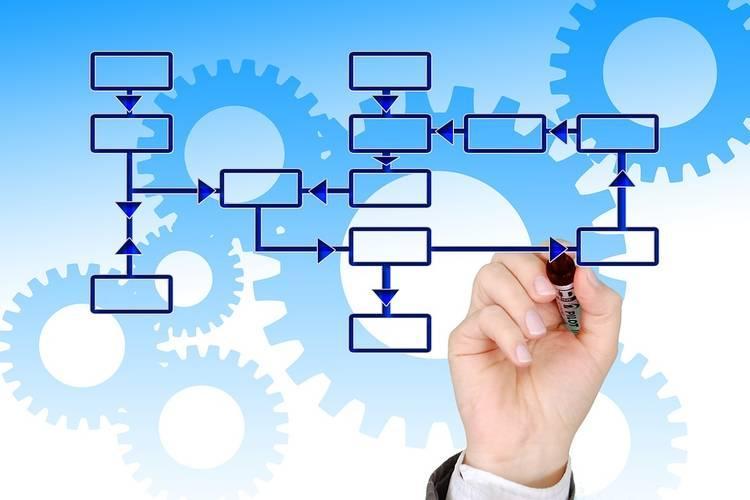 Read the first part of the story: Decoding Digital Transformation: The Imperatives here.
Read the second part of the story: Decoding Digital Transformation: The Outcomes here.
Digital transformation is not Newton's Law. What it means to each company may be very different.
"Transformation," says Nischal Gupta, Chief Transformation Officer of Sterlite Tech, "is a customized recipe for each organization."
While there is a broad super list of common ingredients to choose from, the process of putting them all together could be very different. That is because there are so many business variables—the nature of business, the size of business, the starting point in terms of culture, the starting point in terms of technology, the outcomes expected…
Hence, the models could vary significantly.
Tata Steel, for example, looked at digital transformation as something that will change the way the company works. It was not about a quick of couple of big impact projects in low-hanging areas. So, it decided to do two things simultaneously – on one hand, it slowly changed the DNA of the company to a digital DNA by a variety of initiatives and on the other, created exemplars by trying things out on the ground. This balanced the short-term and the long-term.
And the exemplars were not pilots. They were full-fledged transformation, albeit in a section of the business.
On the other hand, Mahindra Finance had to focus on building basic technology infrastructure in rural areas so that processes could be automated. That was too a company-wide change like Tata Steel, albeit the actual tasks were completely different. While Tata Steel focused right away on people and culture, Mahindra Finance had to build some of the fundamental building blocks.  
In Sterlite Technologies, a larger transformation is underway with specifically identified components—IT, data science, process transformation—being driven by individuals but as part of a transformation team headed by a senior executive into which all these specific functions report to.
Another hotly debated issue when it comes to models is centralized versus decentralized models—whether to drive digital at the group level or at the individual company level. This is especially relevant in India (and much of Asia), because there are large number of conglomerates with diversified businesses. 
Sudhir Singh Dungarpur, Partner and Leader Digital at PwC that consults many Indian conglomerates on their digital transformation, points to the model shifting to the decentralized model.
"In large groups, the Group Chief Digital Officer role has become more of a ceremonial position," he says.
"In a conglomerate, each of the business is different and it is difficult to create a centralized strategy."
"Some of these companies have already taken quite a few digital initiatives, while at the group level, it is still being defined," says Dungarpur.
Agrees Maneesh Dube, Consultants at executive search and corporate advisory group Russel Reynolds, "Digital transformation is a hands-on job, not a hands-off one. So, doing it at group level is fairly difficult."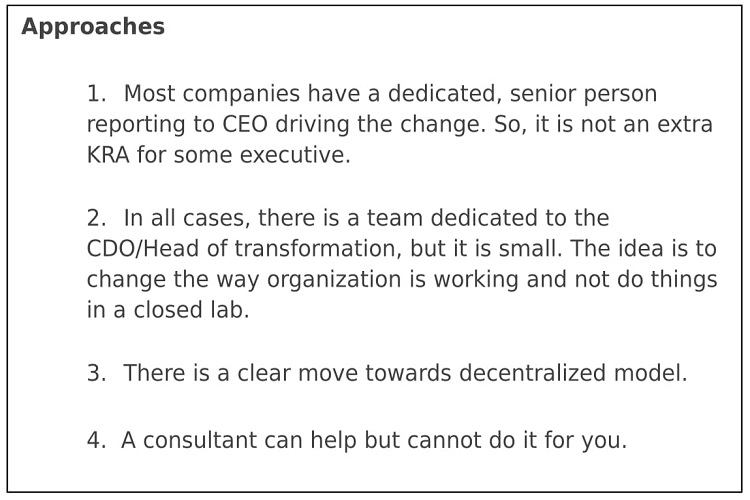 The biggest testimony to the change is from Jaspreet Bindra, one of the first Group CDOs in India, who joined as SVP Digital Transformation at Mahindra & Mahindra way back in 2015 and helped the group companies in setting up their own digital teams and carry some pilots.
"Ultimately, it has to be done at the company level," he agrees. Though he refused to confirm it, sources say he is moving out from the role.
However, Tata sons appointed a group CDO, Aarthi Subramanian, a business person with a tech background, who comes from TCS, less than a year back.
Vedanta, the last of the three groups we cover, despite a having a mandate at a group level to go for large scale digital transformation, never went for a group CDO. It appointed CDOs for each of the companies, almost at the same time frame. They do share some of the best practices and talk to each other, but work separately, closely with the respective business heads. 
Another thing that we hear from mid-sized companies is appointing a consultant to transform the company digitally. Larger companies have already learnt—some of them the hard way—that that is a impractical expectation.
"Companies realize that you cannot transform by help of an external consultant without the commitment of a full-time employee driving it," says Amitabh Mishra of Sterlite Copper.
In case of Tata Steel, Accenture was a consultant but an internal person has been driving it.