Dirk-Peter van Leeuwen, Senior VP and GM, Red Hat Asia Pacific, and Rajesh Rege, Director, Datacenter and Cloud Sales, Cisco India & SAARC in a joint conversation with IT Next on the wherefores of this collaboration…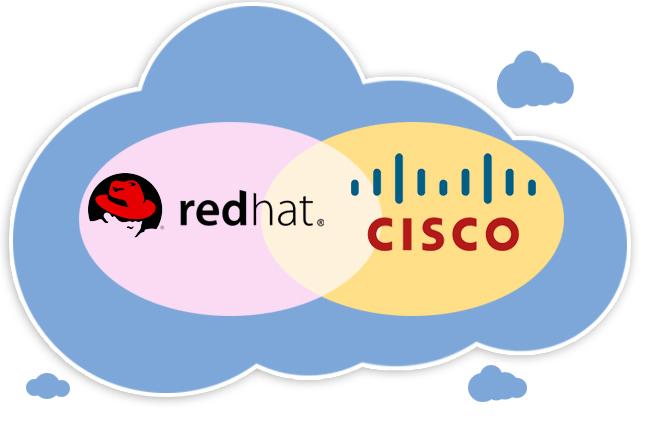 What are the drivers for RedHat's extended collaboration with Cisco? 
DP: Cisco and Red Hat together have really made a big stride towards building trend solutions and the good thing is that the customers actually get a choice. They have best of both worlds rather than being locked in to one solution or the other.
Rajesh: Cisco and Red Hat have been across multiple technologies in multiple geographies. The CoE facility here in Gurgaon is essentially to try and create a platform for both the companies to come together to create solutions for our customers and partners – and also use it as a training base for our extended partner community.
What trends do you see around adoption of open source based cloud solutions? 
DP:  Cloud is one of the first trends that is being driven by open source. It is not invention of any particular vendor. Cloud is the result of customers using open source solutions and building the best of what open source has to offer. And that actually created cloud solutions. When we started with UNIX migrations, years ago, there was a big question mark as to whether Linux and open source would be there to stay. The result of that is that customers are now saying, "Wow, this is really working! And open source is really doing the trick. So how can we take it to the next step and use new technologies that emerge from open source communities?"
Rajesh: One of the key concern areas that customers express to us is about wanting to move to cloud but have concerns about vendor lock-in, about a framework for them to use and stop using services as per their choice and so on. So, vendor lock-in, proprietary architectures are concern areas for a customer which is where the whole emergence of OpenStack and open source become that much more relevant.
In the Indian context, there are a couple of things that become more important. In a country where resources are stretched, any solution, any architecture that is designed on open source significantly makes it more competitive. It reduces the cost of buying, ownership and maintenance and eventually transitions out from an existing technology to a newer version of technology. So we believe that any solution that is based on open source will be beneficial to India's evolution.
"India has a large existing UNIX market which is transitioning to the Linux environment and Cisco and Red Hat have been partnering aggressively ensuring that the transition happens seamlessly and smoothly."
This is in the existing customer locations. Cloud has been the buzz word for India over the last two to three years. There are multiple flavours of cloud – there is 'Baadal' which is the government cloud, then there are industrial clouds that have been talked about.
So our belief is that any cloud that needs to be built in India needs to be built on open standards and OpenStack.  There is considerable amount of maturity on these technologies and our partnership will ensure that these technologies are made available to the Indian market place through a large, reputed partnership.
DP: The overall need for customers to innovate especially in India is driven by open source. Even in the government, everybody sees the importance of open source to carve out costs and to drive the right behaviour in order to get the right results for the scarce amount of money that is available to do these things that need to be done. Cloud computing itself of course gives you a great opportunity to very quickly leverage what is there. One of the key things is to get people to develop on the cloud and have the ISVs on board and have the applications that people need to develop on the cloud. At the same time, it is important that the technology used for cloud computing is one which is portable across platforms, across technologies. That's why OpenStack is an important platform. It gives customers the guarantee that they won't be locked-in as long as it's a pure open source, OpenStack platform.
What all industry verticals are likely to benefit from this collaboration
Rajesh: This collaboration will benefit the entire spectrum of customers in India. But as is the case with all markets, there are some early adopters, and there are people who are laggards. I see financial services, service providers, telecom companies, as the early adopters.
DP: We are already working with a strong portfolio of Asia Pacific and India clients, including Essar, Hungama Digital Entertainment Provider, Enhancesys (Partner), Marico, Star Union Daiichi Life, Just Dial, Epitome Travel and more. Along with these customers, we expect key verticals in India that we focus on such as the government, financial services and insurance as well as telecommunications are most likely to benefit from our collaboration with Cisco.
What value propositions does this collaboration bring in for financial services?  
Rajesh: Financial services have very large UNIX installed bases. So our partnership and the CoE will help in the transition from UNIX to Linux. But the financial services market also has certain constraints on account of regulatory framework, data privacy, etc. And I think the industry jointly realises that cloud is the solution and the way to go forward. I do see a lot of private cloud implementation happening in financial services. So, there is a lot of expertise already residing within these companies and a lot of that expertise is getting leveraged to create solutions as well as to manage their own infrastructure.
Have you been in touch with government because the new budget offers enough scope like smart city?
Rajesh: Yes. In the budget there were projections of a lot of new cities coming up. Now on a completely different note, Cisco has a very visible and articulate, smart and connected communities and cities initiative. It is about how cities can become more intelligent, managing resource, etc. So, we had discussions with the government, based on their 100 cities initiative, where we offered our version of how a smart city should be. Now sitting inside that umbrella, smart city framework that we have are things like cloud, multiple technology stack. Post budget, we are engaged with the government; we are talking to different groups. But I think our conversations have got sharper. I'm sure the same thing is happening at the Red Hat end.
DP: We have good relations with the Indian Government as they are focused on Open Source and have already embraced it in a big way— the Aadhaar project is a case in point. UIDAI is built on an open, scalable and secure architecture to meet the needs of Aadhaar project. Red Hat continues to help the government design solutions based on Open Source.
With regard to India's proposed smart city project, are you making efforts to pitch in?
Rajesh: I will not limit it only to a smart city; I will put it as an umbrella kind of framework for all cities. When we're talking about connecting cities, we're talking about physical safety and security, citizen services, infrastructure for work, mobility, entertainment, etc. These are the eventual manifestations of how technology will benefit the common man. Now that is true for a new city, and for an existing city. All of that gets delivered from a hub – which is the datacentre – could be the nerve centre of this evolving environment. In the datacentre, you need scalable and open infrastructure at a hardware level as well as at a software level. This is where this partnership becomes that much more relevant. Cisco has openness and scalability built into its architecture. Our x86platform is open and it is scalable and then our partnership with Red Hat gives us the stack sitting on the top which is open and scalable too.
Considering that this collaboration makes sense for the government sector, what are some of your strategies moving forward?
Rajesh: See, there are two or three broad areas. One is that I would not restrict our opportunities to the government. I think the government, financial services and service providers are equal hot buttons for us. Our approach would be three fold. The first is customers don't buy infrastructure. We are an infrastructure player. Red Hat is an operating system level player. Customers eventually buy business solutions or they buy software applications. So, we have a program in India, which is designed on load local ISVs onto the Cisco platform. Now Cisco works very closely with global software companies like SAP, Microsoft, Oracle, etc. India also has a significant amount of software talent for local applications. So, we have a project – called Ashoka, that has been ongoing for about four quarters now. The idea of this project is to try and on load those software vendors onto our platform. So, by virtue of having a rich, diverse portfolio of local and global applications, we'll be able to cover a much larger footprint of the market place. The second area is to see how we can accelerate transition from proprietary, expensive, existing UNIX hardware to an open source, x86 based implementation to our customers.
DP: India is globally recognised as a talent for software developers. If you look at OpenStack, which is one of the emerging technologies, Cisco and Red Hat have come together and have decided to create something that allows customers to come into the picture and test their applications. Owing to the talent available in the markets, ISV ecosystem is extremely important, and we too at Red Hat have an ISV program – where we enroll these software partners and get them across to be ready either on a physical or a virtual environment. Why not to capitalise on the talent that is there in India and help grow this infrastructure. That is the idea behind this collaboration.