Strengthens Data Centers, Focus Back to Write Performance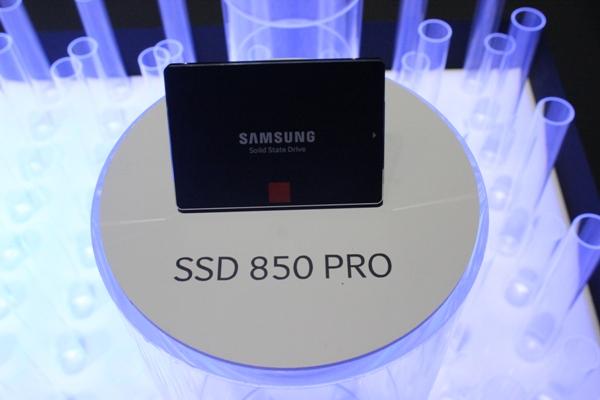 As the world is getting impatient, the hunger for fast computing is growing across the globe, coupled with the dynamics of emerging trends of mobility, internet of things and big data, data is exploding. The need to store and store it better and faster is the need of the hour.
To address this, Samsung has launched its new solid state drives (SSD)s 850 PRO and 845DC Pro (for data centers) at the 2014 Samsung SSD Global Summit in Seoul last week.It's world's first 3D V-NAND.
Samsung calls it 'the new breed of performance'; this new SSD based on V-NAND, Samsung's proprietary technology. Samsung claims 850 PRO to be ideal for high end computing and it's positioned to help CIOs and CTOs of enterprises who are looking to bring in high-end PCs and workstations.
Samsung's V-NAND features a proprietary vertical cell structure and represents a breakthrough in overcoming the density limit currently facing planar NAND architecture used in conventional flash memory, resulting in significant speed, endurance and energy efficient.
3D V-NAND
Samsung's new 3D V-NAND will be is used enterprise applications, including solid state drives (SSDs). Datacenter managers can expect increased productivity and longevity while saving on their power bill.
Samsung's VNAND is an incarnation of 3D NAND.  Industry realizes that it will inexorably be introduced, but Samsung has wiped off some of its competition at this moment by being the only player in this segment that has announced mass production of the technology.
Kye Hyun Kyung, Senior VP, Flash Design Tear, Samsung Electronics says, "The innovation is disruptive in 3D V-NAND -- material innovation, structure innovation and integration innovation."
One of the beauties in NAND technology is its form factor-agnostics. In 3D V-NAND, technology, insulator is more resistant, has fewer steps and 46 per cent lower consumption. It's a gateway to the Terabyte Era.
The Differentiators
Samsung's 845 DC Pro has come with first generation 24-layer V-NAND. It is Samsung's second "branded" enterprise SSD with the first one being the 845 DC EVO that was released just a few days back. Samsung's enterprise level SSDs have been OEM-only but with this launch of DC series, it can help small and medium businesses as well. 
The combination of the 845DC EVO and the 845DC PRO offer a substantial one-two punch for Samsung. These two offerings allow them to address the booming SATA value market with two distinct solutions. This looks very similar to what Micron has done with its M500 and M500DC but both 845DC EVO and the 845DC PRO provide enterprises with disruptive new V-NAND technologies that are not currently offered by other manufacturers.
With the DC EVO, Samsung aimed to provide inexpensive solution to data centers with intensive workloads. The V-NAND technology in 845 DC Pro will help enterprises the shifts the focus to write performance and endurance. Samsung is promising 50000 IOPS in steady-state with 28 per cent over-provisioning and ten drive writes per day, which means 7.3PB of writes for the 400GB model and 14.6PB for the 800GB model. The most interesting detail about the 845 DC Pro is its aggressive pricing --- between $1.50/GB and $2/GB. It's definitely going to lay the competitive turf as Intel DC P3700 costs $3 per GB with 10 drive write per day.
The DC EVO addresses read-centric applications such as content delivery networks and web servers, while the DC PRO addresses workloads with a heavier write workload, such as application and database servers.
The 845DC EVO is already on the market and the 845DC PRO will arrive this month.