A Gardener at heart and a challenger at work, Paresh Goswami, DGM-IT, Welspun Group, loves to take up challenges. He is also inclined to learn and implement new technologies. As an IT manager, he realises the power of IT that can transform businesses.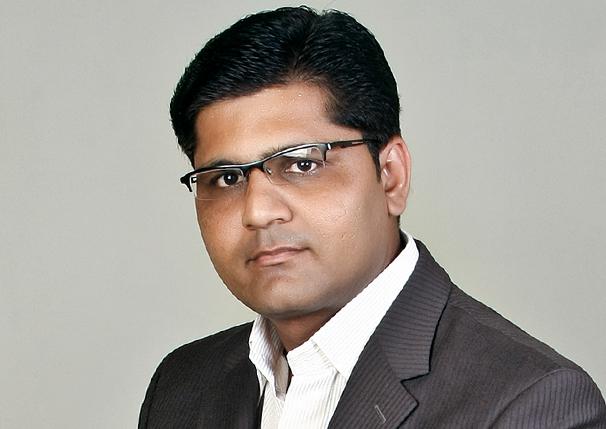 What drives Paresh at his work is his urge to learn something new every day – be it a new technology, a challenging project or something else.
Why did he choose IT as a career?  He says, "It is an area you enjoy and progress forward, and that offers continual opportunities. For anyone who is looking for a fun, exciting and growing career field, I would recommend careers in the Information Technology field. I chose IT as a career because loads of innovation happens every day, and I like new challenges on continued basis. I have started my career with an IT company in networking field, and I have been a customer support engineer."
Paresh is responsible for IT Infrastructure Projects, IT Run Operations for more than 5000 PCs, IT Strategic Outsource Management, SLA Management, Vendor Management, IT Budgets & Control, Resource Planning & Control; Quality System Management, Manufacturing Automation Projects, Design, Legacy Application Management, IT compliance & Risk Management, IT Innovation, Design, Planning & Execution of CCTV, Bar Coding, LAN, DC, Attendance System and Wi-Fi Projects at Welspun.
"I bank on IT because I know IT is the future and the way technology is enabling business today implies how critical the role of IT is," says Paresh.

Transforming with the rapid changing IT world
He keeps his eyes and ears open with respect to new technologies available in the market. Subscription to IT publications definitely helps him. For him, other ways of keeping abreast with the industry are reading various case studies, and becoming interactive with industry peers and technology advisors.
 
While talking on his modus operandi, he says, "I have used evaluation of technology, PoC of comparative technology, detail business case with business, quantitative and qualitative benefits, finalisation of the solution with IT Heads & CIO, techno commercial comparison, detail information gathering : user & application profiling, architecture finalisation, technical capability assessment and required training to internal staff."
Innovation
On the innovation front, he talks about the special project from the chairman's desk –  they required 100 per cent biometric authentication attendance in their premises, and get live man power counting any time.
With five groups of companies and over 20000 workers, he had to conduct all technology demos, and he found that all technologies (Finger print, Face Reading, IRIS etc.) have some or other kind of limitation. Hence, he executed tripod with Palm-Vein sensor base attendance system.
He says, "We have three locations where we have installed punching systems: first at the main city gate, second at each plant gate and third at each department. Through ASP.Net program, we have integrated live image base counting – so that any body from anywhere can get the information that how many people are available at which location. We have also integrated the same access card in Visitor Management System, Canteen Management System , Guest House and Bus Pass System, so with a single click, we get all the detailed transaction report for any employee."
Biggest challenge
The greatest challenge he had faced in his career was the key role he had to play in helping his organisation survive the 2008 recession.
He says, "I learned a great deal from the experience. It was a great challenge. While we certainly did have a tough time of it, we successfully rode out the recession, and the cost control measures that I personally devised and implemented – ultimately resulted in a significantly healthier bottom line than we had before the recession."
The company achieved 30 -35 per cent overall cost reduction from proposed/regular budget of IT operation by implementing all achievable path – be it executing per page printing cost solution , or implementing  the centralised IT helpdesk, cutting the hardware AMC cost with vendors' support, or implementing the barcode-based automation.
Inspiration
The list of people who inspire Paresh goes long – Mark Zuckerberg, Bill Gates, Richard Branson, Azim Premji and Ratan Tata. When he is not solving the IT issues, he likes a soothing Gazal and reading spiritual books.
Dream yet to be fulfilled
He is a gardener at heart. One of his fondest dreams of his childhood was to have a garden – a beautiful, green, rolling lawn bordered by herbaceous bushes and overhanging verdant ferns and creepers interlaced with colorful flowering plants :a fence covered with glorious bougainvillea of every hue, a pond in the corner with floating pink and white lotus and water lilies and spanned by a narrow white overhead bridge: a bird bath attracting flocks of birds and the air scented with the perfume of jasmines and roses and filled with the chirping of birds nesting in wide spreading trees.
"I will get there very soon", he signs off (smiling).