A good IT manager should have strong team building abilities. He should encourage team members to think out of the box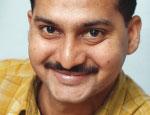 Why do we need God, if we are doing our work religiously? said Pushkar Raj when asked if he was religious and God fearing.
As Manager IT, Express Retail Service, Big Apple, Raj believes in learning from every situation that life provides and is not the one to be much perturbed with challenges that come in the way.
Having started his career as System Engineer with Pantagon System in Mumbai, he is currently responsible for managing the IT infrastructure of Express Retail Service.
A leader is one who himself makes continuous effort to learn new things and is able to teach subordinates the art of applying the learning when a situation arises, says Raj.
Armed with degrees in chemistry and computer science, Raj stresses very much on team building exercises and values the support of team members to get the project done successfully.
It gives you lot of pain when your team members dont give you the helping hand for challenging projects. Its the only thing that irritates me, he recalls.
However, he feels fortunate that he doesnt have to deal with such situations very often, and expresses his gratitude to all engineers and team-members with whom he has worked so far. I am fortunate to have got great support from my team-members most of the time so far in my career, Raj notes.
He believes that the various challenging assignments in his career have helped him stay focused. He remembers the IT-enablement project during his tenure at the Cafe Coffee Day as the most complex of all.
During that time, I was responsible for routing customer calls of different units to different call centres, with whom we were dealing with. Since I was the only person to manage it, the pressure was too much, he recollects.
However, after a thorough discussion with different vendors, we successfully managed to deploy a suitable software solution, he adds. The solution helped the company to transfer all calls directly to the respective centres seamlessly.
He loves to spend his Sundays with family and is always keen to learn new technologies and study lives of technology leaders. I always take inspiration from reading good and motivational stuff. You can essentially add to your experience by reading and analysing what others have done, thus avoiding the mistakes and taking the right approach, says Raj.
A good IT managers should have strong team building abilities. He should encourage team members to think out of the box and innovate, he adds.
IT apart, he is an avid reader. I am currently reading a book on Art of Living for peace of mind, he laughs. Reading helps me take inspiration from leaders from all walks of life, he adds.
Confident of achieving his dream to become a CIO, he asserts that commitment and coordination are the two key ingredients responsible for success. You just give your 100% to whatever role you are into. Follow this and I bet there wont be any looking back, he shares as a piece of advice.