IT Heads carry the mandate of influencing the business groups to ensure that technology is put to best of use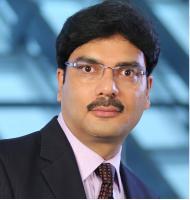 The role of IT heads has now changed dramatically and they have been given a mandate of influencing the non-IT functions and business groups to ensure that technology is put to the best of use. The traditional role of IT, as it was in the past, is not in vogue any more as the perception is now different.
ITs Standing
ITs standing across organisations is currently going through an overhaul and is at an interesting intersection where the technological trends and evolution are paving the way for changed thought processes. Going by the statistics, it is observed that about 67 per cent (67%) of the budget is spent towards running the business as it is, which is a concern that needs to be addressed. Only one-third is being spent on innovations. Organisations of the old school of thought still interpret that IT teams need to be working in a service environment. IT teams are here to maintain customer satisfaction and be agile and responsive to their needs. However, the future is going to be different. Numerous technological trends are driving the transformation needed among the IT teams in each organisation in the industry.
Be the Change
The clear road map for future CIOs is to be the change and bring about change within their organisations. The new arena of technology includesdata deluge, big data, agility, security, cloud etc., which are providing the necessary impetus to the IT leaders in making a transformation and driving innovation.
Considering the innovation scenario,any leader gets his or her due recognition by the kind of innovation he or she brings in. It could be in any form or manner, which entails the caliber of a leader. In this case, the IT leaders gain due recognition when they get their CEOs, CFOs to experience the innovation by the technological endeavours of their IT teams. The question often revolves around who are the efficient IT heads and those who are empowering business groups to drive better growth and efficiency and are able to understand the business perspectives much better than the business itself. The change here would mean what kind of business flexibility they can build and innovatively collaborate with other business and non-IT functional groups to bring in the required change.
Innovations Galore
While speaking of innovation, what do we really mean by it? And how can IT heads be made responsible for it? It is not about creating new technologies, but taking innovative approaches to extract maximum benefits from the existing technologies and working out ways to drive business agility and growth. This kind of innovative approach will also help in creating a level field of play among various user groups and in turn driving better collaborative efforts. Making it simpler, a few innovative initiatives in the field of IT and a new approach to this field will bring in the necessary novelty.
a) IT managers need to think of innovative procurement strategies with regard to both hardware and software.
b) New licensing models will require new approaches to drive maximum business benefits.
c) Innovative approaches are imperative to track customer expectations and the changing requirements.
d) Providing for business requirements and leading the business in the right direction to drive efficiency.
e) Creating a level field of play among the IT services teams and business functions which can help in understanding the business. This includes efficient IT leadership.
Does Hierarchy Play a Role in Innovation?
Innovative ideas have nothing to do with hierarchy. Leaders are expected to give ample freedom to their teams to be creative. We do not live in that era where creativity or innovation has to be from the top management only. The leaders need to only set expectations, assign tasks to the teams and give them enough room to be creative. Opportunity and freedom for innovation should be given high priority.
Future CIOs need to give importance to a number of factors such as backward planning, forward execution, etc. CIOs also need to ensure that the task performed gains necessary prominence.
Sandeep Kejriwal,
Chief Financial Officer,
EMC Corporation,
India Center of Excellence.