IT managers need to understand that the cloud is not just a capex vs. opex story; they must calculate TCO over 3 years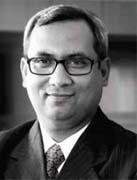 The cloud is becoming a reality in most organisations, and research groups such as Gartner are endorsing the prevailing trend-- indicating that the adoption of public cloud services has increased from 12 per cent to 27 per cent (private cloud from 19-26 per cent) in organisations. A report by consulting firm Zinnov Management Consulting estimates that the cloud computing market will grow from US$400 million (currently) to US$4.5 billion by 2015.
What are the drivers? Obviously, a lower than estimated growth in the economy along with high inflation puts pressure on enterprises to reduce overall operations cost. IT managers of Indian enterprises today must optimise their IT budget to support growth initiatives without compromising the quality of the service, and find a solution in cloud.
More than capex & opex
Cloud based services offers both challenges and opportunities for IT departments of organisations. Though these services are always associated with lower capex and operations cost, IT departments still have to demonstrate how these can be achieved. Another challenge is to decide from where and how to start the cloud journey.
Approach from non-core to core
A suggested approach is to start with non-core services which are not absolutely critical for operations/ business, and have less security related issues. Ideally, these services should be those where the IT department is the sole decision maker. Some of these are:
- Mail and other collaboration applications like Intranet
- Disaster Recovery system--this is the fastest growing cloud services in India
- Development, QA, and Staging environment
- HRMS, Payroll, CRM, and other supporting process applications
- Self service / internal support portals
Only when these apps/services are successfully migrated to cloud, should an enterprise think of moving their core IT systems like ERP and other LOB applications to move to the cloud.
Preparing a business casecalculating TCO
Before starting, IT managers must prepare a business case for cloud adoption. They need to understand that it is not really only a capex vs. opex story. To make a business case for cloud adoption, they must calculate TCO over three years, a typical period for hardware refresh.
TCO calculated over three years across three categories including internal IT, Managed Services and the Cloud. With an average capital investment of Rs 10 lakh on internal IT, besides AMC charges going up to Rs 1.5 lakh, monthly service charges amounting to Rs 500 and monthly labour charges accounting for Rs 1 lakh and other miscellaneous cost for three years accounting for Rs 50.68 lakh, the savings that the IT managers would derive is nil.
Against the same logic, with no upfront capital investment, if they opt for Managed Services or Cloud, the savings are relatively significant, except for the monthly service charges that are incurred. As discussed above, enterprises can save around 25-30 per cent over three years by moving two applications and two database servers to cloud.
Cloudy Road Ahead
The large enterprise segment in India is seen more inclined towards private cloud environments, while SMBs adopt public clouds to suit their requirements. BFSI and government verticals are seen as potential early adopters of cloud technology in India. As the market matures and services evolve, Indian enterprises will slowly start moving mission critical applications to cloud. By 2018, we will see ERP applications, or data intensive and core applications such as core banking software for banks moving towards a cloud model.
~ Somenath Nag is Director, Alten Calsoft Labs.