Are CIOs ready to take the charge?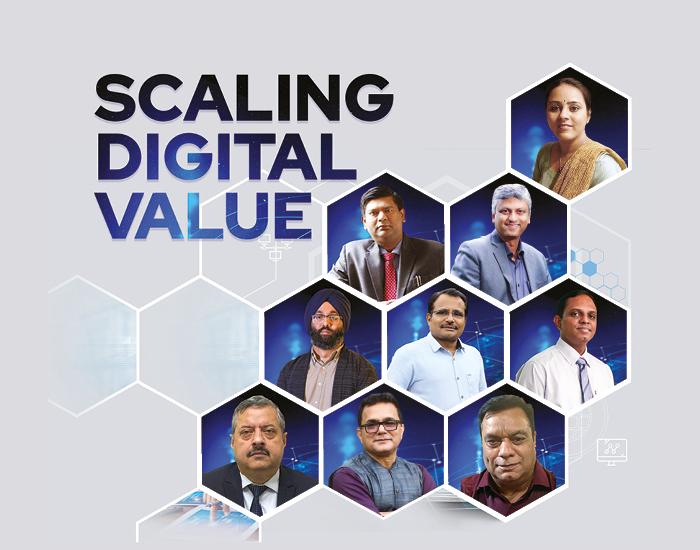 My editor, Shyamanuja Das, and I had an extensive conversation about selecting a cover story for this month that is highly relevant to tech executives in the current business environment, where companies are expected to achieve more with less. We previously discussed how organizations accelerated their digital transformation efforts during the pandemic to survive and keep their business running. Additionally, emerging technologies such as AI, 5G, and IoT gained significant attention. However, in the post-crisis phase, organizations face a new challenge - how to pursue growth. Maximizing the value and return on investment (RoI) from digital initiatives and extending their impact throughout the organization have now become a critical objective for technology leaders, although it has always been a focus area.
In its "The Keys to Scaling Digital Value" report, BCG underscores the importance of effectively scaling digital solutions during times of business volatility or economic turbulence. BCG's analysis, which examined the digital proficiency and maturity of nearly 2,000 global firms, reveals that implementing individual digital solutions can boost revenue by 9% to 25% and reduce costs by 8% to 28% when compared to the relevant baseline. However, scaling multiple solutions can result in an enterprise-wide revenue increase of nearly 17% and a cost reduction of 17%.
Regrettably, only 30% of firms qualify as digital leaders based on BCG's research, denoting the highest score in the digital enablement maturity assessment. These businesses have progressed beyond the pilot stage and can seamlessly integrate and leverage digital solutions across all organizational areas, as well as in their respective markets and regions. Conversely, the remaining 70% of organizations have not been able to scale their digital solutions beyond the pilot phase, or they have been unable to break down organizational silos. As a result, their digital transformations have not been able to realize their full potential across the entire enterprise.
Given this, it is not surprising that CIOs and technology leaders are placing greater emphasis on scaling digital value. Rather than just implementing new technologies or solutions for business continuity, the focus is on prioritizing alignment with business objectives and processes to achieve maximum value. The question is, how prepared are CIOs to lead this charge?
The key differentiators
In the present highly competitive era, there is no doubt that the rapid expansion of digital solutions can offer immediate benefits such as increased revenue, cost reduction, improved customer experiences, and enhanced long-term resilience.
The ability to quickly scale digital solutions is a crucial differentiator between companies that successfully undergo digital transformation and those that do not. For CIOs, keeping up with the constantly evolving digital landscape can be a significant challenge, as delays in action can lead to missed opportunities for effective scaling.
The question of how to measure the impact and success of digital transformation is a pressing concern for organizations and their boards, according to the majority of CIOs. What are the critical factors that enable companies to effectively scale their digital value and gain a competitive advantage?
Establishing clear metrics and KPIs: Establishing clear metrics and KPIs is crucial for measuring the success of digital initiatives and tracking progress towards business goals. According to industry experts, creating a metrics of success is a critical step for any transformation initiative. The metrics should measure productivity improvements, cost efficiency, higher customer satisfaction, or additional revenue opportunities. Digital technology enables organizations to drive multiple outcomes, such as customer growth, revenue growth, improved productivity, efficiency, and reduced instances of fraud. It is crucial for organizations to define these outcomes before embarking on digital initiatives to establish accountability and gain organizational buy-in.
Gyan Pandey, Head Digital/CDO of Voltas Limited, emphasizes the importance of thoroughly understanding business operations before utilizing technology for efficient practices. "Comprehensive digital adoption involving appropriate investment is crucial for attaining desired benefits, especially as IT budgets decrease each year. Selecting projects and technologies carefully guarantees a path to success, not just a "fail-fast" journey."
Pandey adds that data plays a crucial role in achieving business goals, but its full potential has yet to be realized, and it must be curated for meaningful use cases. Data-driven processes accelerate innovation, leading to the creation of new technologies, better products, and enhanced customer experiences.
This helps CIOs identify areas for improvement and adjust strategies accordingly, ensuring that digital initiatives deliver value to the organization and identify new growth opportunities.
"In terms of measuring the impact and success of digital transformation, there are several methods and KPIs that we use to evaluate our progress. We also receive evaluations from external consultants such as McKinsey and BCG. For every initiative, there is a structured process in place where it must be signed off and evaluated by the CFO. Projects may aim to significantly improve cost efficiency, process effectiveness, customer satisfaction, product quality, or demand power, and we define the relevant metrics to measure success. At the end of the year, we conduct a rigorous review to determine where we are and what we have achieved," says Dhiraj Sinha, EVP and Group CIO at JSW.
Manish Grover, Executive Director (Strategic IS & IS) at Indian Oil Corporation Limited, emphasizes the importance of starting small with a proof of concept and expanding horizontally. "In the upcoming year, the focus will be on expanding competencies to improve efficiency and socializing developed initiatives. The team will continue to adopt new technologies such as RPAs and core tools to drive automation across all divisions. Net Zero will be a significant focus, and the goal is to enable young minds to come up with game-changing initiatives in the transition phase of energies," Grover adds.