Enterprise networking company remains dedicated to transitioning its business towards SaaS based recurring revenue while also incorporating AI and ML capabilities into its product suite.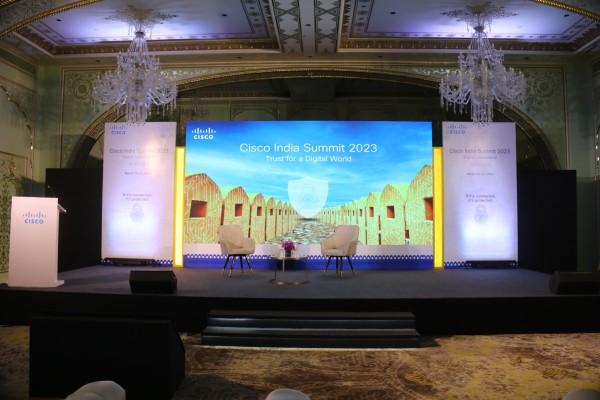 During the recently concluded Cisco India Summit (CIS), the multinational enterprise networking company unveiled its strategy for driving growth and making a significant impact in the Indian market.
As the digital landscape continues to expand at a breakneck pace, modern businesses face the daunting challenge of streamlining their IT systems to provide exceptional user experiences, while navigating a complex array of challenges - from hybrid workforces to cyber threats, IT talent shortages, and ever-shifting customer expectations.
Businesses are increasingly focused on modernizing IT systems to improve competitiveness, reduce costs, and enhance customer satisfaction. However, their IT teams can feel overwhelmed by the responsibility of ensuring secure and cost-effective connectivity and IT component integration.
In light of the above, Cisco perceives a significant opportunity in the digital landscape, especially in emerging markets such as India, which have experienced a remarkable surge in digitization in recent years. As per Cisco's projections, the number of globally interconnected devices is set to surpass 27 billion by 2025. Furthermore, a whopping 90% of Indian organizations have reported their employees using unregistered devices to access work platforms, creating a massive opportunity for Cisco to establish a strong foothold in the rapidly expanding digital and hybrid ecosystem.
Setting ambitious goals for India market
During the recently concluded Cisco India Summit (CIS), the multinational enterprise networking company unveiled its strategy for driving growth and making a significant impact in the Indian market. Although Cisco has not disclosed its precise revenue figures from the Indian market or any specific projections, it has reiterated its commitment to harnessing India's position in global innovation.
The company underlined its commitment to India by focusing on security, innovation, infrastructure, and talent development. At the CIS 2023, Daisy Chittilapilly, the President of Cisco India & SAARC, highlighted the significance of the Indian market, noting that Cisco's Bengaluru R&D center is the second-largest outside San Jose [among Cisco R&D centers] in the world.
Cisco aims to elevate India's current position among its top 10 performing nations to one of the top 5 by 2025. It is noteworthy that the company had made similar statements about India's potential back in 2016. "For us, India has been a top-performing market in the Asia Pacific, Japan, and China (APJC) region and is rapidly progressing towards becoming one of the top five markets [for us] globally," said Chittilapilly.
Chittilapilly adds that company's primary strategy is to enable its customers to enhance their digital agility in a cloud-first world by providing solutions that facilitate connectivity, security, and automation.
The company anticipates that the demand for its solutions will be fuelled by the continued focus of enterprises on cloud, cybersecurity services, and the need for new network architectures to leverage 5G technology.
Focusing on software-powered expansion
In the past, Cisco provided both products and services, but starting in the early 2000s, the company shifted its focus towards investing in software and services. In 2009, Cisco acquired Tandberg, a video communications company based in Norway, for $3 billion. This acquisition allowed Cisco to broaden its range of communication and collaboration services, thereby consolidating its position in this sector. By 2017, Cisco had made it evident that it was significantly transitioning from hardware to software subscription services as part of its strategic shift.
In the years since, Cisco has undergone a significant transformation [which is still going] by expanding its portfolio to include security, analytics, and Internet of Things solutions, in addition to its core hardware offerings. This strategic diversification has bolstered its reputation as a provider of comprehensive hardware and software solutions.
Cisco has divided its business model into six product categories, namely Secure and Agile Networks, Internet for the Future, Collaboration, End-to-End Security, Optimized Application Experiences, and Other Products. With the rise of virtualization and containerization technologies, enterprises are transitioning from hardware-based network functions to software-based ones, leading to a growing need for fast software innovation facilitated by Continuous Integration (CI) and Continuous Deployment (CD). To enhance the efficiency, dependability, and quality of DevOps processes, businesses are exploring the integration of AI/ML. Cisco argues that its application-centric infrastructure in DevOps is well-suited to manage the intricacies involved in securely deploying and managing applications across various data centers, private clouds, and public cloud environments.
In 2022, Cisco's revenue amounted to $51.56 billion, representing a 3% increase compared to fiscal 2021. Product revenue increased by 6%, while service revenue decreased by 2%. Products accounted for 73.7% of Cisco's total revenue in 2022. The company's software revenue in fiscal year 2022 exceeded $15 billion, with 81% of it coming from subscriptions. The total revenue from subscriptions, which includes services sold as subscriptions, was over $22 billion, accounting for 43% of Cisco's overall revenue.
By geographical segment, 58% of its revenue comes from America's, 27% from EMEA and 16% from APJC. Globally, Cisco is eyeing 50% of its revenues from subscriptions by 2025.
As Cisco shifts its business towards more recurring revenue-based offerings, driven by a higher proportion of software and subscriptions, the company expresses confidence in continuing to make substantial progress on its transformation metrics. With an emphasis on providing customers with greater simplicity and intelligence, Cisco is increasing its investments in cloud management platforms. By integrating AI and ML technologies into these platforms, the networking major aims to provide smarter solutions that streamline network management.
"We are committed to addressing every aspect, from hardware to software to subscription, and are constantly striving to improve in this dimension. Our portfolio is both broad and deep, and we remain dedicated to executing on all fronts. Our focus ranges from networking and collaboration to security and application monitoring, as well as observability and automation. By delivering more platforms and capabilities, we enable our customers to achieve desired outcomes and experiences. In terms of security, we are confident that we can provide trusted experiences," states Vish Iyer, Vice President, Architectures, Asia Pacific, Japan and China (APJC), Cisco.
Betting big on cybersecurity
As part of its efforts to grow its presence in the cybersecurity market, the US-based networking leader is concentrating on enhancing its risk-related capabilities. Cybersecurity and full stack observability remain significant strategic priorities for Cisco, and the company is allocating substantial resources towards developing new proficiencies in these areas
 "Security takes the forefront in any organization's digital journey, and as a result, it has become a top priority. Along with this, customers are equally focused on enhancing customer experience, employee experience, facilitating hybrid automation, utilizing more cloud solutions through a SaaS-based approach, and modernizing applications since they have become the center of business," says Shiva Kumar Yadagiri, Managing Director, Commercial & SMB, Cisco India & SAARC.
According to Cisco, its Cisco Security Cloud is the most open security platform that does not require a lock-in to any public cloud. The platform's objective is to offer an integrated experience for securely connecting people and devices to applications and data regardless of their location. The open platform, which is supported by AI and analytics-driven intelligence and managed through a unified interface, can provide threat prevention, detection, response, and remediation capabilities at scale.
Cisco's leadership has reaffirmed its expertise in email, DNS network traffic, and endpoints - all of which are widely utilized in enterprise settings. The company believes that it possesses the ability to integrate these components and simplify operations for businesses operating in a diverse and complex landscape, according to Iyer.
To bolster its security portfolio for hybrid and multi-cloud environments, Cisco has introduced new risk-based capabilities in India. The company says that it was introducing innovative cyber capabilities in areas such as Zero Trust, application security, and secure connectivity, expanding its security data center footprint, and continuing to build a dedicated engineering workforce in India to help organizations fortify their defenses and catalyze their transformation in the digital age.
Key challenges and other focus areas
Like its peers, Cisco is facing challenges in terms of competition on pricing and supply chain issues that affect timely delivery of products. However, the company is aware that customers and partners are seeking cutting-edge technologies to meet their strategic goals, and Cisco's innovative solutions are helping them navigate the complex market. Yadagiri notes that post-COVID, enterprise customers are looking for future-proof solutions that are architectural-level compositions rather than point products. In response to this, Cisco is investing in integrated architectures across various segments of the network, from endpoints to the cloud.
The company recognizes the importance of benchmarking and effective feedback mechanisms, which is often neglected by other solutions providers. Thus, Cisco says that it was committed to collaborating with its partner ecosystem and enhancing customer experience to deliver outcomes that define the value it can provide to its customers. "Our focus is on working with our partner ecosystem and enhancing customer experience to deliver outcomes that define the value we can provide to them. By doing so, we will become more relevant to our customers," explains Iyer.
Cisco is also banking big on 5G deployments and believe that the deployment of 5G technology will facilitate numerous use cases, particularly in the connected transportation space. "These technologies are essential for enabling the future, as they unlock new possibilities and innovation in areas such as virtual and augmented reality, gaming, and connected cars. Many ongoing efforts are focused on these areas to capitalize on the opportunities presented by 5G," adds Iyer.
The company has recently partnered with IT infrastructure and services provider NTT to hasten the implementation of Private 5G in various sectors such as Automotive, Logistics, Healthcare, Retail, and Public. NTT will oversee the design, deployment, operation, and maintenance of network infrastructure, as well as use case development, device sourcing, compatibility, and end-to-end testing for Cisco's Private 5G solution. As we move closer to the maturity of 5G ecosystems, Cisco may announce more partnerships of this kind to strengthen its position in the market and expand its product portfolio in various technology domains.
Over the years, Cisco has made several acquisitions, including Meraki in 2012, AppDynamics in 2017, Duo Security in 2018, and IMImobile in 2020, among others. These acquisitions have allowed Cisco to improve its offerings and remain competitive in the market. Industry experts predict that Cisco will continue to pursue acquisitions that align with its goals and help it stay competitive in the future.
- Cisco hosted the author at their annual India Summit (CIS 2023) in Jaipur.