Automation, predictive AI, cloud and edge-driven capabilities will empower organizations to adapt and reinvent in the new era of work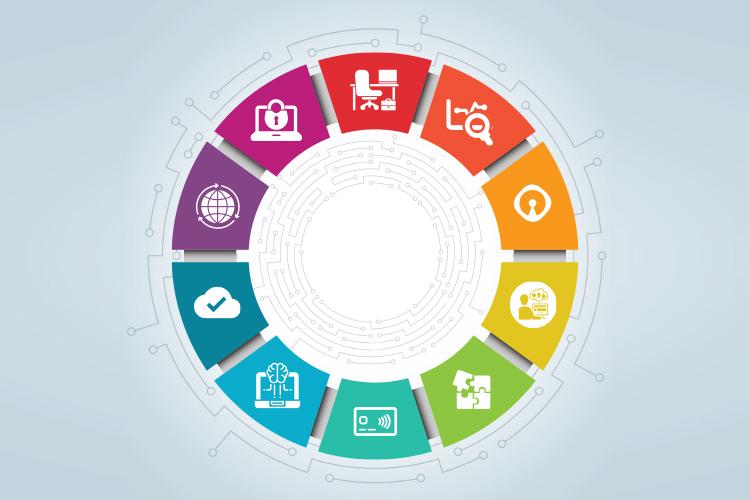 While the technology sector is known for driving frequent innovations and transformations, the last two years saw progress at an unprecedented scale. The global health crisis drastically altered the way we live and work. In the wake of a gloomy external outlook, the usual business operations and workplace models suddenly became archaic. The pandemic-induced work-from-home scenario resulted in a host of challenges businesses could've never imagined.
During the pandemic, IT leaders' first significant milestone was successfully enabling their entire workforce to connect, engage, and brainstorm by leveraging state-of-the-art technology and collaboration tools. Many new digital-centric enterprises rise to the challenge during turbulent times and launch unique business models by exploiting the advantages of the cloud, AI, robotics, and automation.
On the contrary, several organizations have continued to confront challenges related to managing erratic customer expectations, building supply chain resilience, and empowering a remote workforce to deliver exceptional user experiences during 2021. Many enterprises get exposed because of their complex business processes, which paused their ability to respond quickly to the change. While emerging technologies provided them with unique ways to solve these pressing issues, in several cases, the potential of these innovations could not be fully leveraged by businesses because of their low digital readiness index.
Overall, if 2020 pushed organizations to accelerate their digital transformation agenda take short-term measures to ensure business continuity, 2021 gave organizations realistic visibility around technology's role in augmenting specific processes.
As enterprises look ahead to the year 2022, they face a more significant challenge: how to continue to scale at lightning speed in the hybrid workspace environment, get back to business as pandemic subsides, and lay technical foundations for future-proof models.
There are immense expectations from CIOs and CTOs to continue leading this transformation and prepare bold action plans by identifying technologies that help organizations in their quest for success and launch disruptive business models.
Against this backdrop, IT NEXT has identified ten technology trends of 2022 that will likely form the agenda of enterprises to acquire novel capabilities, make their operations smarter, embed resilience, and deliver exceptional user experiences across touchpoints.
Total Experience (TX)
Delivering a better customer experience has been long considered as the foundation of the success of any organization. However, as digital adoption has taken a quantum leap across organizations and industries, enterprises need a new modern strategy to remain competitive and consistently drive exceptional customer experiences across all levels.
In 2022, a tremendous focus will be on revisiting business priorities and processes and finding technological solutions to make them more impactful to drive shared experiences that combine the disciplines of customer experience (CX), employee experience (EX), user experience (UX), and multi-experience (MX) will be highly critical for businesses. While CX, EX, UX, and MX get treated in silos in conventional business models, now the time is for more integrated approaches as enterprises expand to remote and distributed workforce environments. 
According to Gartner, Total Experience (TX) is a business strategy that integrates employee experience, customer experience, user experience, and multi-experience across multiple touchpoints to accelerate growth. The total experience can drive more outstanding customer and employee confidence, satisfaction, loyalty, and advocacy through holistic management of stakeholder experiences.
Today, customers want the seamless opportunity to interact with multiple interfaces across mobile, web, app, and call. Businesses leverage new-age technologies such as AI-based chatbots, conversational AI, and virtual reality to connect with customers. Global Technology behemoths such as Amazon, Netflix, and Apple have already disrupted the customer experience by making their interactions with customers more meaningful and focusing on things that matter most to their customers.
In 2022, companies will continue to invest significantly in deploying multi-experience contact centers and purpose-built solutions relevant to their unique business models. One of the core boardroom agendas of CEOs will be to find the best ways to foster relationships between businesses and customers across all touchpoints by leveraging data science and AI/ML. Organizations will invest in tools and technologies that empower their employees to effectively map the entire customer journey and seamlessly resolve customer grievances.
On-demand offices
During the pandemic, businesses faced a considerable challenge to transition to remote work, to the cloud, and to accelerate digital transformation at a breakneck speed. However, getting their employees back to offices after COVID is even a more monumental shift that they are dealing with currently. 2022 will see a growing focus on in-person and remote work, aka, hybrid workplace scenario where enterprises will be rebalancing their real-estate portfolios and encouraging employees to use on-demand workspaces. While some employees exhausted of work-from-home would happily resume offices, many others will resist, given the uncertainty around the future waves of the pandemic. And then, there would be a group of employees who want to work from the office but avoid the time, expense, and stress levels of a daily commute. This is where the concept of on-demand offices is likely to be an enabler.
On-demand workspaces are offices that are available when you need them without necessarily having a permanent address. In the new hybrid workplace scenario, where a significant percentage of total employees still expected to work from remote locations, on-demand offices offer unique advantages to employees who want to reduce their commute time without getting distracted while working from home. The concept also ensures that employees can meet their clients professionally without worrying about suitable space. Companies like We Work, Innov8, myHQ, and Regus are already offering unique office flexibility options and quality on-demand meeting rooms, training rooms, and workstations, even on an hourly basis.
The successful transition to the distributed work environment will need businesses to reflect on their technology readiness to drive the culture change, upskill people and ensure cross-departmental collaboration across their workforce seamlessly and securely.
Across all industries, there have been several experiments, tech integrations, process refinements, and new learnings to navigate the uncertainty and build capacities to support the distributed workforce model. Business leaders have to make subtle shifts in managing their teams remotely.
Data and analytics at the edge
As enterprises are flocking to the cloud more than ever today to reap the benefits of digitalization, the need for real-time data processing and analytics computation is expected to grow tremendously. By performing data analysis in real-time, at endpoints where it is collected, businesses across healthcare, financial services, manufacturing, agriculture, and transportation get empowered to make immediate decisions and deliver more incredible experiences to their users.
The edge analytics also enable enterprises to reduce the burden on backend servers while transporting computation and analytics capabilities even in remote locations. In 2022 and beyond, as the industry is moving towards colossal IoT adoption, edge analytics will be the cornerstone of enterprise strategy to drive connected ecosystems and innovations.
According to Six Trends in Data and Analytics for 2022, a report by Nucleus Research,  as companies mature in their analytics strategies, most develop various priority levels for different analytical workloads as a means of optimizing costs and resource consumption, with the highest requiring immediate analysis and response and the lowest requiring very infrequent batched analytics or reporting.
The next few years will see growing demand for quick-to-deploy interfaces such as natural language to manage complex analyses and other workflows at the edge and within data repositories. "Keeping to minimize or eliminate latency, in-database analytics and query accelerators are seeing strong growth," the report adds.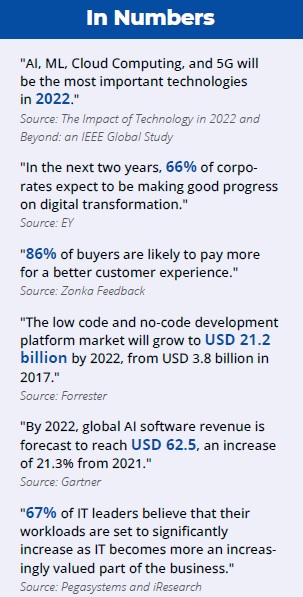 Low-code and no-code automation
The adoption of drag and drop platforms, also known as low-code or no-code platforms, has seen significant interest across the industries during the last two to three years. In 2022, enterprises will continue to focus extensively on automating their processes and developing new customer interfaces by leveraging low-code and no-code platforms. The uptake is expected to grow sharply since these platforms offer the easiest way to establish modern-day applications and manage workflows, even when an organization lacks enough technical knowledge or resources.
These platforms enable businesses to amplify their capabilities by building responsive applications for mobile and web and cutting down the lead time between an application's coding and production state. Companies can automate processes and manage workflows even when they lack enough technical knowledge and resources by leveraging these platforms.
According to a projection by Forrester, the no-code development platform market will grow from USD 3.8 billion in 2017 to USD 21.2 billion by 2022.
An ideal no or low code platform enables the organization and IT decision-makers to achieve their business goals without compromising security. The winning no-code/low code technology strategy will require enterprises to carefully analyze which platform they want to commit to and whether they are precisely aligned with business goals.
Contactless services
In 2022, businesses are expected to significantly accelerate their investments to offer contactless services across areas – delivery of products and services, customer experience, payments, and security.
Such measures will be critical to curtailing the risk of the COVID-19 pandemic to customers and staff. The usage of robotics, AR/VR, and AI-powered applications such as facial recognition are likely to grow extensively in delivering contactless services such as telemedicine, education, dining, secure entrance to specific areas, and delivery of food & groceries. Innovations are likely to emerge in the augmented reality space where enterprises will demonstrate their products and services to customers virtually and in-store without physically touching them.
Last year, Tokyo 2020 saw phenomenal innovations in the contactless services space, numerous AR experiences, and live fan interactions and video messages for athletes for an engaging experience for athletes and audiences even if they are not in the stadium together.
In 2022, contactless payments will continue to be a preferred way of currency payments for customers due to the security, swiftness, and reliability it offers. "Contactless payments are beneficial for both consumers and retailers due to higher payments security, instant payment facility, low risk of theft, and high level of transparency. Furthermore, contactless payments witnessed significant growth during the COVID-19 pandemic as people started avoiding human touch to save themselves from infection," says a research study from Coherent Market Insights. According to the research, the global contactless payments market will account for 26.3 Bn in value by the end of 2027.
Technology enablers will continue to develop innovative ways to transform how we connect, collaborate, and get services effectively in a safe and contactless manner.
Democratization of AI & ML
It will not be wrong to say that if one technology has substantially disrupted the business processes, it is artificial intelligence (AI). So far, enterprises have only scratched the surface of the potential of AI & ML. In 2022, they will be the most critical technologies along with 5G and Cloud Computing. Almost all industries see AI as a considerable value creator in enhancing customer experience, automating processes, and firming employee engagement by leveraging data-driven insights.
The advancements of AI and ML enable businesses to predict future trends and make informed decisions to accelerate response time. For instance, well before the pandemic explosion, BlueDot, a Canadian AI-based health monitoring platform, observed some strange pneumonia cases in Wuhan, China, using natural language processing and machine learning. The platform alarmed public health officials of several countries even nine days before the WHO released a warning statement around novel coronavirus. The same AI platform also identified India and Brazil as future epicenters months before the second wave hit in these countries.
During the pandemic, concepts such as conversational AI-enabled contact centers provide round-the-clock personalized customer service and also help businesses bolster their supply chain efficiency even with limited staff availability. However, despite its insurmountable promise in terms of significant quality and cost optimization improvements, the mass adoption of AI &  ML lags due to high complexity and talent shortage.
Tech-leaders are scrambling to find the right talent to accelerate their AI initiatives but cannot get from the existing pool of resources. In 2022, innovations are likely to emerge that will automate many AI initiatives, such as data groundwork and data engineering. The no-code and low-code platforms will be critical to democratize the AI within the enterprise ecosystems. Such tools will enable enterprises to integrate AI into applications easily, even if they lack talent who know the technicalities and science behind developing machine learning platforms.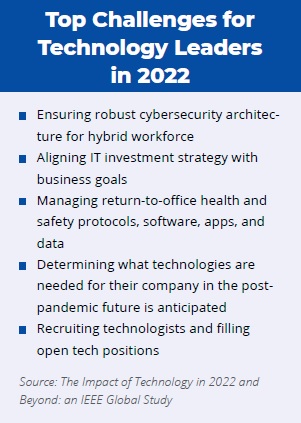 Ubiquitous connectivity
A poor network can be big detrimental to a digital revolution. Heading into 2022, the new hybrid workspace models require secure and ubiquitous connectivity to ensure employees and users can stay connected wherever they are.
In 2022, modernizing applications will be critical for enterprises to provide diverse choices for users to connect and collaborate with. Industry stakeholders in the IT and Telecom sector will continue to take strong initiatives to explore the potential of technologies such as 5G and WiFi-6 to create new IoT opportunities to drive better and secure user experience, even in rural and coastal regions. The improved connectivity could translate into incredible opportunities in public safety, intelligent transportation, smart farming, Industry 4.0.
Regional open-source innovations
While cloud-based applications are helping organizations provide a seamless experience to their users across the globe, the rapid adoption of country-specific data-governance policies and standards are increasing the complexities. In 2022, as organizations continue to move to shared workplace models, they will be keen to analyze and learn from each other by leveraging on-prem platforms such as Azure. 
There will be an extensive focus on region-specific open-source innovations and deployments to ensure compliance and find new paths to innovations. Various industry studies project that organizations with reliable open-source data stacks will be ahead of their competitors when driving revenues with data and analytics.
Software-defined Business Continuity Planning (BCP)
A business continuity plan (BCP) outlines how an organization will run its operations during an emergency or an unexpected disruption. One of the foremost advantages is that cloud-based working models help create a compelling and agile business continuity strategy as compared with manually backup systems and traditional disaster recovery procedures.
In 2022, enterprises will focus on new software-defined strategies to back up their data and plan for disaster recovery should there be a crisis. Organizations will continue to invest heavily in skill up gradation and expertise to ensure that critical data, applications, and services remain operational or quickly reinstated if there is a disruption.
Investments in technologies such as containers and Kubernetes will likely grow faster to modernize the way applications are developed and leveraged to drive IT efficiency. 
Cybersecurity mesh
The year 2021 has witnessed a significant improvement in information security awareness among Indian organizations. Nevertheless, driven by the rise in digital customer interface channels and the pandemic-induced remote-working, enterprises continue to witness new and unimaginable ways of cyber breaches throughout the last twelve months.
A report by Gemalto states that India accounts for 37% of breaches in the world that lead to stolen or compromised data. Security and risk management leaders continue to face challenges to secure sensitive and confidential organizational data.  Businesses are deploying many technologies at numerous locations, and to protect their extended digital networks and digital assets, they need a planned and a new-age security approach. The year 2021 saw a rapid uptake of zero-trust network philosophy which makes all the devices by default untrusted to access the broader network. Zero Trust Architecture (ZTA) is a process that focuses on the 'do not trust, always verify' principle.
To keep pace with a more distributed workplace model and secure cloud deployments, industry experts are delving deeper into adopting the Cybersecurity mesh route, an extension of ZTA. According to Gartner, the cybersecurity mesh is a distributed architectural approach to scalable, flexible, and reliable cyber control. The mesh changes the focus from protecting a traditional IT perimeter (analogous to a "walled city") to a more modular approach that centralizes policy orchestration but distributes enforcement of cyber security policy. By 2024, Gartner projects, organizations adopting a cybersecurity mesh architecture will reduce the financial impact of security incidents by an average of 90%.