The Indian economy is influenced by economic and market conditions in other countries, particularly emerging market conditions in Asia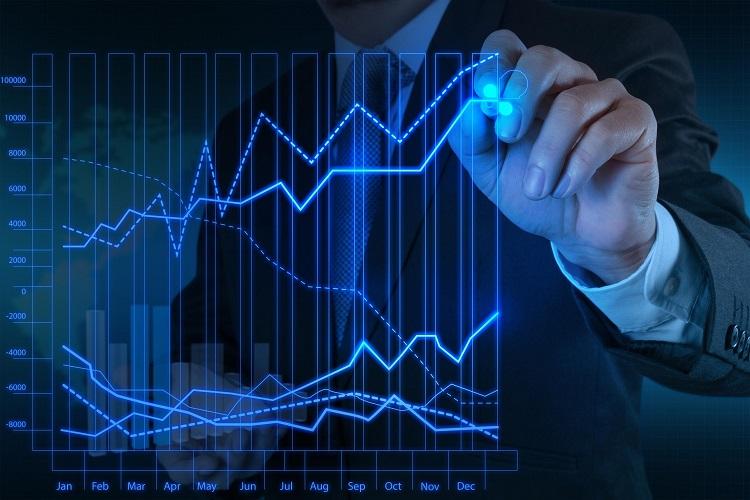 The Indian economy started the decade of 2010s on signs of high growth, fueled by early recovery and limited effects on output from the financial crisis of 2008-09. From a robust growth of 9% in 2010, the economy slowed to a modest growth rate of 4.5% during 2019. The share of sectors contributing to GDP has also changed, with the services sector contributing 49.4% to GDP and the contribution of agriculture and industry sectors falling to 16.0% and 27.3%, respectively, in 2019.
Role of Emerging Technologies
The cloud services market's growth in India is driven by the increasing adoption of big data, Artificial Intelligence (AI), and the Internet of Things (IoT). IoT connects multiple devices or appliances that need to be connected to the internet, including automation and real-time device control. IoT connected devices such as household appliances, connected cars, and electronics use a cloud-based backend to communicate and store information. AI Technology is being embedded into IT infrastructure to streamline workloads and automate repetitive tasks. Companies use cloud infrastructure to collect, store, process, and analyze the bulk of data required for AI tools and applications. The surging adoption of Big Data in India is also leading to the growth of the cloud services market as cloud infrastructure allows for real-time processing of Big Data.
Cloud Services - Indian public cloud services spending is expected to grow at a CAGR of 29%, from INR 384 Bn. in 2020 to INR 1,103.4 Bn. in 2025
IoT - The IoT market was estimated at USD 9 Bn. in FY20 (as per projections made in 2016)
Big Data and Business Analytics - Big Data and business analytics revenue were estimated to be valued at USD 4 billion in 2019, up from USD 2 billion in 2016, with growth at a CAGR of 25%. The growth, driven primarily by IT/ITes, has increased the demand for data storage space (Data Centers)

Besides the growth of these technology markets, the Government of India is also looking to invest INR 3660 crore in establishing an Emerging Technology Innovation Hub.
Factors Impacting Growth of Emerging Technologies
Increase in wireless data subscribers - India's total number of wireless subscribers has been an overall increase. We have witnessed a significant increase in the proportion of wireless data subscribers concerning the total number of wireless subscribers. The cloud services market in India was undergoing a cloud transition phase, which got accelerated by the perpetuation of COVID-19 in 2020. During the first quarter of 2020, enterprises' spending on cloud infrastructure increased by ~35%, compared to the fourth quarter of 2019. The adoption of "Work from Home" shift from office set-ups to virtual work generated the urgent need for secure, reliable, scalable, and cost-effective technology services across the country. SaaS has been a huge support for the sudden increase in the mobile workforce in 2020. The Indian cloud infrastructure witnessed a y-o-y growth of around 15% by the end of 2020.
Increased mobile and internet penetration - On average, Indians used 13.5 GB of data per month in December 2020, owing to an increase in data subscribers and consumption of mobile-video content.  The data consumption is expected to double to 25 GB per month per user by 2025, fueled by the introduction and adoption of 5G, change in working patterns, augmented consumption of mobile-video content led by COVID-19, and affordable pricing. It is also expected that mobile data traffic per month will grow at a CAGR of 23%, from 4.6 exabytes in 2018 to 16 exabytes in 2024.
Fast growing OTT market - India is currently amongst the world's fastest-growing OTT (over-the-top streaming) markets. The high growth of OTT in rural markets is also expected to increase.
Overview of Indian IT/ITES Sector
One of the predominant factors that have resulted in the increasing value contributed by the services sector to the GDP is the IT/ITes sector, which is valued at USD 45 billion (domestic revenue) and USD 150 billion (export revenue) end of Fiscal 2021. As of 2020, India's IT workforce accounts for 4.36 million employees. It is further expected that IT spending in India could reach USD 93 billion in 2021 (7.3% growth year on year) and further increase to USD 98.5 billion in 2022, driven by rapid digitization and the IT industry's timely move to remote working environments. This helped them to keep up the industry's growth amid the COVID-19 pandemic. It is forecasted that the contribution of the IT industry to India's GDP will reach 10% by Fiscal 2025. India is one of the largest data generators currently, with a growing young and tech-savvy population. Digital consumption data in India was around 40,000 Petabytes in 2010; it has likely shot up to 2.3 million Petabytes towards the end of 2020, which is twice the global rate, as per a report by ASSOCHAM.
IT Industry Driving India's Economic Growth
In 2020, India ranked 63rd among 190 economies in terms of ease of doing business, ascending 76 positions from its all-time low position of 139 in 2010. India is one of the top offshoring destinations for IT companies worldwide. In FY'2021, India was the 5th highest FDI recipient nation, up from the 8th position in FY'19. Some of the key growth drivers of the IT industry in India are – low cost of operations, supportive govt. policies, availability of skilled workforce, surging demand for IT-related technologies like Cloud Computing, Digital Payments, IoT, developments in Telecom and BFSI, etc. and export demand growth.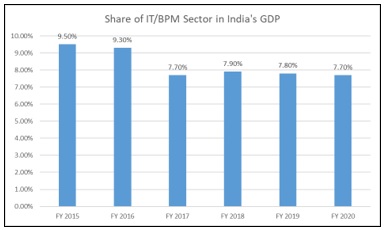 Share of IT/BPM Sector in Indian GDP
(Source)
The role of cloud and data center Industry
In July 2015, the Government of India flagged off the 'Digital India Program,' with a vision of propelling the efforts to transform India into a digitally empowered society and knowledge economy. Further, it was envisaged that the digital ecosystem could generate an economic value of USD 1 trillion, which would play a crucial role in achieving the USD 5 trillion economy target by 2025. As part of the program, the Government identified 30 digital themes across different sectors such as agriculture, healthcare, education, energy, digital payments, etc. This relies on a 21st century IT/ITES, highlighting opportunities for increased adoption of digital technologies.
The wave of IT adoption led by Cloud Computing has allowed firms to transform the backend operations, resulting in an enhanced value proposition for the customers. Cloud service gives companies of any size access to technological capabilities previously accessible to large enterprises only. In India, the industry has gained momentum with more than 200 Data Centers and more than 10 Cloud operators, targeting an industry market size of USD 3.8 billion in Fiscal 2020.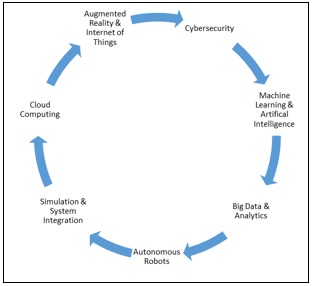 Key Technologies Shaping the "Digital Transformation of India" in 2020
Source: Industry Articles and Ken Research Analysis
Conclusion
The Indian Economy is also influenced by economic and market conditions in other countries, particularly emerging market conditions in Asia. Emerging technologies & their adoption have grown rapidly with time and have contributed significantly to the Economy. Various government policies and initiatives have driven technology adoption across industries.
The author is Managing Director & Chairman, ESDS Software Solution