The COVID-19 crisis has exposed many gaps in our management of large-scale public emergencies. An integrated approach to healthcare digitization can help us prepare better for the future.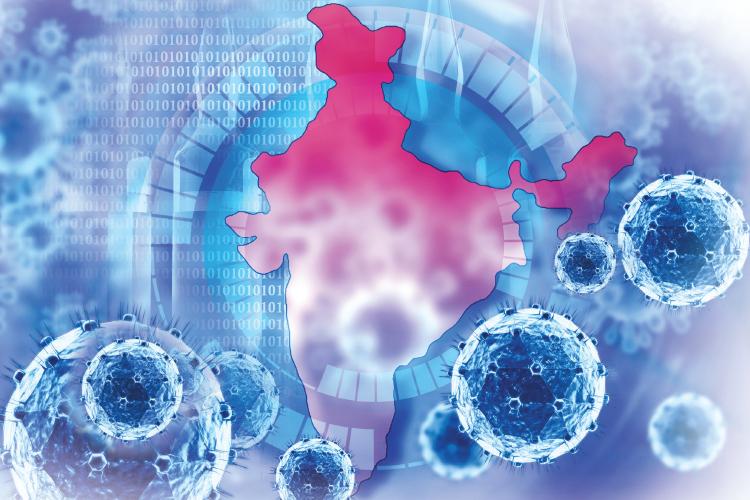 The explosive resurgence of Coronavirus cases across India has put a severe strain on our healthcare management system. The second wave of the pandemic has flagged our frail emergency response readiness and inapt health infrastructure.
The scenes of myriad funeral pyres and desperate appeals from people to save them and their loved one's lives are becoming national and global headlines. Amidst a frightening shortage of medical oxygen, medicines, vaccines, and intensive care units in hospitals, India has also dealt with the deluge of misinformation circulated through several social media channels around COVID conspiracies, treatment, and risks. 
These events have exacerbated the COVID-19 situation in the world's second-most populous nation, intensifying fear, anxiety, despair, and uncertainty among people. 
The ferocity of the second wave was such that many people, due to the shortage of antiviral drugs and medicines in the open market, turned to profit-gougers to buy for a 10-20 times higher price than the government-approved rate. With over 2.67 crore COVID cases and increasing, this unparalleled public health emergency has stunned India and broke the confidence of its public health experts. 
These tumultuous times have set alarm bells ringing in the power corridors, and the call for a rapid transformation in healthcare and public safety management has become louder than ever. Many countries worldwide have demonstrated how, by leveraging data, conventional tech, and new-age tech solutions, they can detect the virus carriers early, break the chain of infections and accelerate vaccine development.
During the last fourteen to fifteen months, we've experienced the role played by technologies to help us working from home, virtually interacting with people, attending schools and colleges, ordering groceries, and several other things. Now, the time is to replicate those technological interventions to advance the public emergency response and address healthcare skill gaps in India.
How can we prepare ourselves better?
It is possible to minimize the severity of any crisis provided there are the right resources and solutions available to take early and decisive steps. Even before the Coronavirus pandemic hit us last year, many health professionals and industry experts had posited the possibility of a global threat from unknown infectious diseases. After the first wave of COVID, epidemiologists had warned about the possible surge of cases in the country. However, India failed to take concrete prevention steps. 
In any public healthcare emergency, the key factors that play a pivotal role are: timely prediction, hands-on public warning mechanism, effective control management, strong coordination between states and central government agencies, emergency response strategy, and action plan readiness. India struggled to implement any of these necessary steps promptly.
The biggest reason for India's failure to predict the unprecedented rise of Coronavirus cases was the unscientific way it adopted to lift pandemic restrictions prematurely due to the delusion that the country had defeated the pandemic. In the absence of robust data collection and translation tools or disease tracking solutions at state or national levels, India failed to estimate the gravity of the situation. 
One needs to remember that this is not the first time that India looked woefully unprepared for unlikely and upsetting events. In 2015, India struggled to contain the H1N1 virus and failed to develop a timely strategy to spread awareness about its prevention and accelerate vaccination drive. With COVID-19, which is considered ten times deadlier than the Swine Flu, the challenges have gone to a new level altogether.
With the country's top scientific advisors cautioning that the third wave could be even more dangerous, especially for children, the big question on everyone's mind is: Are we ready to manage the third wave of the pandemic? And what is needed to be done to ensure that such emergencies are handled well by us in the future? 
According to technology experts, the country needs systematic changes in its healthcare management approach. "We need to be more proactive in managing any public emergency. 
As a nation, are we ready for any exigency, whether earthquake, tsunami, or pandemics? We need to move on from the mindset that if something comes in, we will address it. We should have a robust disaster management plan, remediations, and an updated national Standard Operating Procedure (SOP) before the technology can come into play," said Pratap Pat Joshi, CIO, Mercedes-Benz India.
In most countries, the national emergency warning systems have played a pivotal role in alerting the public to life-threatening disasters or crises. India's emergency response framework proved to be perilously incompetent to handle a problem of such a magnitude. 
India's low digital literacy also played a crucial part in the deteriorating situation and rising number of cases. "One of the biggest reasons that made the COVID situation unmanageable in India was the inability of people and doctors' to promptly reach each other. The line of treatment for COVID-19 is almost the same with minor variations. Mostly, the cases became severe because people didn't take medicines on time," said Rajiv Sikka, CIO, Medanta Medicity.
Sikka emphasized the importance of teleconsulting through new-age platforms and the need to teach essential tech to all medical practitioners and people. "They [patients] started thinking about medicines on the seventh stage, for instance. In such a scenario, simple WhatsApp-based teleconsulting platforms could have done wonders and lessen the impact. The challenge was that both patients and doctors were facing problem in using the technology. By using basic tech, through Mohalla clinics and primary healthcare centers, doctors could have reached patients effectively by doing multiple basic consultations remotely," added Sikka.
Another big problem area during this crisis was the lack of collaboration between different entities. There was no strategic planning or coordination between government agencies, hospitals, doctors, and people. When people started facing a shortage of medicines and clinical oxygen, no one knew which way to go. It was all haphazard, with people reaching out to each other for help.
"Supply chain was not an issue. Planning was an issue. Most of the manufacturers were unprepared that something like this would happen. There was no data, no warning system. It becomes imperative for the country to collect data patterns to predict the probabilities of a virus-spread or a crisis. It is equally important to teach basic technology to the masses so that they can leverage it to their advantage," said Pooraan Jaiswal, CIO of Entero Healthcare, which is one of the largest healthcare supply chains in India.
The government should partner with top technologists to design effective surveillance systems and early outbreak warning systems to accelerate the response from health professionals and the state governments to control the outbreak's spread. 
We fell ignominiously short of ideas to assess, identify, and prioritize health requirements during the response phases. Except self-declaration-based contact tracing app, Aarogya Setu, there was no primary outbreak management application or technology tool through which the country's centralized public safety management team could administrate and track the COVID-19 cases and patient's health progress. This limitation of generating accurate real-time data proved to be a significant hurdle in developing a connected healthcare ecosystem. 
Automation-based technologies can also help reduce the gap between patients and doctors. By leveraging teleconsulting and video consulting facilities, especially in government hospitals, India can boost remote patient monitoring capabilities even in rural areas. Such remote management can help people take timely medical advice, enable doctors to monitor their patient's health progress remotely, particularly in areas where medical facilities are inadequate.
Data plays an essential role in managing a crisis
Despite the government ramping up its vaccination efforts, it is also true that the pandemic has long-term effects on our people's health, savings, and overall well-being. As we continue to overcome the challenges related to the pandemic and infections emerging from the second wave, digital technologies and data insights tool remains the biggest hope to maintain people's safety and well-being. 
Data is exceptionally critical for delivering tech solutions that can help everyone inform about the resource availability during the response phase of the pandemic. By deploying integrated technological tools across all hospitals, clinics, and isolation centers, raw medical data of each of them can be collected in real-time to get the status of individual hospital capacity, availability of beds, and other life-saving resources through a centralized dashboard, available to all citizens to see.
"There is so much of data today which is not collected. Just like we collect data to predict customer behavior, why can't we start collecting data to identify different patterns of pandemic behavior and various conditions across the country? Can medical fraternity and corporates come together, anonymize some of the pieces of data and give it as a pool to the government so that they can form large patterns of data and derive meaningful insights?" expounded Deepak Bhosale, GM - IT, Asian Paints.
The government of Australia, for instance, demonstrated immense faith in using machine learning, artificial intelligence, predictive analytics, and natural language processing technologies to build trust in citizens and ensuring timely decisions. The country invested significant time and money to strengthen its capability to track and manage the COVID-19 outbreak.
According to a Mckinsey report titled, "Collaboration in crisis: Reflecting on Australia's COVID-19 response," in Australia, there is no shortage of information during this crisis. Both businesses and governments have had to cope with an avalanche of new and sometimes conflicting data. Australia has taken a deliberately data-led approach, harnessing the expertise and doing vital work to filter out the noise and focus on practical, trusted information to shape decision-making. 
A notable aspect was that each state had developed its contact tracing app very early to detect local hot spots accurately at their level and adopt tailored approaches to contain the virus. The country formed a new National Cabinet body, an inter-governmental forum to facilitate collaboration between state governments and central government.
Similarly, Taiwan, situated just 81 miles off the coast of mainland China, was one of the biggest COVID success stories that emerged during the first pandemic wave last year. The country successfully navigated the pandemic by leveraging new-age technologies, integrating its national health insurance database with its immigration and customs database for intelligent insights and data. 
The government of Taiwan developed several data intelligence templates that helped it map the virus transmission and contain it by leveraging technological solutions based on artificial intelligence and machine learning. The country was instrumental in generating real-time data based on its people's travel and medical history and separate its travel passengers after analyzing their health symptoms and recent travel data. By integrating technology in its public emergency response strategy, it was successful in containing the pandemic at an early stage.
India needs to learn from such global initiatives and build new real-time data collection frameworks to create real-time online and app-based dashboards. These centralized platforms can be instrumental in signaling the possibility of the next threat. Moreover, during the response phase of the pandemic, these platforms can accurately help generate real-time data on various critical pieces. From the availability of beds and medical resources in a nearby hospital to the shortage of necessary pharmaceutical stocks, nearby vaccination centers, and plasma requirements, these platforms can instantly update the real-time situation. Such media can enable doctors, residents, and governments to collaborate better for quality patient care.
"You can have an adaptable and responsive supply chain as long as you know what does the demand and supply look like. There are a lot of smart devices available today, and they can help analyze the trends. However, to accomplish that successfully, data has to authentic, correct, and in one place. There are a lot of cloud technologies available today which can hold even terabytes of data. On top of this integrated data layer, services, which could be micro or API-based, can be built and consumed by various government agencies or third parties for better disease prevention controls," explains Vinod Bhat, CIO, Vistara.
Need for building a digital healthcare database
Many countries have already taken robust measures to integrate technology and innovative solutions with their healthcare systems to elevate their public emergency management. The foundation for successful technology integration with a country's healthcare system depends on developing accurate healthcare databases and electronic health records of citizens.
The availability of and access to electronic health records provide doctors meaningful insights into the patient's historical medical data, such as any critical illnesses, previously taken medications, allergies, tests undertaken, among others. With big data and deep insights, this data can generate quick patterns for a doctor to help him provide a precise solution to a patient speedily and enhance hospitals' productivity during a crisis. This database can be a quick reference point for insurance agencies and other government agencies, especially during a national emergency like Coronavirus, where a physical assessment of patients may not be easily possible. 
Electronic data records can help immigration teams quickly check the traveler's medical history, infectious disease history, and vaccination status even in international or national travel without any hassle. Many countries, including India, have already taken steps to launch digital health passports, integrating individual's health credentials/data. 
Leading technology experts believe that India should look at the experiences of global countries and fast-track its efforts to build a digital healthcare database. "Whatever data is available today, that should be made available to the agencies. For instance, why can't the individual reports of RT-PCR, the test to detect severe acute respiratory syndrome, go into a central repository? News sources suggest that many people, with the help of photoshop, are using fake COVID-19 results for traveling purposes. There should be no need to carry that report physically. Why can't we have one digital system where everyone logs in and puts someone's Aadhaar card number to verify whether this person is COVID-19 positive or negative," said Umesh Mehta, EVP & Global CIO at Jubilant Life Sciences.
Vinod Bhat highlights the importance of capturing the data from different sources and create an integrated data layer for developing effective technology solutions. "Data capturing, employee monitoring, and technology upgrades are happening at an organizational level, and it's time for India to connect the dots. You may talk about artificial intelligence, analytics, or any other intelligent algorithms-based platform. However, none of the technology will function unless and until qualitative data is available," Bhatt adds.
To build a robust national defense against public healthcare emergencies, India needs speedy efforts to develop a digital healthcare database of its citizens. And boost its capabilities to generate centralized raw data from hospitals and pharmacies to help it develop cutting-edge AI-based public emergency surveillance tools and effective data insights platforms. One such area is wellness management, which focuses not only on a particular disease or virus but also on a person's overall well-being. It is not just the pandemic and infection, but also many other aspects that people struggle with during the post-COVID phase. The pandemic has affected almost everyone in some or another way. The scars are deep! 
Many people have lost their loved ones. Many are dealing with post-disease complications, isolation and several others are facing the deterioration of mental health and continuous distress. Technology can play a pivotal role in ensuring good physical and mental health for all residents. Identifying people in need and providing them regular counseling should be on priority for the government. A centralized wellness app, an enhanced version of Aarogya Setu, can also be introduced by the government, enabling citizens to refer to the handy resources related to a public emergency and seek immediate counseling.
"Wellness management is coming up as a big subject. Even if you are visiting different physicians or hospitals over a while for treatment, your data should be available to them to track and suggest requisite measures. The government should leverage technologies such as artificial intelligence to give early warnings and recommendations to people based on their health conditions. Of course, this entire process of automating records needs to be implemented, keeping data privacy issues in mind," said Rajesh Uppal, Executive Officer (EO) - IT and CIO of Maruti Suzuki India.
Impactful and timely communication
In a country as diverse as India, communicating in a national emergency becomes paramount to fight pandemics and safeguard healthcare. Since the beginning of the pandemic, there has been a flood of information, and not all are authentic. 
For example, at the peak of COVID-19, the country saw massive discrimination against healthcare workers and their family members. Many healthcare professionals received hostile behaviors by their communities and residential societies due to the faulty reasoning and the misconception that they are more vulnerable to contagious disease and can be COVID super-spreaders.
The Indian government's failure to establish trusted pandemic broadcast channels across all platforms also played a massive role in the community transmission of the virus. It resulted in people relying on many peculiar theories about the pandemic and homemade cures, putting people's lives at risk. 
The condition of the villages is even more dismal, where there is a significant dependency on hearsay to combat any such situation, and misinformation spreads like fire. The government needs to develop a strategy to deliver impactful communication around disease prevention by engaging local talent in villages and far-flung areas, identifying few residents, and getting them trained in basic technology platforms and dashboard data access and analysis. 
These residents can be a one-single point of contact for a central risk management team, taking regular updates and providing necessary guidance, and circumvent any misleading or false information about any aspect of the disease.
In addition, the government should strengthen its disease surveillance system and enhance its ability to broadcast important messages through SMSes, mobile apps, social media videos/apps, mobile calls, radio, and television. Automation of delivering such messages can play a crucial role as well. We need to focus on building innovative messaging mechanisms to increase the frequency of such broadcasts for positive COVID patients. 
AI-based chatbots can prove to be an effective tool to support COVID patients by providing them accurate information about the disease, pre- and post-COVID care. Their conversational interface, if designed well, can answer multiple questions, and also help residents find vaccination availability and slots in hospitals near to them.
These interactive chatbots can increase the recovery chances of COVID-19 patients at home and ensure the timely implementation of precautionary steps to prevent the spread of the disease. Such technology-driven initiatives can help reduce the burden on hospitals overwhelmed by patients infected with COVID-19 while raising public awareness about the perils of misinformation.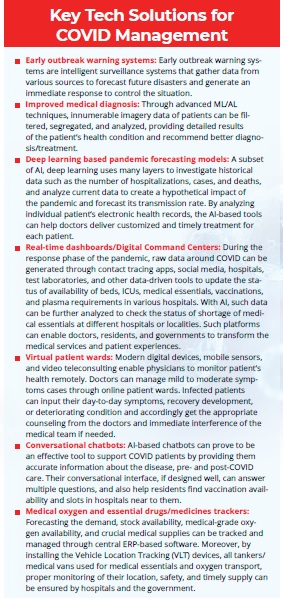 The way ahead
The current crisis should be the final wake-up call for India to set aside a larger pool of investments to integrate the country's healthcare with the latest technological advancements! Besides developing robust data pools, it is also critical for the government to review the national and state-level crisis response plans and the capabilities required to manage pandemics.  
"Similar to the organizational approach, there has to be a strong contingency planning in detail by classifying disasters at national and state levels. The entire concept of business continuity planning needs to be extended to the government as well. It is getting done but so far at a limited level. The time has come for a complete reassessment about our existing state, and we need to learn how advanced countries have gone ahead in managing public emergencies, a lot of which looks proactive and well-prepared. The last two waves have given us enough data and experiences to lay down something which should probably scale up in the future," explicated Deepak Bhosale.
In addition, there is a strong need to make backup funding available to deploy digital technologies and data-driven tools across hospitals, pharmacies, and crisis monitoring agencies to keep track of medical stocks, bed requirements, and patient health status. "Whatever is available, we need to start from there and thinking about connecting the dots to cover the entire value chain. Let's ensure that the relevant people have visibility around the information and data that helps them address the basic problems people face during a health emergency," recommended Umesh Mehta.
Rapid efforts are required to digitize medical records, develop AI-based warning detectors, set up a robust telemedicine program, and automate time-consuming processes such as patient check-in at a hospital for better patient care. People should be encouraged to take phone and video consultations with doctors, and this facility should be made available across government hospitals in India. At the village and district level, there should be a high focus on talent transformation and creating a pool of people who understand the technology, access relevant information, and address basic medical queries of the public.
To boost teleconsulting and video consulting, the Indian Medical Association needs to relook at its rulebook, preventing patients from consulting doctors licensed in a different state. It will reduce India's overwhelming healthcare system burden during a public emergency. Government and corporates should step in to develop digital command centers, which are online information hubs where all resources and credible information around a public crisis can be kept for quick reference.
By broadening the canvas of data capturing, collecting them in one place, and linking the fragmented dots in the current system, the government can effectively address the existing fault lines and gaps in managing public emergencies. On top of this data layer, different solutions and services can be built and help India move from reactive to proactive to productive healthcare management.