Samsung, HPE and HP witnessed a major slump in their bottom-line, with net profit tumbling down over 40% on a YoY basis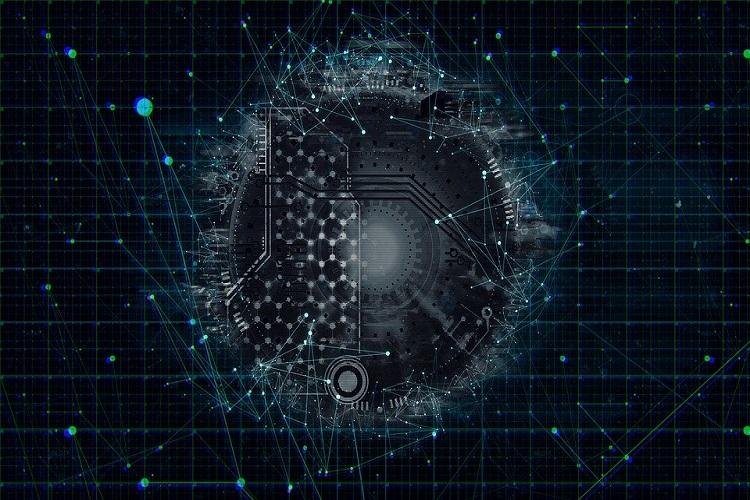 Strong demand for cloud computing solutions and a significant uptick of online advertisement revenue helped cloud and internet-based solutions providers such as Amazon, Apple, Samsung Electronics, Hon Hai Precision, Alphabet and Microsoft to lead GlobalData's list of top 25 publicly-traded global technology companies by revenue in 2019. Of the top 25, 19 companies reported year-on-year (YoY) growth in revenue, with 28% reporting double-digit growth.
Keshav Kumar Jha, Company Profiles Analyst at GlobalData, comments: "The companies that reported strong bottom-line performance over the last five-years have been successful in absorbing the impact the current global health crisis has had on their operations. These companies have been agile in rolling out new operational and strategic plans to continuously serve customers in new-normal situations. Changes in fulfilment and delivery operations by Amazon, and Microsoft's strategy to invest in strengthening its e-commerce operations are just a few examples. It is no surprise that these companies continue to be investors' favorites as their market valuation continues to rise.
"The challenges posed by COVID-19 have forced enterprises to look for various ways to implement cost optimization across the organizations, including implementation of efficient technology solutions. IT infrastructure providers, such as cloud computing companies, are likely to benefit from this surge in demand for digital transformation. Due to cost-cutting measures, non-core IT infrastructure vendors, application software companies and IT services providers could struggle during the health crisis."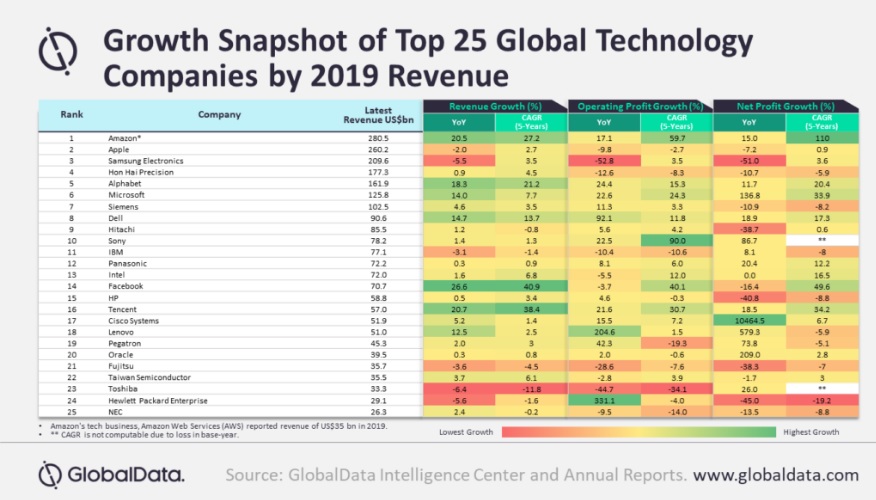 Jha noted: There was increased demand for cloud infrastructure services such as Amazon Web Services (AWS), Microsoft and Alphabet in 2019, with the trio recording YoY cloud revenue growth of over 20%. Interestingly, cloud revenue still constitutes less than one-third of total revenue for these three tech majors.
"The significant rise in online advertisement revenue, primarily driven by increase in search queries and ad delivery, led the revenue growth of major internet-based solutions providers, including Facebook, Alphabet and Tencent."
Facebook and Tencent registered revenue increases at compound annual growth rates (CAGR) of over 35% over the past five years due to online advertisement revenue, which recorded a CAGR of 18.9% and 40.7% revenue growth, respectively. Tencent's VAS business, FinTech and cloud services also contributed significantly to its revenue growth.
Toshiba was the only player to report both more than 5% YoY revenue decline and over 10% negative revenue growth over the last five years. A faltering global business, not-so-successful restructuring and de-consolidation initiatives, on top of the adverse impact of foreign exchange movements, had its top-line under constant pressure. Besides Toshiba, Samsung and Hewlett Packard Enterprise (HPE) were other major players that reported over 5% YoY revenue decline. Samsung's semiconductor sales declined 25% on a YoY basis, whereas decline in Tier-1 server sales and lower revenue from China resulted in net sales decline for HPE.
Jha continued: "HPE, Lenovo, Dell and Pegatron all reported over 40% operating profit growth, benefited by cost-management initiatives and decline in commodity price. Dell's focus on the integration and simplification of its portfolio paid off, as it has begun realizing cost-synergies across all businesses."
In terms of bottom-line performance, more than 50% of the top 25 technology companies by revenue reported YoY growth, with four companies recording over 100% growth. US-based IT companies did well, benefited by tax reforms as their income tax obligations declined by over 70% in 2019. Lenovo's robust revenue stream, cost-control initiatives across all business groups and significant decline in tax obligations resulted in a significant rise in net earnings.
Samsung, HPE and HP witnessed a major slump in their bottom-line, with net profit tumbling down over 40% on a YoY basis. A USD 757m charge related to acquisition and disposition impacted HPE's bottom-line, whereas HP's bottom-line was impacted by a more than 65% jump in interest expenses due to termination of tax matters agreement with HPE.
Facebook and Apple also reported decline in their net profits. An approximate 95% increase in income tax expenses, mainly due to the effect of legal accrual related to the FTC settlement and a decline in excess tax benefits recognized from share-based compensation, led to over 16% decline in Facebook's net income. Decline in sales from China and increase in research and development (R&D) expenses resulted in a more than 7% reduction in Apple's net earnings.