APeJ spending on augmented reality and virtual reality (AR/VR) will be USD 3.7 billion in 2019, an increase of 34.0% from the previous year
APeJ spending on augmented reality and virtual reality (AR/VR) will be USD 3.7 billion in 2019, an increase of 34.0% from the previous year, according to IDC's Worldwide Augmented and Virtual Reality Spending Guide. The spending on AR/VR products and services will continue this strong growth throughout the forecast period (2018-23), with a five-year compound annual growth rate of 62.0%. This growth is primarily driven by commercial industries which are going to be more than USD 11 billion larger than the consumer segment by the end of the forecast (2018-23). Despite this, the consumer segment (which is currently at USD 1.7 billion in 2019) continues to be larger than any other industry segment over the forecasted period.
The high growth in the commercial segment is primarily due to the AR/VR capability to solve complex business problems and streamline operations. The two industries that are seeing the most activities/implementation in APeJ are education (USD 495.3 million in 2019) and retail (USD 244.4 million in 2019), spending the most in this technology among other industries.
"Specialized training programs in the education system that includes VR pilot training through simulations, learning of human anatomy, etc. have given an opportunity to develop a specific skill set in the virtual environment. Leveraging this technology, the chances of making errors will not have fatal consequences during the training process. This has turned out to be a huge transition for institutes to save time for distance learning purposes and help in reducing cost due to the travel expenses incurred on students. Similarly, high-end retailers came across improvised customer engagement programs using this technology. This has also helped them in delivering the products based on customizing to a specific customer's choice with the same or less time and effort. The technology has seen an increase in consideration and solutions around Online retail showcasing, retail showcasing, and virtual test drive," says Ritika Srivastava, Associate Market Analyst at IDC India.
Despite the fact that the two industries have the highest market spend, there are other industries that have high potential to grow at a faster pace over the forecast period (2018-23) – with some of the new use cases in the pipeline. Retail (94.8% CAGR), followed by utilities, securities, investment services, and process manufacturing are the industries that are gaining momentum to explore the new use cases, and are lucrative in terms of investments. Use cases that dealt in operational tasks with the help of the Augmented Reality for performing tasks like assembly, maintenance, and repair have a lot of impetus within the industries.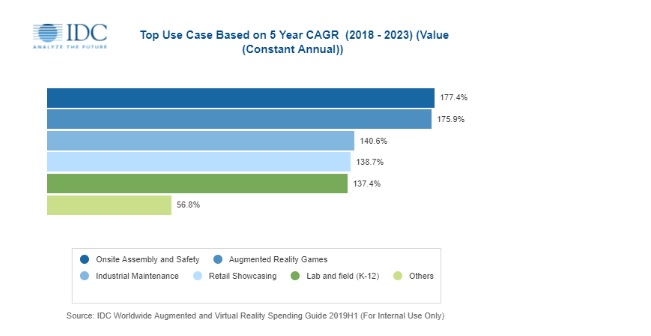 "With increasing number of enterprises embracing AR/VR technologies for diverse use cases such as retail showcase, assembling, maintenance, indoor navigation in airports, and training, the market outlook for AR/VR will continue to remain strong. As organizations prepare for Future of Work, AR/VR will play a critical role in augmenting workforce capabilities. The ongoing advancements in hardware and software – initiatives and efforts by tech giants such as Google (ARCore), Apple (ARKit 3), and Microsoft (HoloLens) – will open more transformational opportunities and will further push the wide-spread adoption of AR/VR," says Deepan Pathy, Research Manager for Future of Work, AR/VR, and Mobility at IDC Asia/Pacific.
Hardware will account for more than half of all AR/VR spending throughout the forecast, followed by software, and services. Services spending will see strong CAGRs (94.8%) for systems integration, followed by consulting services, and custom application development, while software spending will have a (70.0%) CAGR.
Of the two reality types, spending in VR solutions will be greater than that for AR solutions initially. However, strong growth in AR hardware, software, and services spending (135.5% CAGR) will push overall AR spending well ahead of VR spending by the end of the forecast period (2018-23).
On a geographic basis, China market will represent the largest AR/VR spending in the APeJ region with more than 81% share in 2019 and the spending is projected to take off at a five-year CAGR of 63.8% over the forecast. AR/VR technology in ASEAN countries of APeJ has started gaining prominence and has partnered with AR/VR enterprises to improve the industry experience.