A glimpse of the NEXT100 2019 Awards, held at New Delhi, Mumbai and Bengaluru...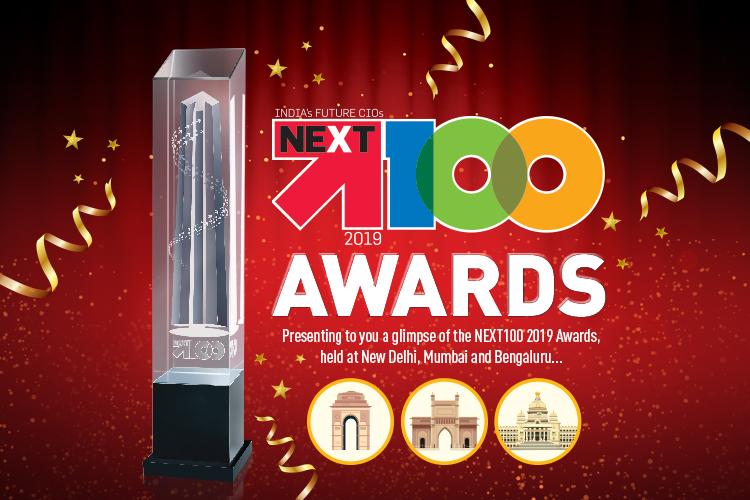 The 2019 winners of NEXT100—the 10th batch of this community awards—were formally welcomed to this exclusive club in three separate award ceremonies held in New Delhi, Mumbai and Bengaluru between 27th to 29th February 2020. 
This is the first time the awards were held in three locations, closer to where winners actually are. 
The format was also significantly different. The grandeur and formality were replaced by insightful and practical advice to the award winners by jury members of NEXT100—all eminent CIOs from the industry—followed by engaging discussions between the two sets—one representing experience and the other energy & ideas. 
With 2019 winners, the NEXT100 club is now 1,000 members-strong. In all these years, the process of selection has seen 25,000+ registrations, 3000+ interviews by 200+ Jury members, and of course, 1000 winners from more than 40 locations across India.
The award ceremony, started in 2010 in Ramoji Film City, Hyderabad, has now been held in seven cities—Hyderabad, Pune, Gurgaon, New Delhi, Amritsar, Mumbai and Bengaluru, with Pune hosting it a record four times. 
This year's three-city format—though it denied the awardees in different cities to meet with each other in person (something that they have been doing virtually through closed groups), had the distinct advantage of each winner being able to spend considerable time interacting with jury and among themselves with no other formal programs beyond the awards, CIO talks and interactions. 
In Delhi, the ceremony was held at Vivanta by Taj, Ambassador on Thursday, 27th February 2020. Anchored by Shyamanuja Das, Managing Editor, 9.9 Group, three jury members—Vinod Sivarama Krishnan, Chief Information Officer, IndusTowers; Biswanath Ghosh, CIO - Enterprise & Corporate Functions, Mahindra & Mahindra and Sachin Gupta, President & Chief Information & Innovation Officer, Usha—giving away the awards and speaking to 
the awardees. 
In Mumbai, the awards ceremony was hosted at Sofitel BKC on Friday, 28th February 2020. Anchored by Vikas Gupta, Co-Founder & Director, 9.9 Group, there were insightful talks by Jury members, Narayanan Ramakrishnan, Executive Director - Information Systems, BPCL; Subhash Shelke, CIO - Corporate Services & Head -Applications Delivery, Essar Group; Rajeev Jorapur, Senior Vice President, Bajaj Auto; Amandeep Singh, Vice President - Technology, Thomas Cook India and Nirupmay Kumar, Senior Vice President - IT, Vodafone Idea. The jury members also handed over the awards. 
R Giridhar, Group Editor, 9.9 Group, anchored the Bengaluru award ceremony, held in The Park Hotel, which saw Ashvin Vellody, Partner, Deloitte Digital, and Jury member, Ramakrishnan Sudarshanam, Divisional Vice President - IT, United Breweries, giving away the awards and speaking to the awardees.