The WLAN market grew 3.1% year over year in 2Q19 to nearly USD 1.6 billion
The combined consumer and enterprise wireless local area network (WLAN) market segments declined 4.4% year over year in the second quarter of 2019 (2Q19) with worldwide revenues of USD 3.5 billion. According to results published in the International Data Corporation (IDC) Worldwide Quarterly WLAN Tracker, the enterprise segment grew 3.1% year over year in 2Q19 to nearly USD 1.6 billion. Continued demand for network refreshes, digital transformation (DX) initiatives, and a new wireless standard named WiFi 6 coming to market soon are positive indicators for continued growth in 2019.
The enterprise WLAN market is now dominated by the 802.11ac standard, which makes up 86.8% of enterprise-dependent access point (AP) shipments and 92.3% of WLAN-dependent AP revenues. The next iteration of the standard, 802.11ax, also known as WiFi 6, will increase in the market throughout the rest of 2019 and into 2020. Meanwhile, consumer WLAN market revenue declined 9.5% in 2Q19, finishing just short of USD 2.0. In 2Q19, the 802.11ac standard accounted for 52.6% of shipments and 75.2% of revenue.
"The enterprise WLAN market continues to see moderate growth, driven by a variety of factors," said Brandon Butler, senior research analyst, Enterprise Networks. "Enterprise connectivity continues to be a top priority for organizations in their efforts to create a digital workplace and wireless has become a critical platform to engage with customers. Meanwhile, digital transformation is leading organizations to consider broader enterprise campus refreshes as well, which will continue to fuel this market's growth in the coming quarters."
From a geographic perspective, the enterprise WLAN market saw its strongest 2Q19 growth coming from the Middle East & Africa (MEA) region, which rose 14.7% on a year-over-year basis. Saudi Arabia grew 29.1% from a year earlier while South Africa's enterprise WLAN market grew 31.3% year over year. The Asia/Pacific (excluding Japan) (APeJ) region grew 4.9% year over year in 2Q19. Notable markets in the region included India increasing 11.1% year over year and the China rising 4.4%. The United States market rose 4.0% year over year.
Other regions had results more in line with the worldwide average. Central and Eastern Europe (CEE) regional revenue increased 2.3% compared to 2Q18. Poland's WLAN market grew 11.5% while the Czech Republic market rose 11.7%. The Latin America region grew 0.9% while Western Europe's WLAN market was relatively flat, growing 0.5%. Germany, which is the largest market in the Western Europe region, grew 4.1%; the United Kingdom's market fell 5.8%.
"The worldwide enterprise WLAN market saw varying conditions across the globe. While the market is mature and moderately growing in the U.S., geopolitical issues are beginning to impact growth across many parts of the world," said Petr Jirovsky, research director, Worldwide Networking Trackers. "Meanwhile, the coming 802.11ax standard will lead to a new wave of refresh cycles for enterprises, providing an expected boost to the market starting later this year or early next year."
Some of the key enterprise WLAN company updates are:
Cisco's worldwide enterprise WLAN revenue increased 6.3% year over year in 2Q19 and was up 7.2% sequentially between the first and second quarters of 2019. Cisco's worldwide market share was 44.9% in 2Q19, up slightly from company's 43.6% share in 2Q18.
Aruba-HPE revenues fell 4.2% year over year in 2Q19 but rose 29.6% from 1Q19. Aruba-HPE's market share stands at 14.0% in 2Q19, down from 15.1% in 2Q18.
Ubiquiti recorded another quarter of strong growth in 2Q19, increasing 22.4% year over year. Ubiquiti accounted for 6.8% of the enterprise market in 2Q19, up from 5.7% in 2Q19.
CommScope/Ruckus declined 11.4% year over year in 2Q19 and rose 24.3% sequentially. CommScope/Ruckus now accounts for 5.8% of the enterprise WLAN market, up from 6.7% in the same quarter of 2018.
Huawei rose 8.2% in 2Q19, giving the company 5.4% market share versus its 5.1% market share in 2Q18.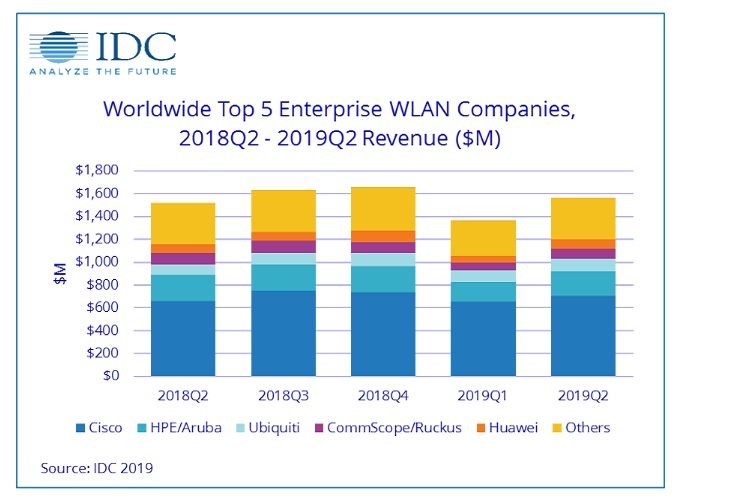 The IDC Worldwide Quarterly WLAN Tracker provides total market size and vendors share data in an easy-to-use Excel Pivot Table format. The geographic coverage includes eight major regions (USA, Canada, Latin America, Asia/Pacific (excluding Japan), Japan, Western Europe, Central and Eastern Europe, Middle East and Africa) and 58 countries. The WLAN market is further segmented by product class, product type, product, standard, and location. Measurement for the WLAN market is provided in factory revenue, customer revenue, and unit shipments.