No of women winners have increased over the years - but just a little
For the last one decade, NEXT100 awards by ITNEXT, has served as a good reference list for hunting the future CIOs. The awards—decided through a combination of achievements, psychometric tests, case study solving and in-depth interviews by senior CIOs—have also been a good indicator of where things are going when it comes to IT leadership talent.
It is, therefore, a good place to look for changing trends, if any. So, how do women perform when it comes to the awards when they started in 2010 to today? The big message is things have surely changed for better. But it is too little.
Take this. In the first five years—that is 2010 to 2014—the average number of women winners per year was four out of hundred. In the next four—this year's awards process has just begun—the number jumped slightly to an average of six winners in the NEXT100 list. That is not a change that one should celebrate or be proud of—but one that should be noted.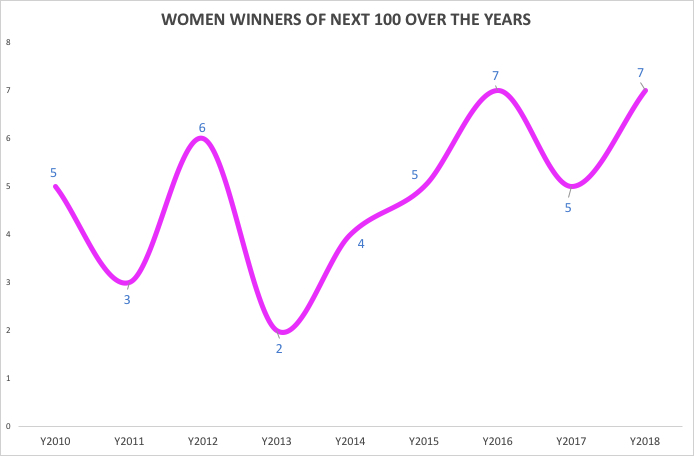 On the face of it, it does not look too different from the composition of the enterprise IT workforce and hence nothing unusual. But drill down a bit and you will have some explanation. Year after year, the gender ratio among winners remain far better than gender ratio among non-winners (and of course, all applicants). Take last year. While women bagged seven of the 100 NEXT100 Awards in 2018, there were only four women among 100 unsuccessful applicants. In short, what it means is that the winner: applicant ratio for women is far more.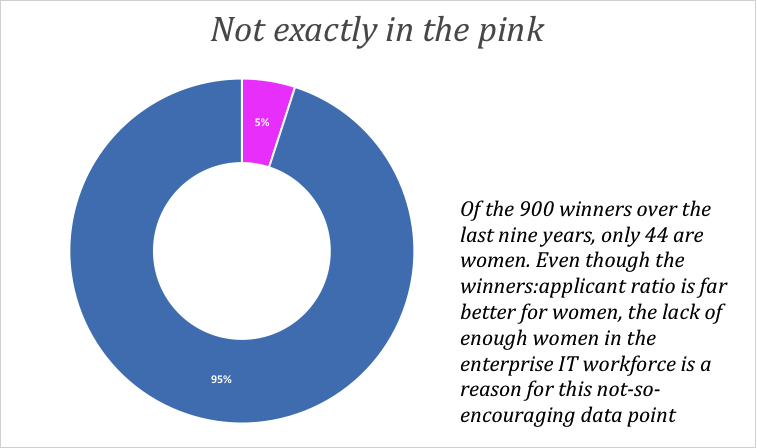 Turn it upside down. What it means is that you have lesser percentage of women applying for the awards  as compared to men. This trait of women—not to claim credit/ being hesitant to show achievement—has often been blamed for their hitting the glass ceiling.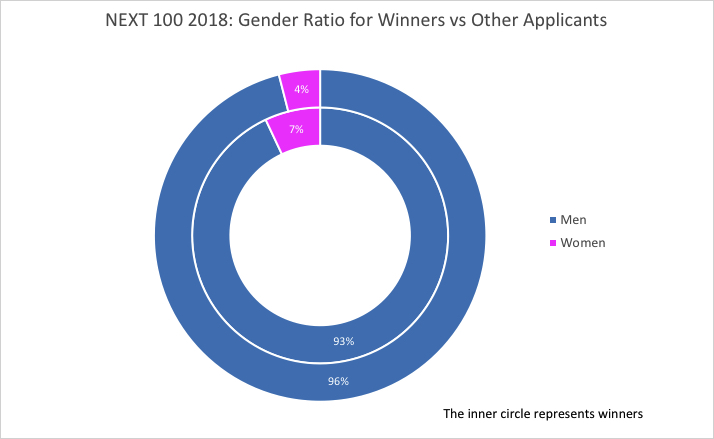 The good news is: some of these winners have already made it to the CIO level. A few more are CISOs—which itself is becoming quite an important function within the enterprise, often outside of the enterprise IT department.
In short, if NEXT100 Awards are indeed a barometer for gauging the shape of things to come—as they have shown to be in the past in successfully indicating many future trends—the news is not too encouraging, though now at least, there is a definite trend towards better diversity. It does require positive intervention. For a story on that, read Women CIOs break the glass ceiling.   
As we celebrate International Women's Day, here's hope that we will see a far more impressive performance by women applicants in NEXT100 Awards 2019.