How to create a thriving partnership and derive business value, resulting in a win-win for both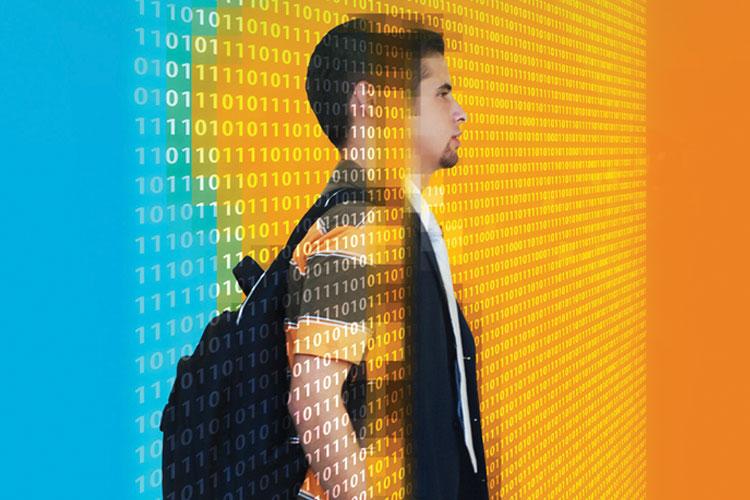 This month, Bhavish Aggarwal made it to Time's 100 list: a list of 100 most influential people in the world. There are very few people in IT circles who don't know Aggarwal. He is the co-founder and CEO of Ola Cabs, who gave India its first app-based taxi service. The start-up idea may not have been unique because it was almost a year after Uber (formerly UberCab) had already launched (March 2009) in California, United States but it still gave urban Indians the convenience and comfort of ordering a cab service on a mobile app. Since then, the Indian tech industry has never been the same. The last decade may have seen the rebirth of the start-up ecosystem in the country with a more sustainable business model in the form of venture capital. 
According to a Nasscom Start-up Report published last year, over 1,000 new starts-ups joined the start-up ecosystem in 2017, taking the total number of tech­nology start-ups to nearly 5,200. The B2C focused start-ups like Ola Cabs, have always found favor in the form of funding and have continued to garner 1.5x more average funding value vis-a-vis B2B start-ups, which increased from 27% in 2016 to 31% in 2017, according to the report.
However, the year 2017 is illustrative of a trend that has been in the making for the last few years. A trend that has observed an exponential growth of start-ups with B2B focus - with more than 47% of start-ups out of the 1,000 selling technol­ogy to enterprises. According to the report, this share of B2B start-ups was higher than B2B share in the overall start-up base of 40%. Clearly, the enterprise product emerges as the top vertical for B2B start-ups, followed by fintech, health tech and e-commerce.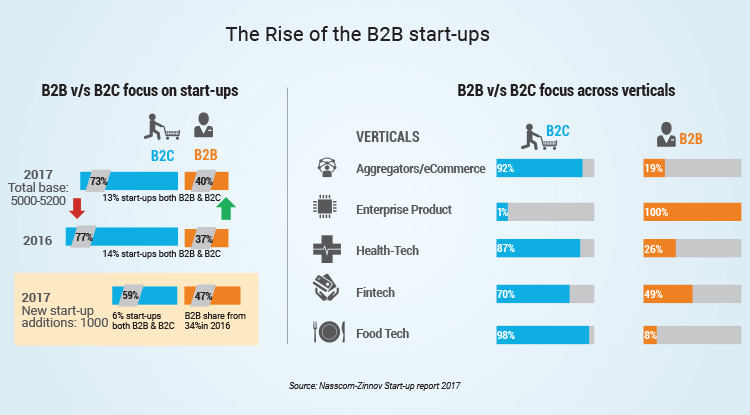 Source: Nasscom start-up report 2017
According to Gartner's 2014 agenda, The IT core — infrastructure, applica­tions, information and sourcing — was built for the IT past. CIOs report much of their new technology spending going towards improving core systems and capabilities and needed renovations to ensure fit for purpose and being "digi­tal ready" include moving to a more loosely coupled "postmodern-ERP" paradigm, deploying public and pri­vate clouds, creating the information architecture and capabilities to exploit big data, and augmenting conventional sourcing with more innovation, includ­ing sourcing from, and partnering with, smaller and less mature enter­prises. By "partnering with, smaller and less mature enterprises", Gartner was referring to SMB/start-up engage­ment and agile development as a solu­tion to addressing the dual need to simultaneously renovate the core of IT systems and services, and exploit new technology options. 
A few years ago when we spoke to enterprise CIOs in India they didn't seem kicked about the benefits of work­ing with technology start-ups. One of the main reasons for this reluctance to give B2B focused start-ups a chance was the lack of trust in the start-ups' ability to sustain themselves. A success or sus­tainability of a start-up or a unicorn was but a candle in a wind for an enterprise CIO. Even if the start-up could prove the viability of its product, the enterprise CIO was unable to prove it to business.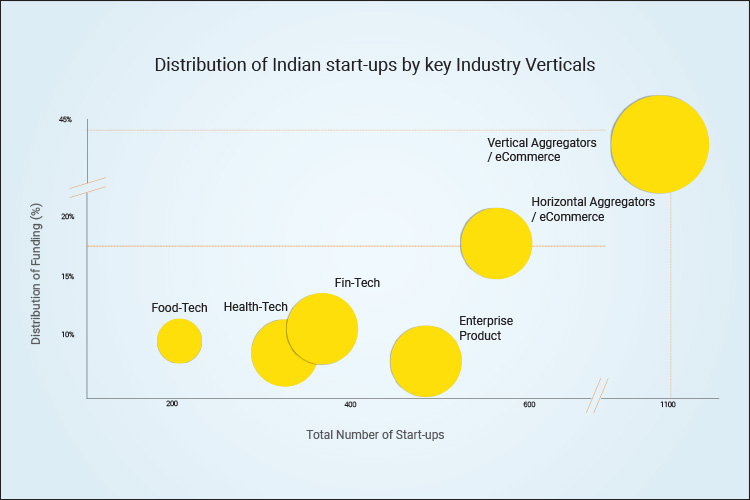 Source: Nasscom start-up report 2017
A lot of enterprises conducted pilots with start-ups (and still do) but wouldn't talk about it. Some of these CIOs belonged to innovation-centric organizations where they believe that they can learn a great deal from start-ups, and
inculcate or maintain a culture of openness and change within. These enterprises and their CIOs were the early adopters of this trend, and the ones who built a framework early on that allowed them to work with start-ups in the best possible way. However, these organizations kept this 'relationship' a low key affair until it became fashionable to talk about the 'association'- and until the digital transformation wave hit them hard. 
The folks at Bajaj Auto were way ahead of the curve.
A 72-year old flagship brand of Indian conglomerate Bajaj Group, Baja Auto is one of largest two-wheeler and three-wheeler manufacturer in the world. Despite being one of the old­est family run businesses in India, innovation has always been part of the company's DNA. The company's engagement with start-ups began in 2010 when they realized the need to automate and digitize their assembly lines. The company deployed cobots or collaborative robots, a patented tech­nology offered by Universal Robots, a Danish manufacturer that has just launched UR5, a six-jointed articu­lated arm robot and was expanding its base in Europe, and didn't launch business in India until 2016.
According to Pradeep David, CTO at Universal Robots, Bajaj Auto saw a gradual rise in the productivity and efficiency in their production. It also increased the productivity of their employees along with their product quality. As a result, employees could easily program and set up these low cost robotic arms with 3D visualiza­tion. The actions of the robot are con­trolled and programed by a touch pad or by simply moving the robot arm to show the desired path of movement. 
The three-wheeler manufacturer has deployed over 150 cobots since 2010 and is now among the larg­est motorcycle manufacturer in the world. They are of the view that the added benefits of the cobots are easy use, very low annual maintenance and higher energy efficiency.  Vikas Sawhney, General Manager Engineering (Robotics and Automa­tion) at Bajaj Auto, who oversaw the deployment, said of the implementa­tion that they chose Universal Robots primarily due to the collaborative nature of the robots. "The key benefits of Universal Robots' products such as their compactness, low pay back period, flexibility, light weight, cost- effectiveness, accuracy and their safe­ty, is what ultimately convinced Bajaj Auto about the suitability of Universal Robots for its  standardized offerings," said Sawhney.
Universal Robots wasn't the only start-up that Bajaj Auto worked with. 

According to Rajeev Jorapur, VP-MIS at Bajaj Auto, start-ups offer an exciting model of partnership that is very difficult to get from most other partners. Their focus is on the task and to make it happen. They are driven by passion and are more entre­preneurial in nature.
"Most start-ups are sharply focused and they don't have width that you expect with more established compa­nies. Thus, you must carefully choose them with the purpose you have in mind. We won't be worried about their sustainability or how strong they are financially. We believe we would be able to handle that part," said Jorapur.
The automaker was looking to sim­ply the manual process of sending the service coupons to Bajaj Auto every time the customer visited the dealer for vehicle servicing. 
Jorapur said that it was crucial for the manufacturer to carefully record the timeframe within which the vehicle was brought in for servicing. In the auto world, customers must get their new vehicles serviced within a month of pur­chase in order to ensure that the product has a long run. There was no way of knowing whether the customer or the dealer followed the process completely. 
With this resolve in mind, Bajaj Auto went through careful assessment and selected GladMinds Technologies, a cloud based start-up providing CRM services. After the deployment of the solution, the paper-based coupon system was replaced by a unique digital token system and was given to the customer every time he/she brought his/her new vehicle for servicing at the dealer's shop. 
Jorapur said that sometimes you don't see the problem till an outsider comes and shows you a better way of doing it. 
In 2015, the automaker partnered with an IoT start-up.
At the time, a lot of manufactur­ing processes at Bajaj Auto were performed by external vendors at the company's assembly plants.  A vendor would communicate the production details at a pre-decided frequency but if machines could tell how they were performing without human interac­tion, not only would the manual effort at collecting information would go away and info would come directly from machines and would be more timely and reliable than somebody communicating it. 
"With this hypothesis, we approached the start-up, who helped us eliminate the manual channels and helped us plan our maintenance in a more robust manner," said Jorapur. In the last four years, the company has evaluated over 50 start-ups, per­formed POC on 10 start-ups and are closely working with five start-ups on fully operational projects. "Most of our time is consumed in conducting background checks, finan­cial analysis and performing due dili­gence – that is where most of our effort and energy is spent," said Jorapur.
In 2016, ONGC launched an INR 100 crore Start-up fund to foster, nurture and incubate new ideas related to oil and gas sector. The aim of the ONGC Start-up initiative is to provide the entire support chain for start-ups including seed capital, hand-holding, mentoring, market linkage and follow-ups. It is also to increase the contribu­tion of fresh implementable ideas in the oil and gas sector. ONGC had also set-up a dedicated portal to take this initiative forward.
The company invited technology start-ups to submit their proposals for business cases (purely business related or with IT intervention) on the portal.  "There were 70-80 business cases and they were left to select one or more based on their area of expertise," said Alok Khanna, Executive Director – IS, ONGC.
After a tedious selection process of evaluating the proposal comprising a three tier interview process where start-ups showcased their technical and financial viability, the company selected around 11-12 start-ups to 
work on specific business problems. "One major advantage of working with start-ups is that they work dedi­catedly on your business case and if the project succeeds, then the company will sponsor the project for a full blown implementation. 
What enterprise lack in domain knowledge, start-ups have in abun­dance," said Khanna.
"Budgeting and funding a start-up is not an issue— once you have com­mitted to working with the start-up, even if IT doesn't have the implemen­tation budget, business does, and will fund the project," he added.
End result: even if 20% start-up projects are successful, it means that we have been able to cut down our business problems. "We won't be able to share specifics of start-ups as all these projects are at different stages of implementation," said Khanna.
The Gurgaon-based drinks and foods group RJ Corp is a USD1.1 billion con­glomerate. Its flagship brand, Varun Beverages is Pepsico's second-biggest bottler and its fast-food outfit Devyani International has 500 retail outlets for brands such as KFC, Pizza Hut, Costa Coffee and TWG Tea. 
With multiple brands at disposal, there is no dearth of opportunity for the company to improve the produc­tivity and efficiency of its vast-spread businesses. There is also a huge scope of innovation at the heart of RJ Corp and the company believes in quick decision- making when it comes to IT.
According to its Group CIO, Kamal Karnatak, it has been collaborating with start-ups in the areas of data ana­lytics, video analytics, machine learn­ing and artificial intelligence, for the last three years. 
"It doesn't matter if there was an IT project or not or if we had the budget for it but if you can create a business case, you can implement the idea." Karnatak , who is a pursuing a research doctorate from IIT, Delhi, has a long history of association with start-ups, and mentors them from time to time.  
"An advanced start-up is always looking for a means to enter the enter­prise market. They are ready to experi­ment, learn and understand your business, as well as gain exposure of their own solution," said Karnatak.
When it comes to working with start-ups, the conglomerate's only motive is solving business problems quickly - within a short span of six months to one year.
"Unlike traditional partners who spend a lot of planning and excuting a project, a start-up takes less than half of that time. Some start-ups are only interested in increasing their own evaluation. You can gauge the motive of such organizations," said Karnatak. 
Take for instance, the conglomerate was using an old analytics platform to generate reports. However, their Area Sales Manager (ASM) didn't have access to the platform due to huge licensing costs. To solve this problem, they worked with a data analytics start-up who provided a platform that not only granted access levels to ASMs but enabled an analytics interface to generate these reports. 
Similarly, the company also worked with a machine learning/ AI start-up to help them predict the sale of next 14 days with an 85-90% of accuracy rate.  With the Nike brand, the company is trying to measure the sales per store using the same start-up. This is evi­dent of the fact that the same start-up was able to find multiple use cases within the same organization.  
In their work with a video analytics start-up, the primary purpose was to track footfalls in a single store. How­ever, Karnatak asked the start-up to help them gather more data on their customers – the time they spend in the store, the ratio of male to females who went for trials, etc – and  integrate it with the sales system. 
"We are internal sellers for start-ups, and we need to make sure that we are able to mould the start-ups and help them create a typical busi­ness case that will generate business value," said Karnatak.
In short, "If I can show the value of 5 crore, I can get a budget allocation of 1 crore," he added.
HDFC Bank launched a new Facebook Messenger chatbot, OnChat. It was created in partnership with Niki.ai, a 2015 AI start-up.  The chatbot can help customers pay utility services like bill payments and mobile recharges, make cab, bus and movie bookings. So far, the largest private sector bank has observed 160% month-on-month growth in transactions since its launch in December 2016, and has over 2.4 million messages. 
The number of repeat users, which is close to 34%, further bolsters the con­fidence in conversational banking. The Messenger chatbot also opened up yet another channel for customer acquisi­tion, with nearly 25% of OnChat users being non-HDFC Bank customers. Niki.ai is not the bank's first engagement with a start-up. The bank started recruiting start-ups three years ago and has a clear selection framework in place that makes it easier to weed out solutions that don't fit the bill. 
"We regularly reach out to new and innovative start-ups via referrals, technology forums, incubators and summits. Every year, we invite over 50 start-ups to a technology theme-based Innovation Summit. Niki.ai along with 10 other start-ups, was chosen through a multi-layered selection process," said Nitin Chugh, head- digital banking at HDFC Bank.
"We have implemented another chatbot for employees, on our website, and these chabots have offered us great customer insights and learning experiences. With OnChat, we thought if customers are spending more time on Facebook messenger, can the bank be there?" added Chugh. 
The chatbot implementation with Niki.ai isn't a one-time engagement. The start-up will continue to relevant insurance, banking, and stock broker use cases to strengthen its natural language processing capabilities that will help in cross-selling and up-selling to their customers. 
Last year, Niki.ai released a Software Development Kit (SDK) for businesses to enable conversational commerce on their mobile and web apps. Since then, the start-up has garnered a lot of interest from 
multiple enterprises. According to Sachin Jaiswal, Co-founder and CEO, Niki.ai, "HDFC is a progressive organization. Any kind of validation that a client gives to its service provider is a big deal because it builds credibility and builds our business."
Especially, if the service provider is a start-up. 
It is true that enterprises aren't comfortable with sharing names of the start-ups that they work with – until after the implementation. Understandably, most organizations would rather share a success story rather than a failed implementation. In 2017, the start-up mortality rate was 20% to 25%., with a majority of them closing down within 1.6 to 1.9 years 
of inception.
The last three years have taught Jaiswal a few lessons too. 
He said, "before you interact with the client, a start-up must ensure:
Whether you understand the market
Whether there is a need for the product
Timeline, effort, cost estimate, mark up client is willing to pay."
"Most start-up players go with an open mind. However, it helps to be confident about the maturity of their product before you approach a large scale organization. There will be companies willing to experiment with a less than mature start-up, but the probability will be lesser," he added.
"Working with large enterprises requires start-ups to have a better cash flow management process and ensure that their product quality is impeccable if, as  a start-up, you are trying to scale. That fundamental hasn't changed. You have to realize that what is the market that you are after and you have to cater to that market," said Jaiswal. 
Additionally, Jaiswal said that start-ups you must have a clear cut understanding of what their business model is. "If you are a client servicing business, you will latch on to every opportunity that will add to your top-line but if you are a technology provider, then you must know when to exit the conversation."
The truth is, it is the people working in the start-ups that make them attractive to large enterprises. CIOs are always looking for a fresh wave of talent among their midst, which helps them to innovate, to inspire internal employees, and to implement a technology product in a short span of time. 
Despite the pressure of digital transformation and the compelling need to work with start-ups, large enterprise CIOs need to be certain of a start-up's intention. Organizations should be able to gauge that early on if it is just a marriage by association. Many a times, a start-up may display lack of transparency based on past experiences of having been taken advantage of, which makes it difficult for them to accurately assess a start-up's product or service, and may ultimately, face rejection. 
It is the job of the start-up to understand the requirements of the business. Most start-ups are rejected because of their failure to present a viable business case for the organization. In situations like these, it is the CIO's or the business head's prerogative to advise and mentor the start-up in a direction that helps them to churn out a success story.
Like HDFC Bank, many large organizations host competitions, hackathons, and events for start-ups around a particular technology or a theme. These events provide the right kind of exposure and the opportunity to interact, meet face-to-face, and display maturity that opens doors to new relationships and business partnerships. 
In the last three years, digital transformation has been the driving force for many large organizations to seek greener pastures for talent, ideas and technology. As a result, CIOs and their organizations are opening their doors to innovation and new forms of collaboration with start-ups. 
Companies such as RJ Corp, Bajaj Auto, HDFC Bank, and ONGC, are only a few examples of large organizations that are committed to working with start-ups and in the last 3-4 years, have kept a consistent dialogue with the start-ups that they have worked with in the form of product upgrades, new business, and building relationships with them. 
Start-ups also should understand that they must preserve their business models and stay true their DNA. A lot of organizations employ the same tedious assessment process that they do for other technology partners. As a result, they expect start-ups to tow the line and adjust to implementing a little 'extra' on the side. In such cases, start-ups must be clear about the business they are in, and how must they are willing to accommodate. However, a lot of start-ups also see this as a form of additional business opportunity that will help them mature their products and make them more attractive to big customers. 
Start-ups have to overcome their fear of being let down. Many complain that they are made to work with teams at large organizations that pose as innovation centres, and the technology solution never sees the light of day.
Therefore, organizations and start-up must clearly define this partnership and set up deadlines for product planning and execution – even if it means shorter timelines for a 3-month long technology implementation. Large organizations must also appoint people who understand the start-up ecosystem and work towards building trust and creating continuous engagement.
Partnerships demand a lot of time and investment. Therefore, once you take the plunge, start-ups and large enterprises must work together to sort out their differences at every step of the way, respect boundaries, and co-develop innovative new solutions that better serve their customers – just like a dream team playing to win.