Polycom a distant No 2; no other vendor anywhere close, according to a new research by Synergy Research Group
Telepresence market has shown signs of revival and is expected to grow love the next five years, says research firm Synergy Research Group (SRG).
New 2017 data from SRG shows that after a long period of tough market conditions, Q3 and Q4 2017 saw year-on-year growth in spending on telepresence. In the second half of 2017, the telepresence market grew 21% over the first half and 4% year on year.  
SRG says that all four regions globally witnesses growth in H2, with APAC and Latin America leading the growth.
The leaders Cisco and Polycom have further consolidated their dominance of the market. For the sixth consecutive quarter their combined share of the worldwide market was over 75%, while all other vendors in aggregate have been losing about a percentage point of share per year, says SRG. While Cisco had a market share of 55%, Polycom was s distant second with 20% market share.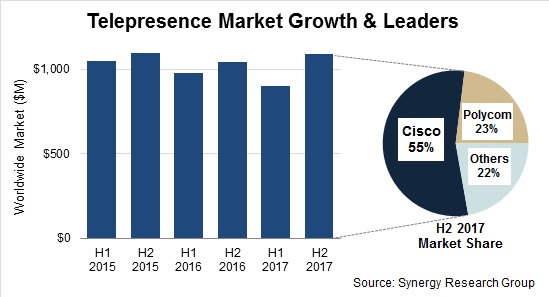 The total market for telepresence globally in 2017 was around USD 2 billion, which was slightly less than the revenue recorded in the previous year. 
"The telepresence market has been on a bumpy ride for a while driven by a mix of aggressive price competition, technology disruption and the introduction of newer, lower priced systems," said Synergy Research Group's founder and Chief Analyst Jeremy Duke. "Our research over the last 12 months is showing a strong indication of price stabilization and we anticipate positive revenue growth in much of the telepresence market in 2018."