In a recent interview, John Lombard, CEO, Dimension Data APAC, discussed trends and technologies impacting enterprises today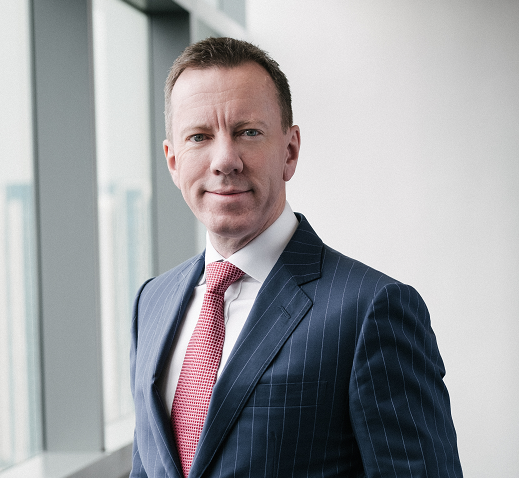 In a recent interview, John Lombard, CEO, Dimension Data APAC, discussed trends and technologies impacting enterprises today.
As the CEO of an IT Services Company, what keeps you up at night?
The fact that technology is constantly in flux, and these changes can happen rapidly – which in turn affects so many other things: like the way people connect, communicate and collaborate; their needs and wants change alongside these technology changes.
Agility is key – and the ability to manage a large organisation like ours, while keeping processes nimble to encourage collaboration and flexibility at all levels, and across silos requires a perfect balance. This agility will give us the ability to capitalise on an opportunity when we see one to create differentiation for ourselves and the clients we work with.
Your primary focus is mainly in four areas: digital transformation, hybrid cloud, workspaces for tomorrow, and cybersecurity. These are key focus areas for any large digital organization today. How do you see all these focus areas coming together in the current digital age?
There's growing acceptance that technology is hybrid, especially with the massive digital transformation we see. And it's not a future state. Hybrid IT has arrived. For CIOs, this brings the challenge of ensuring that the various elements of their hybrid environments come together to deliver a single integrated set of services.
In the world of hybrid IT, companies are acquiring capabilities from a variety of different sources. Some may be provided by the in-house IT department, and some might be software-as-a-service (SaaS) applications such as Salesforce. It's likely that much of it will be infrastructure-as-a-service, delivered from cloud providers. Now the burning question is: 'How do I bring these services together securely, and deliver a single cohesive experience to my customers and employees?'
This will in turn affect the way employees communicate and collaborate with each other as we see the emergence of countless different tools and offerings by vendors to address these demands. In fact, holographics, augmented reality, and virtual reality will also begin to move from B2C into B2B as well – driving a fundamental transformation of the workspace. But, as they proliferate, they also bring increased security risks, since these tools have their own unique digital identity, thus, bringing about network and security considerations.
So an unified approach to designing, managing, and supporting the hybrid environment will be key. Due consideration needs to be given to how the data is secured over a multitude of public cloud platforms – and CIOs and CISOs may be forced to embrace these technologies faster than they would want to.
At the same time, the potential of cybersecurity is an enabler for companies to move towards becoming digital businesses. Security needs to be pushed beyond the physical perimeter into a cloud environment and security will need to be more than proactive, it needs to be predictive.
Many reports have indicated that hybrid cloud adoption is bound to grow. From an APAC region perspective, what are some of the key considerations for organization preparing themselves for hybrid cloud adoption?
We recently published a report, Success Factors for Managing Hybrid IT – we found that two of the factors encouraging enterprises to shift workloads off-premises are end-user demands and constrained datacenter space.
While the hybrid system is becoming a standard enterprise model, the most challenging aspects of cloud deployment that organizations face are cost management, data migration, and cloud management. Despite concerns about security, compliance, and integration issues, organisations are embracing next-generation networking technologies, such as SDN and network functions virtualisation.
Some of the measures or considerations that organisations can take include moving their applications to third-party software-defined infrastructure in order to enhance scale and speed of deployment, more easily enter new markets, and lower costs. Also, investing in hiring service providers to manage multiple clouds or evaluate using automation and management software to reduce the burden of cloud management would yield benefits in the long run.
We have been reading a lot of surveys, reports and stories on digital transformation. You overhauled the digital infrastructure for the Tour de France (official tech partner) in 2016. Can you talk a bit about it? 
Working closely with Amaury Sport Organisation, the digital infrastructure we implemented at the 2016 Tour de France really took digital transformation to the next level.
Each of the 198 riders in all 22 teams that sped off from the start line were tracked by a telemetry sensor installed under each of their seats– to record speed, distance between riders, composition of the race pelotons, wind speed and direction, as well as prevailing weather conditions. 
All of the data is transmitted immediately back to Race Center, a web-based application hosted on Dimension Data's cloud platform combined live race data, video, photographs, social media feeds, and race commentary on a new live tracking website to give viewers an immersive digital experience that goes beyond the television coverage of the race. This web platform was able to support a global audience of over 17 million viewers.
Additionally, viewers aside – over 100 onsite and remote race broadcasters had access to a purpose-built digital application that gives media commentator's direct access to live race data for enhanced, in-depth event coverage, and analysis.
When can you call an enterprise "digitally transformed", is there an organization that you can think of that is a truly digital organization? 
We've worked with so many of our clients to digitally transform their business, in varying levels of scale – making remarkable change to the way they operate and in the process, changing mentalities and creating awareness among employees as well.
However, a truly digital organization would be one where being digital trickles down to the very being of the company – its values and its actions beyond business processes; for instance, extending digital transformation to the way it carries out its CSR efforts as a way of giving back to society.
A fantastic example of that would be Cisco – a valued partner who we collaborated with in 2016 to implement a project very close to our heart, Connected Conservation that aimed to tackle the issue of rhino poaching in a reserve adjacent to the famed Kruger National Park in South Africa (where Dimension Data was founded).
A host of sophisticated technology solutions were deployed in the park; including a thermal imaging security net, CCTVs, biometric scanners for anyone who enters the park, and a 24/7 control room set up with infrastructure to cover the massive park. Unlike previous invasive methods of tracking the rhinos, Connected Conservation protects the rhinos by tracking people, specifically poachers, before they get to the animals. As a result, the number of poaching-related rhinoceros deaths in this reserve has dropped by a massive 96% within the first year.
In the cybersecurity space, governments and enterprises are strengthening their security infrastructure. Ransomware is the biggest concern. Is it true for enterprises in the APAC region? Why?
In recent years, 'whaling' — where hackers target senior executives with ransomware, demanding money or using their information fraudulently – has emerged as a disturbing trend. The challenge in APAC is how we protect an individual and not just their cyber presence. (Source)
In our 2016 Global Threat Intelligence Report, malware jumped from less than 2% of cyberattacks in 2014 to 5% during 2015. Malware detection rose gradually throughout 2015, including a 6% jump during the fourth quarter alone. More alarmingly, the total volume of malware detected in the finance sector increased dramatically, up by over 140% from 2014.
Additionally, blockchain, while still in its nascent stage, has to address challenges such as transaction speeds, verification process, and data limits. Beyond technical challenges, there are still many concerns with security and privacy of using this technology. Recent cyber-attacks against digital currencies/ financial services shone a spotlight on the security of blockchain, if they are ready for wider implementation and how safe are they from cyber criminals.
How are trends, such as artificial intelligence, robotics, 3D printing, machine learning- -- likely to change the workplaces of tomorrow?
When we think of a new generation showing up in the workforce, the millennials come to mind, or even Gen Zs. In reality, machines are the next generation and they are already very much working alongside us. 80% of car manufacturing already involves robots, which have been used in surgery for more than 15 years. More recently, GE Aviation has been developing 3D-printed fuel nozzles for commercial planes.
While it looks like robots might be displacing people's jobs, this perception has to be changed drastically. The issue with robots is not so much that they displace jobs, but the responsibility is on organisations to reassess their skills base in order to program, operate, and maintain jobs. Beyond AI and robotics, new technologies like holographics, augmented reality, and virtual reality will begin to will drive a fundamental transformation of the workspace over the next 2 to 3 years.
These technologies, or new 'co-workers' have already arrived. They bring along a host of benefits and conveniences – from improved collaboration, optimising resource utilisation to even environmental benefits. While it may take a few years for them to become widespread, they are already on a very steep, logarithmic growth curve.
But, as they proliferate, they also bring increased security risks. The new 'co-workers', like you and me, will have their own unique (digital) identity. IoT devices are starting to be used as launch pads for nefarious activity, such as distributed denial of service attacks (DDoS), phishing, cyber extortion, Trojan horses, and many other forms of cyberattack that cost billions of dollars and disrupt entire industries. The increase in traffic will also put an added load on the network, on wifi, the LAN, and wide area networks. The massive proliferation of IoT devices is driving adoption of edge and fog computing, resulting in computing resources sitting closer to the device as opposed to in the cloud.