As the future CIOs see it…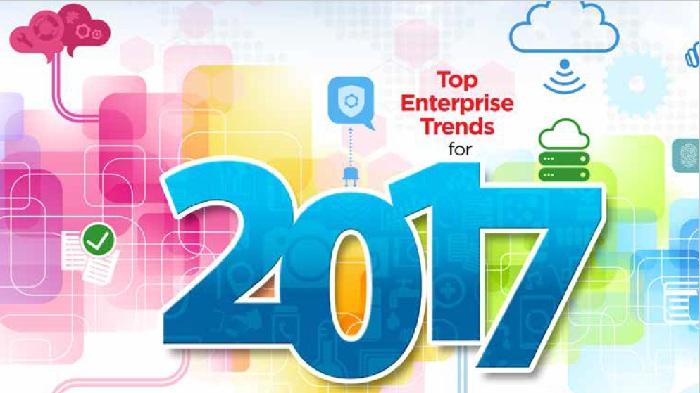 What will be the top priorities for Indian businesses in 2017 when it comes to IT strategy and investment? What new technologies will make their mark? And where will the actual spend go to? How will the buzzword 'digital transformation' span out? As analysts and companies publish their own forecasts, we thought of asking the IT leaders themselves. But for a change, we skipped the CIOs, who are now mostly working the other top leadership to chart out what is possible to achieve through leveraging technology.
It is the next level IT leaders who translate that vision to actual technology roadmap—the priorities of IT organization as a whole, selection of technologies to actual investments.
We asked our winners of NEXT100 2016 to tell us the technology priorities of their organizations. Presented here are the findings.
Before we get into the exact findings, here is a summary of messages that come through.
The dominant IT strategy is to try out new technologies. It just reinforces that the India story is not diluted. It is vibrant and looking for growth and expansion. It is an aggressive strategy, not a defensive one.
Cloud is surely becoming mainstream. You do not require a research to tell you that. Yet, what shows that the shift is irreversible is that data centers have moved down quite a bit on investment priorities.
While the IT leaders are upbeat, they are not reckless. Security finds the mention right at the top two priorities, even as the broad security strategy makes a complete shift.
The only disappointing news: digital transformation to these IT leaders is still doing things more efficiently, what has been the IT deliverable through all these years. New expectations from IT such as insights and integrating functions is still not on the agenda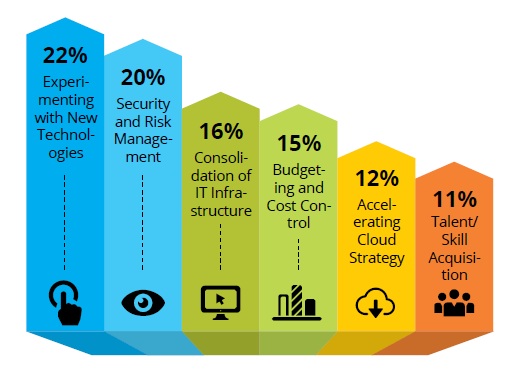 Disruption is a strategy
Experimenting with new technology is the dominant IT strategy for these IT pros. They are not the start-up guys; nor are they the fresh-out-of-college tech grads looking at impressing the seniors. They are responsible IT leaders; the next priority will remove any doubt if you have. All it means is that the business leaders want disruptive growth from IT  and the IT leadership is only too willing to oblige. Yes, they know the importance of security.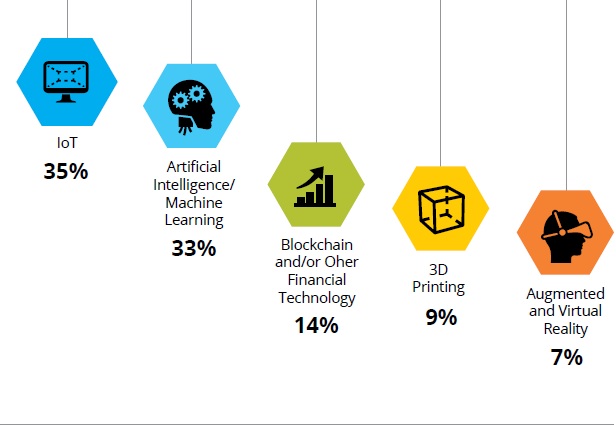 Fourth industrial revolution is happening right here
So, what are those new technologies? IoT and AI dominate the mindshare of next generation IT leaders. The meeting of physical, virtual and biological is no more a thought leadership idea. It is right here. In India. In 2017.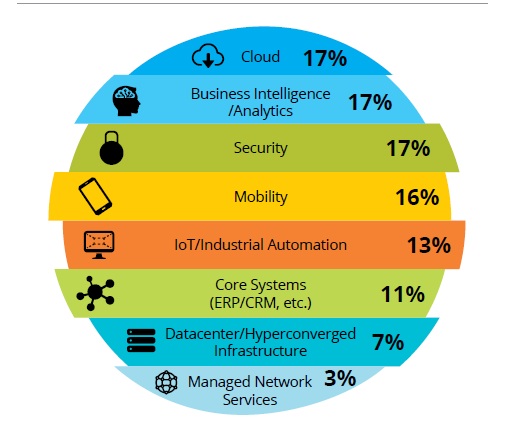 The taste of cloud
IoT and machine learning are fine, but when it comes to real investment, SMAC—S standing for security and not social—is still very much the dominant thrust. That cloud is here to stay should not come as a surprise to anyone tuned in. What is noteworthy is investment on data centers is likely to reduce sharply, denoting an irreversible shift towards cloud.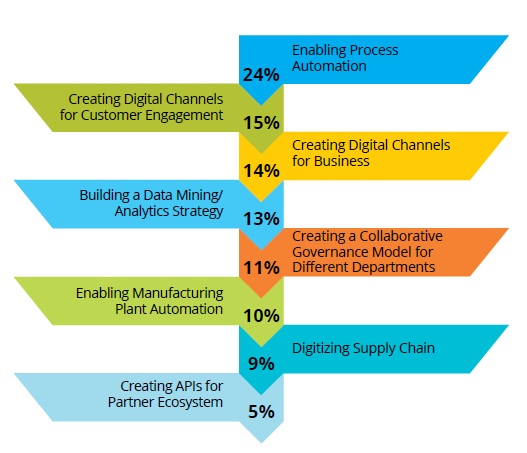 Digital has to cover some distance
Process automation is the dominant activity identified by the IT leaders as digital transformation priority. This means either Indian companies are way behind or the IT leaders are still not in charge of digital journey. This will be an interesting space to watch out in 2017, even as more and more tech guys are of late taking over the chief digital officer positions.