Gone are those days when decisions were made based on the opinion of the 'highest paid employee' in the room. Today, data analytics is driving business decisions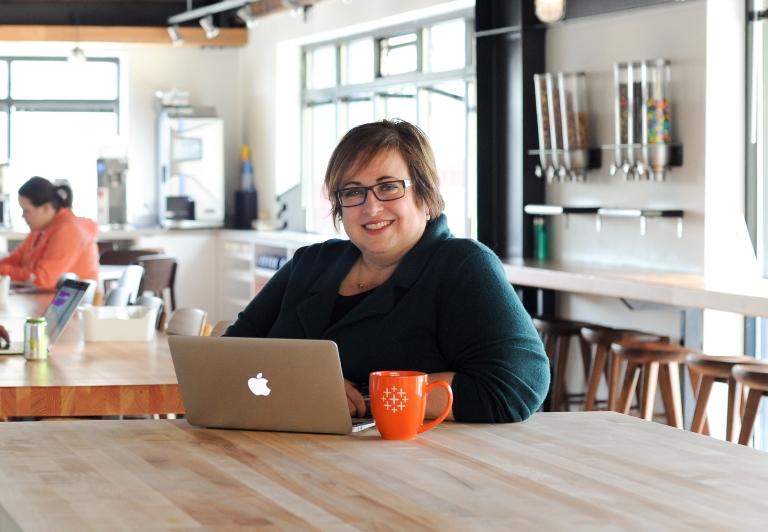 Data analytics company, Tableau Software added 3,900 new customers in the August of 2016, bringing its customer base to more than 46,000 across the globe. The company's revenue increased 32% over this time last year. We spoke to Elissa Fink, the Chief Marketing Officer at Tableau on the reason behind the growing demand for data analytics among leaders from across the organization.
More and more companies are recognizing the importance of data and analytics in business. While this trend has been observed primarily in the financial sector, which other sectors, in your opinion, are leveraging the benefits of platforms, such as Tableau?
We actually find that companies in just about every industry are part of this trend. Organizations are becoming increasingly data driven, and as they need to derive insights from huge amounts of information they turn to self-service analytics. This extends to every line of business. If we have seen any trend, it is that industries that generate data, such as services, banking, telecommunications, etc., tend to be more proactive about using data. But thanks to on-going price reductions in technology, even industries that have been resistant are getting on-board with data. They are starting to recognize not only is it becoming more affordable but also the benefits are becoming too significant to pass up.
In fact, IDC has most recently reported that the big data and business analytics market will rise to $203 billion over the next few years - a double-digit increase from this year. While the banking industry is expected to be a big driver of this increase in spending, IT and businesses services, such as discrete manufacturing, process manufacturing,  federal/central government, and professional services will account for about 50% of all spending in this market during this time. Additionally, industries, such as telecommunications, insurance, transportation, and utilities will start increasing their own spending during this same period, helping to fuel growth. Organizations are building a culture of analytics using self-service platforms, such as Tableau to empower their employees to explore and ask questions using their data to make everyday business decisions.
In your conversations with top executives, who is in charge of the data initiative in the organization? Is it the CEO, the CIO or the Chief Data Officer? How do you think having dedicated personnel in charge of data helps you and the organization get the maximum benefit out of data?
It's really dependent on how a company is structured. In some organizations, the CIO is the key decision maker for IT spending decisions, guiding projects where technology is vital to business units, such as customer service, ensuring new products and services are launched into markets promptly. The role of CDO on the other hand was initially created to focus on data governance, quality and utilization; now, we see the CDO often engaging in getting people to use data better. And sometimes it's the CEO requiring that the business get smarter, make better decisions, achieve better outcomes – using data to guide strategy and execution.
Research says that the need for data in organizations is very need-based, let's say, reactive more than strategic. Do you see a trend where organizations will be able to use data as a strategic differentiator in their organizations?
In the past, organizations needed a significant amount of effort and time to derive insights from their data. And often they use data to answer questions about "what happened" because by the time people could get the data, the activiity of focus was long over. As analytics technologies progressed, it became easier to see and understand that data and in turn, derive meaningful insights from it -- and not just after the fact. Now, they can use data not only to help plan what should happen but also to understand what is happening as they execute their plans and strategies.
What are typical expectations from a customer interested in buying a product, such as Tableau?
Every customer we talk to comes to us with their own set of business challenges and expectations. In general, there are seven key elements they look for: 
Powerful and visual data analytics
A trusted and scalable platform
A platform that is easy to manage and deploy
Able to connect any data
Real-time collaboration between different business units
Speed of use and at deployment mobility
Can you also explain, in your view, the journey of data from being almost invisible to becoming one of the most important assets in organizations today?
I have witnessed the evolution of data and analytics technologies firsthand. Organizations have long recognized the potential value of business intelligence, but it was difficult to manage, took a lot of experienced IT people to implement, and sometimes people made little or poor use of it. Today's technologies make it easier to put the data into the hands of the people who know it best, while still providing the ability to scale and manage it to IT. The Economist's Intelligence Unit found that the majority of business leaders believe data is "vital" to their organization's profitability. So it comes as no surprise that most businesses today strive to capture and analyze data. Gartner predicts that most businness users and data analysts will have access to self-service tools to prepare data for analysis by 2017.
What are your thoughts about the adoption of data and analytic tools in the Indian market?
There has been an uptick in the adoption of data analytics in India but many of the companies who decide to use these technologies don't really have a clear idea of the results they intend to get out of it. So there is also the need to create more awareness and educate enterprises about the power of analytics and the competitive advantage that can be gained by harnessing data in the right way. There's also a strong demand for data professionals across verticals in the Indian market. Our India entry around 3 years ago was in response to market demands in the region. India is an important market for us currently with respect to future potential.