Organizations need to rapidly adopt new technology enabled techniques to survive and profit from the changing economy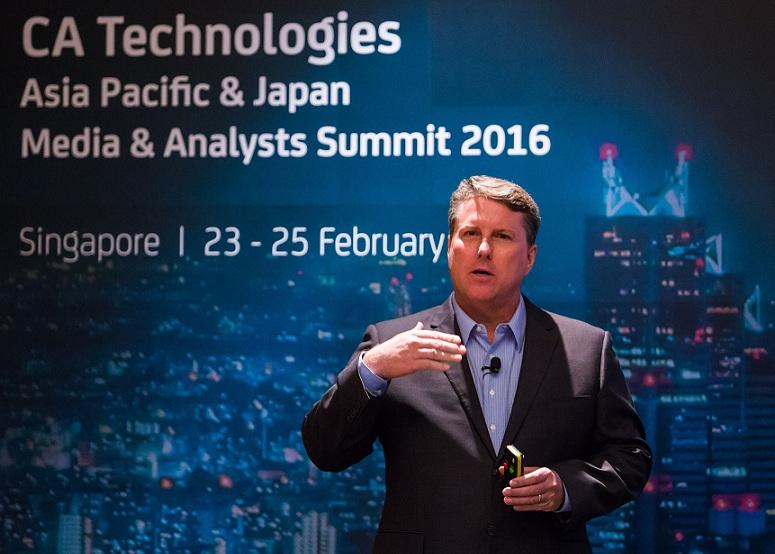 The rapid proliferation of smart phones and the growing sophistication of users is rapidly changing consumer expectations. From booking taxis and movie tickets, to shopping online and paying bills, almost every transaction is available through an app. In fact, so quick has been the uptake of apps, that for many organizations it has become the principal point of customer contact. "Only the strongest and most innovative will survive in today's increasingly digital world," confirms Kenneth Arredondo, president and GM- Asia Pacific & Japan (APJ), CA Technologies.
Speaking at a recent industry conference, Arredondo emphasised why organizations should focus on innovation, and how they can capitalize on new opportunities in the midst of heightened competition. "Today's digital environment is being driven by the confluence of transformative technologies like cloud, mobility, Big Data and Internet of Things (IoT).  Both governments and business leaders need to recognize the new realities—else they will be left behind," he says.
Arredondo also clarified, "Disruption is not just about new companies and start-ups. Disruptions can happen within—as companies look for new ways to increase productivity or deliver services to customers." Trent Mayberry, Managing Director for Accenture Digital, explained the initiatives that are already underway in a number of industry verticals to re-engineer business operations for greater efficiency and effectiveness. He says," "We now need to look at leveraging software and emerging technology in ways that enable scale, speed and innovation. This way, they can become facilitators of new business models."    
Also speaking at the conference was Ramesh Narayanaswamy, Group Chief Information officer for Singapore Post who described how his organization was experimenting with new technology developments like drones to augment its logistics delivery capabilities. Narayanaswamy says,"IT leaders must be open to experimenting with new ideas—and not worry too much about risks and failure." To this, Arredondo adds," You need to grow your business in today's application economy by focusing on creating and leveraging APIs, using DevOps methodologies, investing in security, and becoming truly agile."
CA Technologies also launched the inaugural edition of its Asia Pacific & Japan (APJ) Application Economy Index (AEI) 2016. This report, prepared by research consulting firm TRPC, gives a snapshot of the readiness of 10 APJ economies for to thrive in the digital economy. Not surprisingly, the table is led by Singapore, followed by Australia, South Korea, Japan and Hong Kong. Malaysia, China, Thailand, India and Indonesia made up the rest of the ranks.
While India is currently ranked #9 on the Application Economy Index, it has the market potential to become #2, behind China according to TPRC. Factors such as increasing numbers of smart phone, growing youth population, and availability of talent are expected to enable India to capitalize on the economic opportunities emerging from the application economy.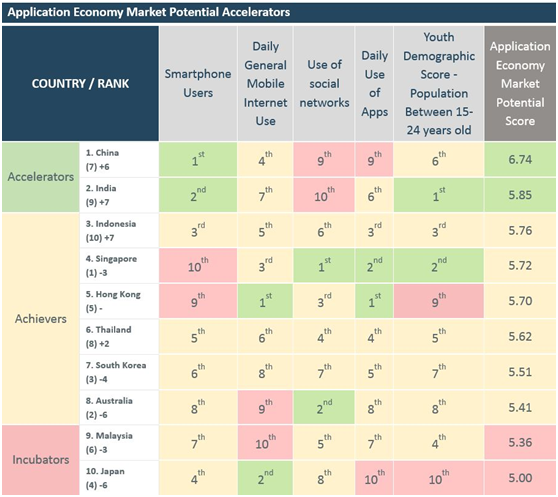 The CA Technologies Market Potential Accelerators Index looks at factors that have the ability to impact and accelerate country market potential in the new digital economy
 "India is at the cusp of a digital transformation, and apps are at the heart of this change. So, India's leadership position in the near future is no surprise," says Sunil Manglore, managing director for CA Technologies, India. "Digital India is creating the impetus for a mobile enabled ecosystem like e-governance & e-services to common citizens," he adds. However, Lim May-Ann cautions that the some key government initiatives and policies are needed for ensuring success, including
Use and Support of Technology and Innovation: Governments must actively use software applications, and put in place sound technology policies to promote technology innovation
Communication Infrastructure: Without the necessary Internet and mobile communication infrastructure, an application economy cannot fully develop. Basic connectivity and network backbones must be in place, along with an environment that supports business growth and transformation.
Business Agility: Countries also need to have a business environment conducive for entrepreneurship and new forms of commerce to happen.