Senior women IT decision makers are all set to create a culture of innovation within their enterprise and are constantly on the lookout for innovation in various projects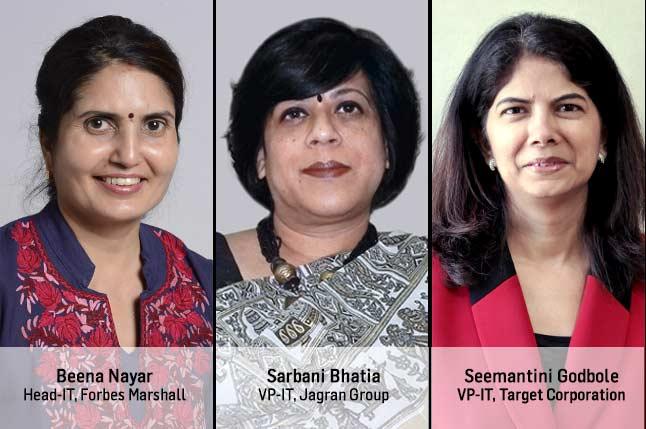 Women IT managers are better at their inter-personal relationships when it comes to handling teams within or outside of their function. This attribute largely helps them to drive change management very effectively within the system. Their pre-emptive and visualisation capabilities do help spot areas of innovation within no time and also build effective innovative strategies around them to make them disruptive. The view is endorsed by most senior women IT decision makers.
Timesare changing, women do lead huge projects, and in particular, those that transform the business environment, and the kudos must go to them. These women not only lead projects, but effectively handle large teams within IT and other business functions, as well as handle egos in a matured and professional fashion.
Handling Smart and Innovative Projects
While the ratio of women playing senior roles has not witnessed a sharp increase, one cannot overrule the fact that women have been handing larger portfolios and driving huge projects and showing the right attitude to deal with inherent challenges. Innovation seems to be a natural trait of women in IT;this is visible from Jagran's VP-IT Sarbani Bhatia's initiative, project Jconnect, to design an enterprise portal for the organisation aimed at connecting people, processes effectively. It is an HR initiative to enable top management to communicate messages directly to the employees from time to time, share policy matters,haveemployee feedback on critical matters and many such services through the portal.
"Women need to be good in planning and communication and treat employees as internal customers to make their presence felt" --

Sarbani Bhatia, VP-IT, Jagran Group
Bhatia's role as the IT head involved negotiation with vendors--in this case with Oracle and consultant (PWC) to zero down on appropriate solutions and jointly present a business case to the top management for approval.
"I was heading the in-house technical team which created Jconnect and was instrumental in the co-ordination activities with all functional heads to collect inputs and suggestions on the content and features required. I was monitoring the development process closely and saw to it that it was delivered on time," says Bhatia.
However, the situation was not devoid of challenges. According to her, technical glitches in the form of bugs posed issues, there were delays in gathering inputs and content from the teams; and while the site was organised well within deadlines, it took long to populate the real time content.
"Women need to take an active part in brainstorming sessions having logical views when it is with leadership teams" --

Beena Nayar, Head-IT, Forbes Marshall
"Marketing the end-product and drawing users in the beginning was a challenge, and we had to think of some populist features like 'Mood of the Day,' flashing birthday info, hosting pictures of organisational events,etc," she says.
The innovative aspect of the 10-month project, according to Bhatia, was the business outcome that witnessed increased employee productivity by 2X, as employees could work anytime, anywhere and in a secured fashion(among other critical benefits).
The key difference that Bhatia brought into the systemwas to buy in the line of business and impress upon the management the importance of an enterprise-wide secured SSO platform, mobility in solutions, a self-serviced, dynamic and responsive portal, rich collaborative features across the workforce,the need for an HR initiative and a project tracking and performance management system.
"A well-crafted argument and a holistic approach to the problem is very critical to get noticed as a woman leader" --

Seemantini Godbole, VP-IT, Target Corporation
 As a woman, Bhatia made a difference in terms of her inter-personal relationships;they came in very handy in gettingdifferent teams on board. "I could coax and persuade them to brainstorm and get the best out of the project. I could motivate and egg the team on to deliver exactly what was required within the timelines. During the Change Management cycle, I could visualise and assess what would work and therefore, came up with creative and attractive mailers as teasers," she says.
Small Changes led to Innovation
BeenaNayar, Head-IT at Forbes Marshall, believes that innovation does not mean a radical change, but identifying and implementing small changes added up to commercial advantage.
Nayar has been instrumental in working on a project to bring in standardisation across various joint venture divisions of Forbes.
"I initiated a uniform codification project to create an item code for every product and service and automate the entire process to create a standardisation of codes for all divisions," says Nayar.
Since Nayar was heading a multifunctional team combining IT, development and all other business functions, the challenge was to have an effective collaboration among the teams.
It was more an issue of change management for Nayar to deal with, in terms of coming up with a business case to justify the project requirement.
"I had to face the challenge of collaborating with multi-functional teamsand getting everyone on the same page, deriving the required inputs from all the teams, while handling several ego issues," says Nayar.
The biggest task for her in the10-month project was to get the cleansing activity in place to drive uniform codification, and do away with the older versions of the software applications such as Oracle's 11i and re-implement R12. "Besides, the task was in buying the line of business to the entire transformation project idea which involved major integration of systems without any disruption of functions," explains Nayar.
The year 2013 and 2014 was the year of innovation for Seemantini Godbole, Vice President--Target Technology Services, Target Corporation. As she had the mandate to make the retail organisation an Omni channel--and she believes no one has aced the model till today--Godbole intended to drive innovation around open source, a project to migrate from packet solutions to open source.
There were obviously innumerable challenges, as she and her team had to factor in varied aspects such as how search engines would play, revenue target and growth projects, speed of transaction and flexibility of IP, among others, to sufficiently motivate the business groups.
"It was a major responsibility as a leader.I had to question myself several times before putting forth my recommendations/ proposals to the top management as there were many criticalities surrounding open source technology, arriving at a  holistic approach and having key metrics in place," says Godbole.
The prime focus around this project was change management with sharp focus on technology. "There were several architectural changes that we had to make at the infrastructure level, applications level and platform level to move open source; some were disruptive given the criticality of online retail," remarked Godbole.
According to Godbole, the entire project lasted 13 months, involving a team of over 150 people from various functions.
However, the expertise that Godbole brought to the table as the business leader was a consensus-driven approach as against top down approach, taking every one's approval into consideration.
"It was completely an effort of change management as the project highly depended on people; it was leadership-driven, and used effective communication skills," says Godbole.
Since the project impacted every business unit driving change in processes, product display, technological compatibility, merchandising, stores,etc, it was critical in itself; and Godbole had to deal with several critical situations as a woman which she did patiently.