The IT team of Sanofi India headed by CIO Milind Khamkar can now pack their bags for a trip to Las Vegas after winning the TPL 2014 Mumbai leg.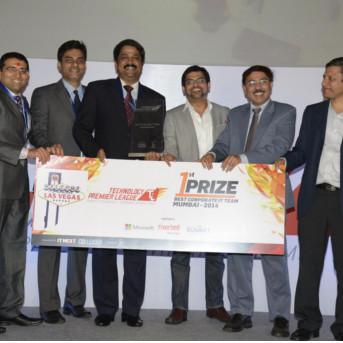 The third edition of Technology Premier League (TPL), India's top experiential engagement, organised by CIO&Leader and IT Next kick-started on 6 June 2014 with Mumbai being the first city to witness TPL 2014.
TPL is a unique contest that tests knowledge, skill and business acumen of corporate IT teams pan India. The contest requires enterprise IT teams, headed by the CIO or IT-head,  to demonstrate their expertise in IT strategy, planning and decision-making—in high-pressure, fluid situations by  analyzing, solving and explaining a series of enterprise IT challenges.
After two action-packed days, the TPL 2014 Mumbai leg was won by the IT team from Sanofi headed by Milind Khamkar, CIO at Sanofi India Limited. Vinod Mehta, Head Business Applications and Vishal Argekar, Sr. Manager IS were the  other members of the winning team.
The IT team from Fujitsu Consulting India Pvt. Ltd, lead by Mandar Munagekar, CIO, Fujitsu Consulting India Pvt. Ltd were announced as the the first runner-up. Munagekar was supported by Lingaraj Prachande, Group Head - Enterprise Applications and Amol Kelaskar, Manager – Infrastructure.
The team  from Accelya Kale Solutions Ltd captained by Amit Phadke, Vice President and Head – IT and supported by Group managers Kalpesh Desai and Surendra Tuli took away the second runners-up spot.
20 corporate IT teams participated in the Mumbai edition of TPL 2014. Every team was given a business situation (case study), and they had to prepare an IT strategy that was aligned to the business needs of the organisation.
All teams had to prepare two presentations. The objective of the presentations was to present the ideas to the Board of Directors (jury) for approval and sanction. The first presentation is the "Elevator Pitch". The second part is the "Detailed Proposal".
Only six teams are selected for the "Detailed Proposal" round and can contest for the grand prize- a sponsored trip to Las Vegas. Out of the six teams, five teams are selected based on the overall score given by judges along with the online voting responses, and one team is given a wild card entry. The final winners of TPL2014 Mumbai won on the basis of jury scores and audience votes in the "Detailed Proposal" round.
After Mumbai, TPL 2014 will be coming next to New Delhi on 20 June 2014 and later to Bengaluru on 27 June 2014.
To know more visit here.