Here are some thoughts on how they made a difference to themselves and their organisations and how the Next100 award changed their lives.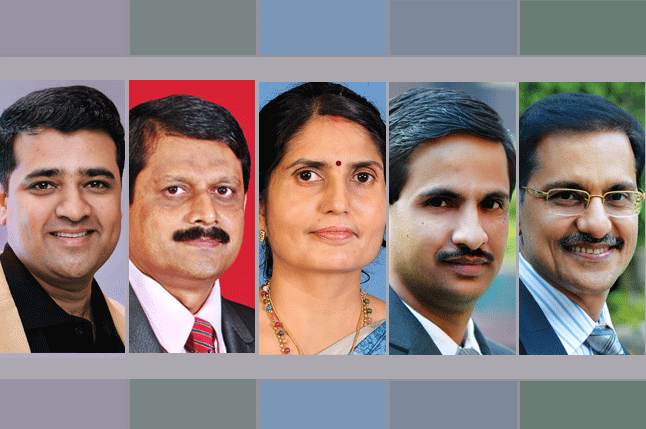 Next100 awards have evidently impacted the careers of the winners of the last three editions. The award not only positioned them as future CIOs but instilled confidence in the minds of the management towards empowering them with more responsibilities. Some have grown in the same organisation, some have moved to new organisations in top roles.
I Learned how to Balance Tasks Efficiently
The journey for Amit Phadke, Vice President - Systems and Technology, Accleya Kale Solution (Next100 Winner 2010) has been fruitful ever since he won the Next100 award in 2010. He had to ride through challenges and strike a balance between operational and business goals. But he did it efficiently. He had been on the service provider side from 1999 to 2008, and worked in various capacities and roles handling technical support, pre-sales, project management and business development. Later, he joined Bharti AXA Investment Managers (MutualFund) as Senior Manager IT. He had a thorough understanding of both the sides of the table i.e., as a service provider and end user; this  helped him take informed decisions, thereby making every project a grand success.
Phadke recollects, "I later joined Accelya Kale Solutions Ltd (Erstwhile Kale Consultants Ltd) as AVP – Systems and Technology heading IT and operations. Today, I work in the capacity of Vice President – Systems and Technology. The Next100 award gave me the
confidence to accelerate my journey in IT, provided me with good networking opportunities within the IT community, knowledge sharing and an opportunity to sharpen skills through various initiatives taken by ITNext or the IT community."
Amit wants to continue to consolidate in the years ahead. His focus will be inherently on new technologies which are technically better and cost effective. Collaboration, BYOD, social media will be key areas to look at to help business grow.
More Confident about Focus on Strategy, Execution and Result
Sharath Airani, Sharat Airani CTO, Intellinet Datasys Pvt Ltd (Next100 Winner 2011) nurtured his interest in IT by learning QBASIC, COBOL, PASCAL on DoS 3.2 and UNIX. He started to manage, maintain and monitor mail server on UNIX
and helped pre-sales support. During his 15-year stint, he bagged many awards and recognition. NEXT100 is one of the most important awards in his career.
He says, "The IT road map is changing very fast. It is not only about using new gadgets at some level or holding compute power and application delivery anymore. IT has moved much beyond that. Some of the industries fear change and lack of continuous learning or wants to stay away from a constantly evolving learning process. This directly depends on affordability and applicable governance 
The result is that the adoption of new hardware technology, new software, and new development techniques requires training, recruitment, changes to process and most of all, buy-in from senior management and involving IT in business strategy."
Airani adds, "Honestly, among all the awards, NEXT100 was the one which was outstanding in this phase. We discussed this award and the team on the other side of the table accepted me as a next gen leader. This was substantiated by the NEXT-100 award."
Now his responsibilities include focusing on strategy, creating business value with Business IT Strategy, customer satisfaction, IT lead business innovation and transformation, and leading the team focusing on results and execution.
Value Contributor to Business Bringing Process Innovation
Beena Nayar, Head-IT, Forbes Marshall (Next100 Winner 2011) joined IT in 1985 as a programmer, using C as the programming language. Beena says, "The Next100 award has given me confidence as I was judged by eminent
CIOs across the country and I knew I was doing things right. I have worked as a value contributor for business by bringing in process innovation, business process re-engineering through technology initiatives."
This included managing several IT projects such as the re-implementation of ERP, which included several business processes being re-defined and improved and implementation of IT applications focused on streamlining and standardisation of processes across the organisation and building in appropriate controls to ensure that data  and process hygiene is maintained, and automating.
Forbes Marshall has a new plant at Chakan. The manufacturing facility is being moved/set up there in a phase-wise manner. IT is involved in setting up connectivity, data center and ERP at the new location.
Looking at the road ahead, Beena says, "Several initiatives have been planned for business process improvement, business analytics and focused on helping business in decision making. We are also implementing mobility solutions, in supply chain for improving material traceability and reduction of throughput time."
Award brought me the Top Seat at Shalimar
At ITNext, our constant effort to pave the way for senior IT managers to get the top seat has impacted many careers, many lives. Our Next100 awards, an industry recognition for skills, talent and business minds of IT managers across industries, have shaped the careers of many IT managers, helping in positioning them become CIOs. That's why we call them "Future CIOs."
Ashok Jade, then AGM-IT at Videocon Industries is now CIO, Shalimar Paints ((Next100 Winner 2012). The exuberant CIO says, "Being a Next100 Winner impacted my career. The Next100 Award and the entire activity including various tests, interviews, learning, mentoring, really transformed the way I looked at things. The award has been important for me to get the top seat in Shalimar Paints. It also boosted my confidence and groomed my thought process towards being more mature. The award is the main contributor to my success."
He adds, "The entire journey of the Next100 award has given me a lot of confidence and learning. Various tests, interviews, and the award function really contributed a lot to achieving this; mainly, it boosted my confidence and made my thought process mature.
ITNext's efforts to keep us in touch continuously, connecting us with various people at the top in the industry is really great and I appreciate it."
Ashok started his career as a programmer in 1997, with Videocon International. Jade's mandate at Shalimar is to transform the business and implement "IT Enabling Business Growth" in the real sense. His focus is on Infrastructure excellence, CRM, BI, Market Connect.
Helped in Proving his Mettle in Driving Business Benefits
Overwhelmed Atul Vij, VP of UNO Minda Group (Next100 Winner 2012) says, "To me as an IT person (as my background is non IT), the award made a huge difference. Earlier our initiatives used to get no attention unless we were able to prove that they had been deployed successfully elsewhere. With this award, we got the liberty to take the lead on our own for proving our mettle and show business benefits too."
Plans had been announced to outsource SAP deployment and place team members
back into the functions. However, this award showcased the team's competence, which in turn convinced the CMD and management to allow Atul and his team to continue as a corporate resource team to support units.
Atul says, "This year, we have already received 4 proposals for business partnerships from interested partners. Plans are all set to establish our team as a profit center. I got the Next100 award last year. This helped me showcase how we have leveraged IT for catalysing initiatives for operational excellence as a model case for benefit to ACMA members."