In the second leg of TPL 2013-team Axa Technologies wins accolades a free trip to Las Vegas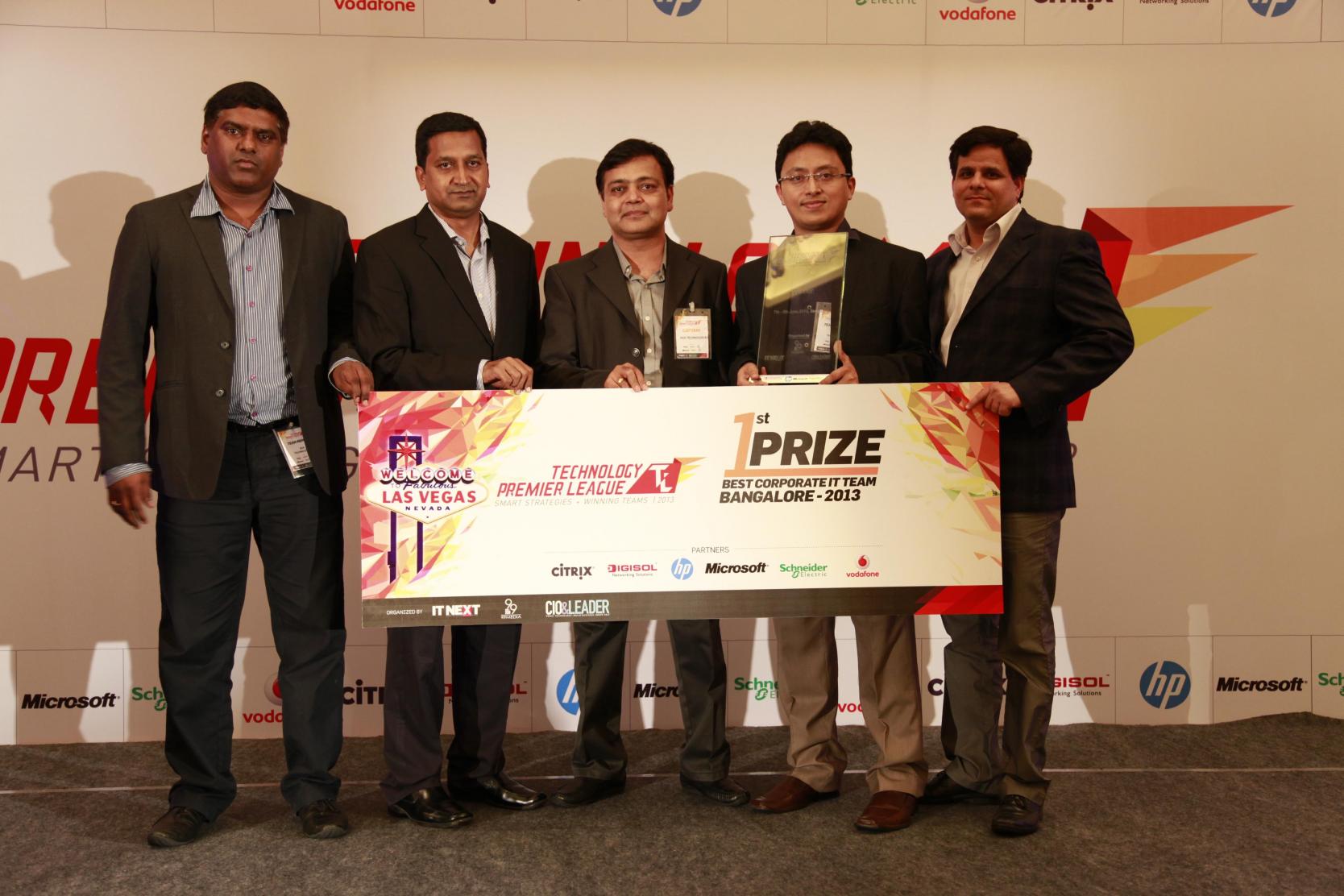 Given the excitement that the recently concluded Mumbai leg of the Technology Premier League (TPL 2013) generated, all the 17 teams from and around Bangalore who came to participate in the corporate IT team challenge at The Mariott in White Field were gung-ho. Alas, only one could be the winner!
The participating teams had to solve a business case study and present their solution to an eminent panel of jury members. The panel for Bangalore comprised Sathya Kalyanasundaram, formerFinance & Operations Director, Texas Instruments, Madhu Menon, Chief Financial Officer, Tesco Hindustan Service Centre, Anil Shankar,Chief Financial Officer, Essilor India and Ashvin Vellody, Partner, KPMG. The presentations were made in two rounds. In the first round, called the Elevator Pitch, all the 17 contesting teams made quick, short presentations based on which five teams were shortlisted: Axa Technologies, Hexaware Technologies, BHEL Ltd, Tata Teleservices Ltd, Manipal Global Education Services and Texas Instruments
Once the finalists were announced, other teams could also vote for their favourite team through a secret ballot. These votes were taken into account and collated along with the scores given to the five teams by the jury members after detailed presentations in the second round.
While Axa Technologies lifted the trophy, BHEL was chosen as the first runner up, followed by Tata Teleservices as the second runner up.
The technology awards were also announced.
Vodafones Wirelines Solutions Award was bagged by Texas Instruments, Schneiders Data Centre Solutions Award was pocketed by Metro Cash & Carry Ltd, Tata Tele Services Ltd packed a punch by lifting Citrixs Mobility Solutions Award, Hexaware bagged Microsofts BI Solutions Award, Neuland Laboratories picked the HPs Employee Productivity Award and ING Life Insurance bagged Digisols Network Infrastructure Solutions award.
The winning teams are as follows:
Winning team: Axa Technologies
Team Captain: K K Lakhani
Team members: Rakshit Bhatt, Srinivas Reddy, Sukumar Rayaparol andGirish Arora
1st Runner-up team: BHEL
Team Captain: B S Baliga
Team members: P Parthasarathy, S Pradeep Kumar, Arvind Chouhan, Rajat Kumar Das and N Radhika
2nd Runner-up team: Tata Teleservices Ltd
Team Captain: Ram Gollapudi
Team members: Ramesh Yarlagadda, Jijy Unnikrishnan, Srinivas Rallabandi, Sangharsh Khorawal and Utkarsh Verma
TPL is the first and largest of its kind event in India in which corporate IT teams in three cities Mumbai, Bangalore and Delhi match their wits against each other over two days in a business case study challenge.
For more details and pictures, check out>https://twitter.com/tpl_13 Next up, the Delhi leg takes place on June 14 & 15. Stay tuned...