Finally, we have the first winning team for the inaugural Tech Premier League - ready for a FREE trip to LAS VEGAS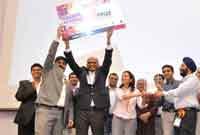 After several weeks of hype and excitement - and a feverish two-day offsite just concluded at The Oberoi in Gurgaon - IT Next and CTO Forum have announced the winners of India's first and largest multi-city corporate IT team challenge, the Technology Premier League.
For the Delhi leg of TPL2012, a total of 22 teams matched their wits against each other in a business case study challenge. The contestants had to apply technologies chosen from these stacks - infrastructure management, data centre, private cloud, unified communication, machine-to-machine connectivity and big data - and solve the problems laid out in the case study.
There were two rounds. The first round, called the Elevator Pitch, saw contestants make a presentation to an eminent jury comprising Akhilesh Tuteja, Partner (Advisory Services), KPMG; Harish Agarwal, Partner (Advisory Services), Ernst & Young; Ramesh Narayan, CEO, BSES Yamuna Power Ltd; Joydeb Chatterjee, Corporate Controller (Finance) SRF Ltd; and Asheesh Gupta, Director, McKinsey & Company.
From the 22 teams, the jury members shortlisted five teams, which made detailed presentations on their proposed solutions to the business challenge. After intense deliberations by the Jury and voting on best final presentation by the remaining 15 teams (for which there was some weigtage), the winners were announced. Here are the details of the winning teams:
Winning Team
AON Hewitt; Captain: Yash Pal Syngal; Team members: Vineet Kapoor, Lalit Jaitly, Bharti Sharma, Karandeep Singh
First Runner-Up
Maruti Suzuki; Captain: JP Yadav; Team Members: Bhalinder Singh Khosla, Vineet Pant, Rakesh Pratap Singh, Ankur Gupta
Second Runner-Up
Unitech Wireless; Captain: Amit Karir; Team members: Raman Mahajan, Saurabh Aggarwal, Divyendu Bhatt, Akshat Mishra
The Mumbai leg of TPL2012 kicks off this Saturday, June 2; Bengaluru play happening on June 16 & 17 (registrations open but fast filling up!).
For more details and pictures, >click here. Also, follow IT Next at Twitter: @ITNextIndia and check out TPL on Facebook: www.facebook.com/TechnologyPremierLeague2012