Optimized CX strategies, collaboration on CX design and the ability to capture data on the psychology of customer decision-making are areas where Asia Pacific sets the benchmark as the strongest performer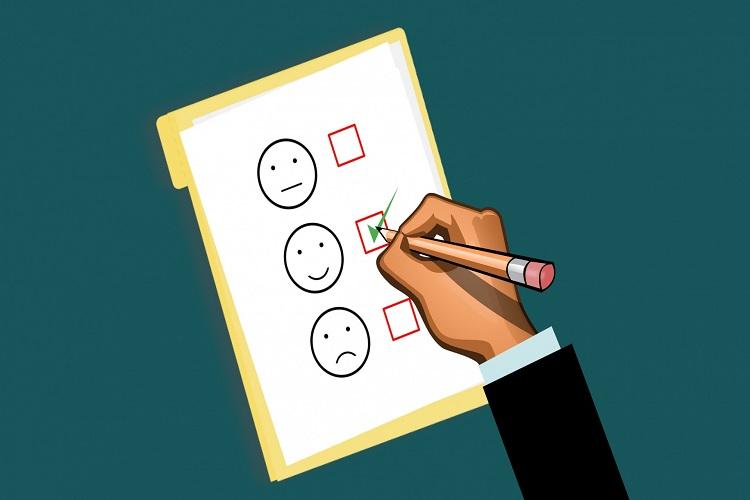 Many a times, customers have high expectations for on-demand transactions and hyper-personalization. However, organizations most often fail to meet these expectations because of lack of understanding of the quantifiable value of Customer Experience (CX), lack of data management and cross-channel analytics capabilities to really understand their customers and provide context-based personalization, lack of clearly defined CX strategy and lack of foreseeing a ROI in AI technology due to limited skills, according to NTT's 2020 Global Customer Experience Benchmark Report.
So, to remain relevant in a complex, changing environment, organizations need to take the following six approaches to create more value for their customers and business.
1. Lead with CX strategy
An optimized strategy needs an organized execution framework that reaches all employees at the frontline of customer interactions. 81.6% of organizations agree CX offers a competitive edge, 58.0% say it's their primary differentiator, yet just 14.4% say it forms a crucial part of organizational strategy. Only 26.2% say the value of CX is fully defined and tracked. Rising by 36.5%, some 44.5% of organizations now operate structured voice of the customer programs to drive CX improvement and innovation.
Figure 1: Does your organization consider CX to be a competitive differentiator? (n=1,012)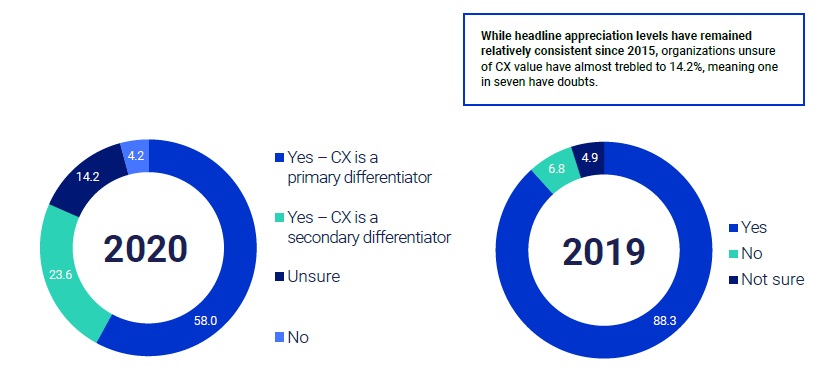 Organizations need to make effortless CX their goal, listen to their customers and benchmark their progress against the organizations making significant progress in this area. It is important for them to understand the value, risks and opportunities of CX to be personal and proactive and harness data, design intelligent processes and implement automation and AI at appropriate points.
2. Understand customers
Data management is one of the most important and innovative areas for organizations seeking to realize the benefits of a CX strategy. 73.6% of organizations operate without enterprise-wide CX analytics systems. 50.3% are not aligning data capture needs with desired business outcomes. Just 32.1% say they're able to perform analysis that considers data relationships across CX touchpoints.
Figure 2: How do you use analytics and data visualization tools to gain a consolidated view of CX? (n=607)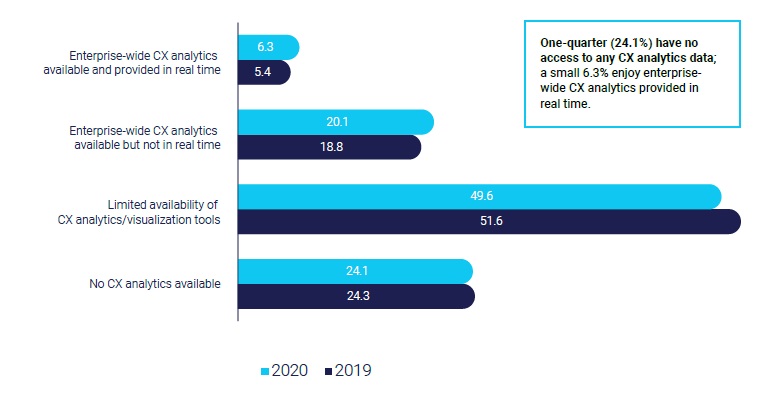 Taking an iterative approach to implementing CX solutions will help organizations realize a return on investment, fast – provided they can use data to make improvements on the fly. This approach will go a long way to building an agile CX ecosystem that allows organizations to change direction as needed, always with a line of sight back to business outcomes.
3. Personalize experiences
Personalization remains critical to achieving customer connectedness and extending customer lifetime value. To show that organizations value their customers, they need to present personalized offers based on what they value. The number of organizations advancing some form of personalization capability has surged, rising from 50.3% to 76.8% in one year. Only 27.7% have access to context-based advice that directs relevant customer engagement based on recent contact. 13.5% have access to fully automated systems that enable proactive engagement; 3.5% of these have implemented predictive systems to help anticipate future needs.
Figure 3: To what extent are you able to personalize your customer experiences? (n=630)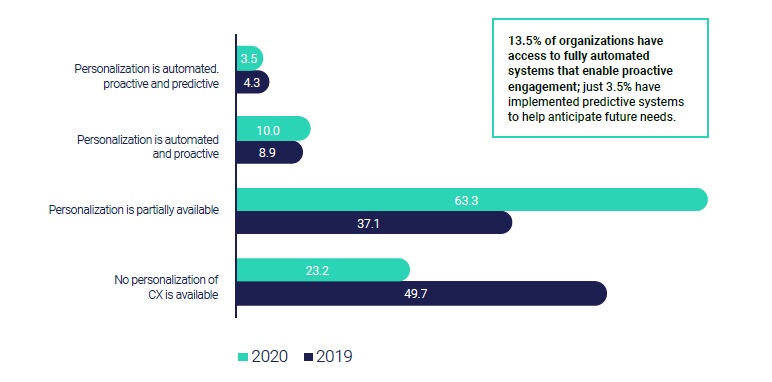 Marketing is increasingly at the center of CRM. A marketing hub that connects an organization's website, sales, quality assurance and other systems can gather information from all customer touchpoints. Underpinned by strong data tools, a logical layer can then apply the machine learning, neural nets and algorithms that will help employees respond with the right message.
4. Engage through omni-channel
The strategic intent for CX and omnichannel strategies is there. How this translates across the organization is where things are getting stuck. Most organizations engage via eight contact channels, yet two-thirds (66.4%) have no cross-channel contact management strategy. Only one-quarter (24.2%) of CX teams are fully collaborating to define customer journeys and design CX. Just 24.5% claim good or complete consistency as CX remains hugely erratic across contact channels.
Figure 4: What customer contact channels do you provide now, or have planned? (n=817)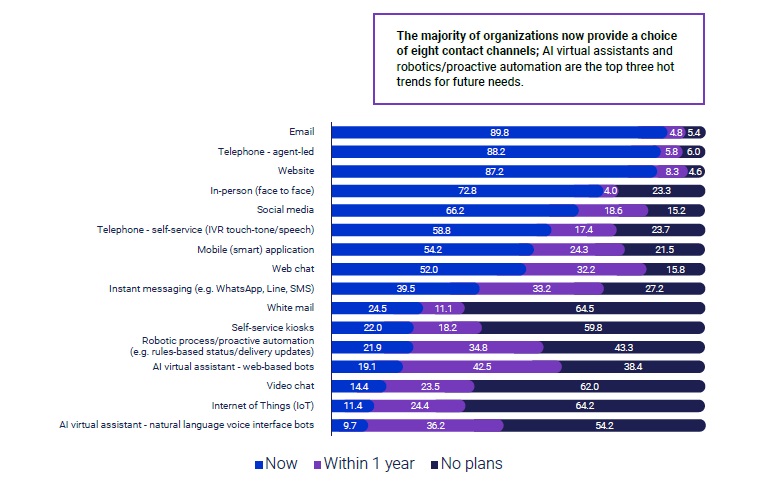 It's easy to get distracted by the promise of new technologies, but CX is not about following technology trends. Top performers disrupt and create their own trends. If organizations want to make an impact on their customers, everyone in the organization needs to focus on solving problems for both their customers and the business.
5. Automate intelligence
The path from laboratory to production is often a long one. The field of automation is littered with dead proofs of concept (POCs) that could never make it to the production floor. 77.4% of organizations believe customer operations will be positively affected by AI and CX robotics. 84.6% of users say less than 25% of CX activity is being handled by AI and/or robotics; the lack of data science and data programming skills is the standout challenge for 56.1% of organizations. Just 32.1% of users say AI/robotics are meeting or surpassing expectations.
Figure 5: Which business functions are most likely to be positively impacted by new AI and/or robotic technologies? (n=677)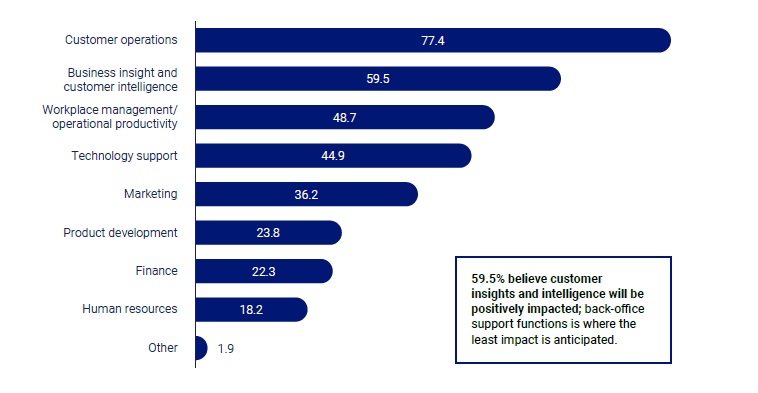 Advanced digital technologies such as AI and machine learning are still in the development stages in CX. While not to be ignored, they can't form the basis of a near-term plan. A gradual path that starts with robotic process automation (RPA), moves to rules-based voice agents and finally to AI-powered automation, should become the framework of a long-term plan. Organizations need to automate appropriately to drive productivity and reduce effort that enhances CX and puts it at risk.
6. Optimize performance
Customers are no longer passengers but drivers of the experience. To create powerful connections between the business, its employees and customers, it's necessary to optimize three things: the organization, people and technology. Organizations see the need to evolve and be agile, with one in five (20.9%) now saying they are proactive and growth-orientated; another half (49.7%) are open to change. Just 51.6% list demonstrable return on investment as a top-three measure to review the effectiveness of technology projects. 48.0% acknowledge a need to optimize the workplace environment to meet the demands of an evolving workforce.
Figure 6: What best describes your organization's approach to change? (n=954)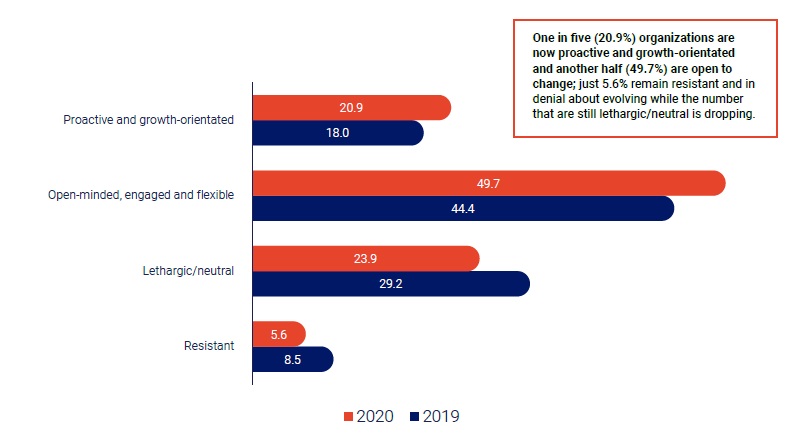 CX in Asia Pacific
Optimized CX strategies, collaboration on CX design and the ability to capture data on the psychology of customer decision-making are areas where Asia Pacific sets the benchmark as the strongest performer. Organizations in the region also have a more optimistic short-term view of CX automation. Channel management, CX metrics and customer feedback mechanisms are not as strong as in other regions.
12.0% of organizations in Asia Pacific say their CX strategies have progressed to an optimized state – double the average of just 5.9% for the rest of the world. They also have higher cross-functional collaboration: 36.7% say business functions fully collaborate to define customer journeys and design CX versus an average of just 19.1% in the rest of the world. Asia Pacific is at the forefront of capturing data on customer psychology and emotional movement behaviours. One-fifth (20.1%) of organizations are tracking these decision hotspots – more than double the average of those in other regions (9.3%). Asia Pacific is ahead of other regions in terms of digital transformation and the full automation of CX elements. Organizations in Asia Pacific have a much more ambitious short-term outlook on how AI and robotics will reduce their reliance on human resources/employees: 31.5% believe that over half of the CX activities currently administered by human employees will become automated by 2022. Outside the region, the forecast is more conservative, at just 9.9%.