The key attributes of a digital leader and how and why they are important….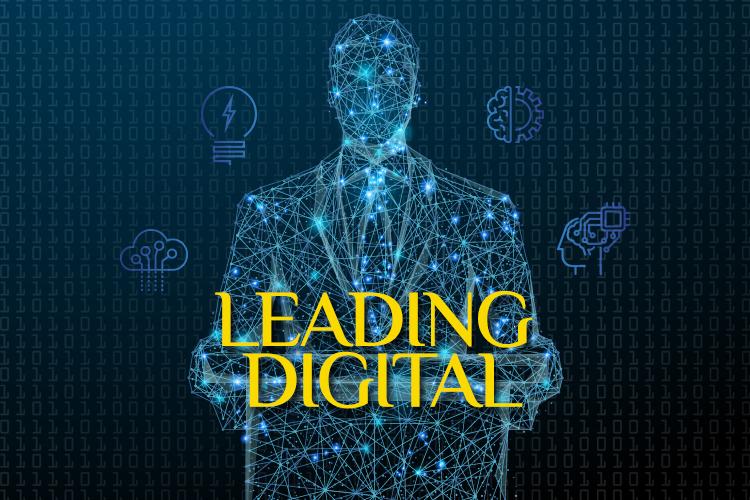 "60-70% of the transformation journey is actually about bringing a culture shift" - Nischal Gupta, Chief Transformation Officer, Sterlite Tech
By this time, you are probably more than convinced that digital is not another flavor of the season. It is here to stay and it is changing the business for real.
But have you felt that while your organization is going all out for digital, there is something missing for you? You are involved, but not quite in charge.
Your apprehensions are not quite baseless.
By the end of 2017, Corporate India had 44 designated Chief Digital Officers/Chief Transformations Officers, not counting those in ad/marketing agencies. Only 13 out of them are with a tech background. That is less than one-third. And just three of them handled both CIO and CDO roles. That is less than one out of ten.
Is the digital revolution just passing Enterprise IT? Is technology today too important to be left to technologists?
Not quite. At least not yet. But such an eventuality is not entirely implausible. Bad news is: Your worst fear may come true. Good news is: You can take the issue head-on.
Many digitals; many digitalists
To answer this question, we need to step back a bit and try to understand what exactly do organizations mean when they say digital journey?
"Transformation is a customized recipe for each organization," says Nischal Gupta, Chief Transformation Officer of Sterlite Technologies, a Vedanta Group-promoted, public listed company that is transforming from a cable manufacturer to a telecom solutions company.
Naturally, the role that each of the components play in the transformation—technology included—would vary from company to company, which, in turn may influence how they look at the role of enterprise IT too.
But a bigger factor is the 'multiplicity' or 'vagueness'—depending on which side of the debate you are in—of the word 'digital''. Organizations may refer to very different things when they say 'digital' or 'digital transformation'.
"Not many companies come to us saying they need to hire a digital transformation head. People are more precise about what they want," says Maneesh Dube, consultant and Head of India Ops at top executive search firm Russell Reynolds.
He puts the digital journeys into roughly three baskets.
First is the quick-impact changes around front-end customer facing activities. This is often to show that you are keeping with the times, in the eyes of the customer. Typically initiated by B2C companies, the journey is marked largely by better use of digital media leading to better customer experience and often, efficiency gains. The change at front-end, though it does impact some of the backend processes, does not necessarily need the entire organization to change.
"This is not really transformation but very much a full-fledged digital journey. The kind of people who are expected to lead this journey are those who understand consumers well, like marketing people," says Dube. Examples include Uma Talreja, CDO at Raymonds, Ajay Kaul, CDO at Mahindra Holidays and Anjali Malhotra, CDO at Aviva India.
"Not all digital is digital transformation," he reiterates.
The second category consists of organizations where huge white spaces exists that can benefit significantly through application of tech; i.e. ICT has not been applied to those operational processes. The most common example is core manufacturing where application of technologies like IoT and robotics in plants is bringing about huge efficiency gains leading to significant impact on bottomline. In such organizations, digitalization, as they often call it, is actually about application of technology to new areas.
Dube says typically such organizations look for good IT people with significant exposure to the specific business. Most of the Vedanta Group companies such as Sterlite Copper, Sterlite Power and Sesa Goa are examples of such companies. All the CDOs are tech people but are not directly handling traditional enterprise IT. In Sterlite Copper, for example, the Head of IT reports to the CDO Amitabh Mishra, a career IT professional who has spent years in similar industries including in GE, a pioneer in Industry 4.0—the holy grail of all manufacturing companies at present.
The third, which many refer to as the real transformation, is where digital transformation is about organizational change management, digital being just a lever. The actual task is integration of various functions and processes with target outcomes being significant shifts such as huge efficiency gains across organization (as opposed to specific processes in the above case), new revenue streams or even completely business model shifts. At the core of this transformation is culture shift.
Organizations taking this route usually prefer core business people who do not just understand the business but have "been there, done that" to drive the journey. Of course, they are executives with a mindset to innovate and are comfortable with disruptions; very often with a good sensitization about big changes happening to technology landscape.
Examples include Nischal Gupta of Sterlite Tech; Sarajit Jha, Chief Digital Value Acceleration at Tata Steel; Ritesh Pai at Yes Bank and the CDOs in most insurance companies.
Theoretically, these could even be smart IT people who understand the business, both at an operational and strategic level and have the above skill and mindset attributes. At this point, however, very few of the actual leaders leading this kind of transformation hail from enterprise IT background.
There are exceptions, though. Companies where outlook towards technology is mature and organizational culture shift is not a huge part of the overall brief—like tech companies, online businesses, private banks—good enterprise IT managers are often entrusted with the task. Both Anjani Kumar, CDO of Collabera and Mandar Marulkar, CDO of KPIT (both IT companies) have enterprise IT background. And both of them still handle enterprise IT for their organizations, fully or partially.
However, as pointed out earlier, these industries are exceptions, rather than the rule.
India, Inc. has actually discovered its own sweet spots to source this kind of talent. The tech-leveraged start-ups and India's large tech companiesare good breeding grounds for digital leaders with just the right balance of skills and understanding. Gupta of Sterlite Tech actually came from Flipkart; Aarthi Subramaninan, CDO of Tata Group has run line business in TCS and Jaspreet Bindra, ex SVP, Digital Transformation of Mahindra & Mahindra spent years at Microsoft.
Gap Analysis: Why so few CIOs handle digital transformation?
The idea that CIOs are the natural driver of digital transformation is rooted in a superficial understanding of the concept of digital transformation, which identifies it with technology. Over the period, it has been strengthened largely by the technology vendor community who use it to pitch their products. Most CIO forums and discourses are also based on this implicit assumption. The fact that most CIOs today are far more business savvy than ever is used to support this proposition.
As the data of CDOs and transformation heads show, this is clearly not the case. Very few CIOs actually drive digital transformation. 
Our recent research for sister publication CIO&Leader on digital transformation in large Indian companies provides some of the possible explanations. We say possible because 'whether CIOs should drive transformation' was not an explicit research question. Our focus was on understanding the transformation at the ground level.
Here are some of the findings that can point to an answer.
The shift to Outside-in regime. Traditionally, tech has been applied to solve an existing business problem/requirement. In the digital era, where the transformation is essentially digital leveraged, it is the other way around. Look for new tech, quickly gauge if it has a scope to make big changes to your business, articulate that and convince the top management of the value that it can add to your business and how. 'How' has a fancy name: use case. So, in that sense, it is technology first. And the approach is outside-in.
Ironic as it may sound, this is what many see as loaded against the CIO. Traditionally, you have a business requirement which tech can help fulfil. So, the CIO is either given a clear-cut problem statement or in best of cases, he can work that out based on his interactions with various executives. But he needed that problem first to proceed. It is the classic inside-out.
It is not difficult to figure out these two require very different types of thinking. The best CIOs have been master problem solvers, who also understand business thoroughly but their ability to draw on blank canvas is unproven. For a successful line business manager, on the other hand, it has always been grabbing the opportunity present, without waiting for a clear definition.
Risk-taking is core to a CDO's role. Ability to take risk was pointed by most practitioners and consultants as a key requirement for the CDO. 
"The CDO has to do a lot of new things, new innovations, often unproven, many of which may fail," says Dube of Russell Reynolds.
"The CIO's mandate is to run business-as-usual as reliably as he can. Even a small failure may bring business to a standstill," he says. This means as much de-risking as possible.
Understanding India's CDOScape
Based on analysis of 44 Chief Digital Officers (CDOs) in India, Inc. at the end of 2017, this provides an insight into the demography of Indian CDOs.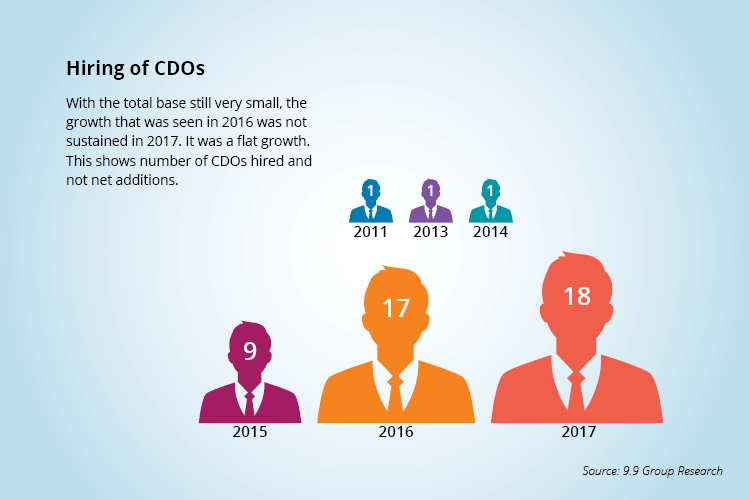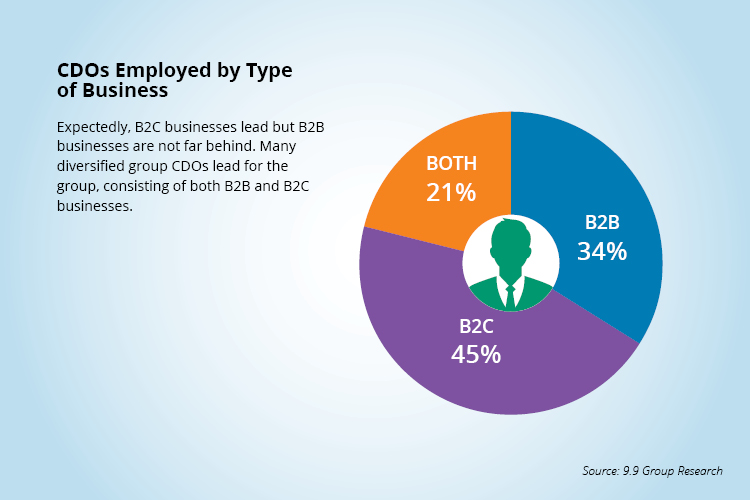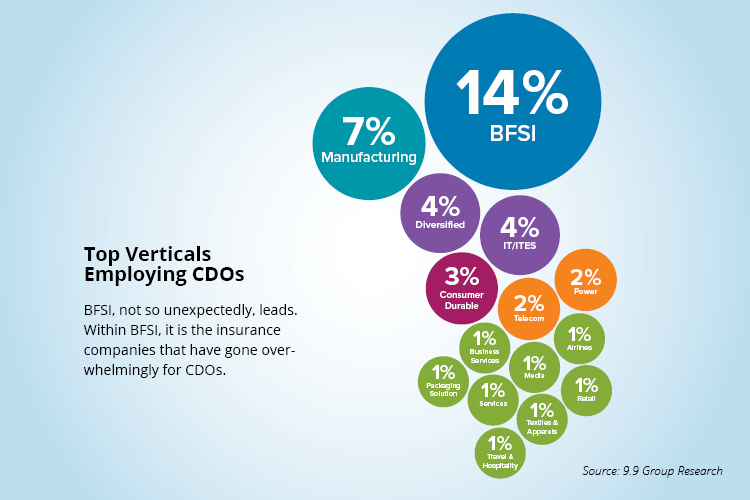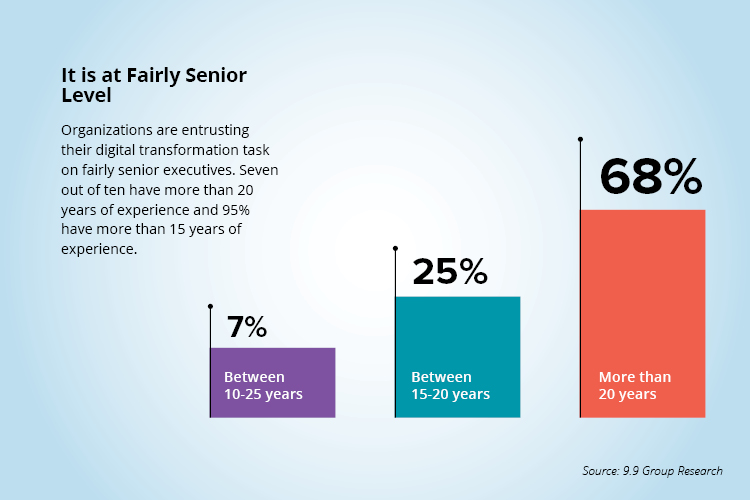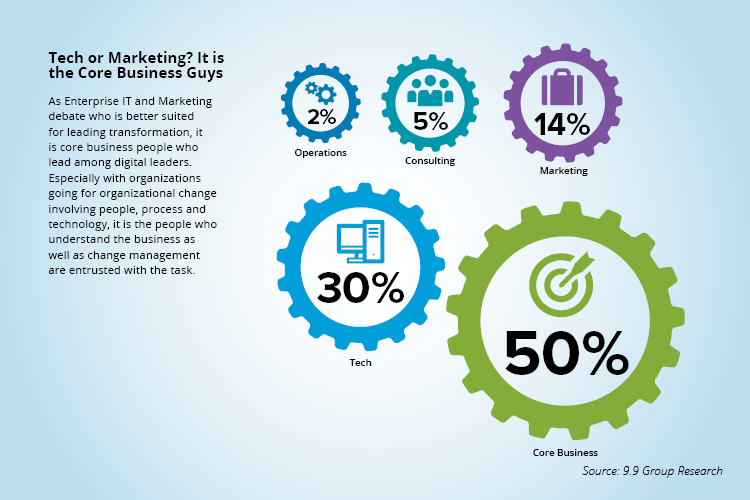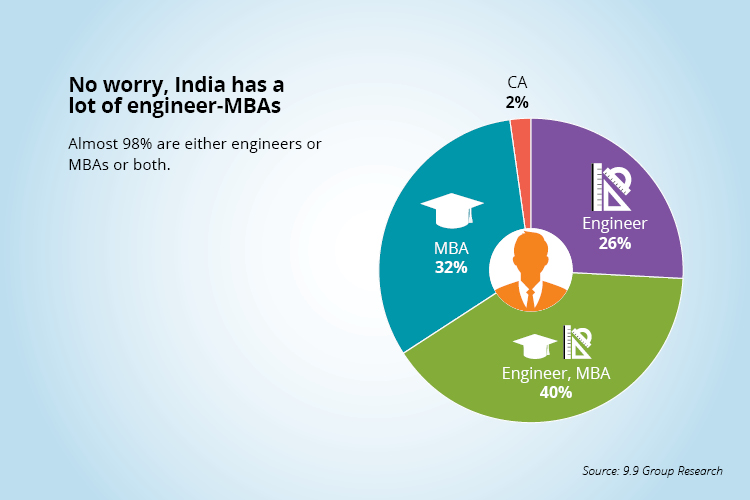 So, another perceived gap is the gap in mindset, specifically when it comes to risk taking.
It is the CIOs themselves. One of the few points on which there seem to be a near-complete consensus among digital leaders, other CXOs and consultants is that only a senior, dedicated executive can drive digital transformation.
'Dedicated' is the keyword here. The current thinking is that driving digital transformation is a full-time job. It cannot be just another KRA for some executive!
It is not too difficult to explain why. A typical transformation journey, especially in a traditional business, could involve a lot of time and focus to prepare the organization before it could leverage technology.
"60-70% of the transformation journey is actually about bringing a culture shift,' says Nischal Gupta, Chief Transformation Officer at Sterlite Tech. Almost all executives we spoke to identified culture shift as the toughest part of the transformation journey that requires undivided attention.
That can be manifested in a lot of discussion with other C level executives, creating communication programs for all employees, branded programs and a lot of similar stuff. The organizations are not convinced that an executive who is also monitoring a datacenter migration or fire-fighting a ransomware attack could effectively have the kind of focus that transformation requires.
Gupta of Sterlite Tech says one of the specific objectives of their transformation journey is "to free up the minds of every leader to focus on value addition rather than getting stuck in the business as usual in the day-to-day basis."
How can you do that, if you yourself are stuck in business as usual?
What it means is: A CIO cannot be entrusted with digital transformation while he is still in charge of datacenter rollouts or enterprise software implementation or laptop purchases.
Unless CIOs are willing to give up that role, other debates about their competences and skills are meaningless. A dedicated resource is a non-negotiable requirement from the CEO and board. Digital transformation is not a task. It is the single-most important initiative for an organization choosing that path. It cannot be handled along with datacenter rollout.
But why are the CIOs so keen on continuing with the nuts and bolts? "Many, for some reason, think their importance in the organization is directly proportional to the budget they handle," says a CIO-turned-consultant.
Despite being well-sensitized to the fact that their real contribution comes from business value they create, many CIOs cannot just think of giving up on their traditional role to take the new challenge.
So, while there are organizations that have people with enterprise tech background heading the transformation role, they are not in-charge of enterprise IT – the IT for business as usual.
Closing the gap
The new generation of IT leaders who are beginning to take over from the older generation of CIOs do not come with that mindset baggage that budget is everything. Their grasp of business is far better. And their generation, as a generic attribute, is far more willing to experiment. So, they can be good risk takers too.
The continuous sermonizing by the seniors that they need to be business savvy makes many feel defensive about tech. The new regime requires them to be proactively tech savvy, not just understanding technology but hunting for new technologies with full understanding of their own business to figure out if it can add value. They need not fall in love with one technology and make it work somehow. The organizations still need such people who will do so. Don't worry, enterprise tech will change too.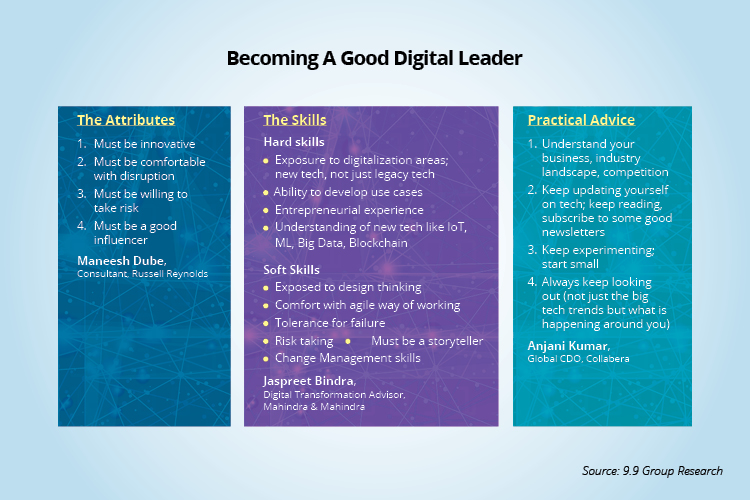 Anjani Kumar, CDO of Collabera, who himself moved from an Enterprise IT role to CDO role has the following advice. "Understand your business, do innovative thinking, do not be afraid of experimenting," he says adding that they must also be "customer advocates."
"If you understand business, understand technology and genuinely become a customer advocate within the organization, there's a fair chance that you would be a good digital leader," says Kumar.
It is difficult to cope with the fact that you will have to willingly dilute your 100% track record that resulted in your fast-tracking. Because, with unproven tech and newer business models, if you have a 100% success record, you have either been lucky or you have not tried enough. Few in corporate life will go by the first conclusion.
In short, all you need to realize is what brought you here will not take you there.
Attributes & Attitudes
We asked the practitioners as well as other stakeholders what are the skills and attributes of a good digital leader.
Here are some of the common traits that came out.
Maturity
1.         They need not underestimate the value of tech in business
2.         They must not overestimate the value of tech in business
3.         They must be willing to 'let go'. Obstinacy may be a virtue for a basic researcher, not for a digital leader
Culture & Change Management
4.         They must be restless about status quo; must be change agents
5.         They should understand their organizational culture well
6.         They must understand the relationship among people, process and tech and realize that all changes start and end with people
7.         They must have excellent interpersonal skills (i.e good at relationships, not making impressive power points)
Risk-taking
8.         They must be comfortable failing once in a while
Outside-in
9.         They must understand—and continuously update themselves—about how tech landscape is changing
10.       They must understand basic business dynamics fairly well and understand their own industry very well
Strategic Ability
11.       They must be good design thinkers
12.       They must be comfortable with chaos and haziness
As you may notice, some of these—probably everything other than risk taking—are desirable attributes of a CIO too. Quips Kumar, "Well, the desirable qualities of a good new generation CIO are the essential qualities of a CDO."
We could not have summed it up better.
Endnote
The digital game has just begun. Smart IT managers still have a chance to grab the opportunity. Knowing what they have achieved over the years, there is little doubt that they can acquire new skills needed for the new era.
Whether we see enough digital leaders, from among the IT leaders, rests then, on one major variable: their ability to let go. Their ability to defy gravity.