The first in our series of understanding digital transformation in India, especially in the core sector…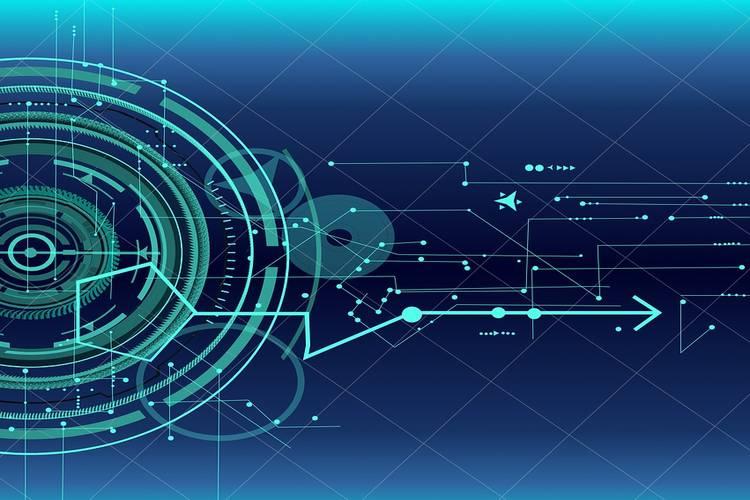 Digital transformation is arguably the most used (abuse is also a use) catch-phrase of our times? All vendors—selling connectivity to anti-virus and all things in between—promise to enable your digital transformation journey, adding their bit of definition of 'real' digital transformation, in the process.
This continuous sermonizing on transformation—coming right from global think tanks to your local recruitment agency—inspired us to look beyond those gems of wisdom and get to the bottom of it, asking a simple question.
What exactly is happening in India as far as digital transformation is concerned? To be able to do justice, we focused only on core sectors—where the need for big scale transformation is more acute.
To ensure that we get into the depth, we decided to cut down on the breadth. We decided to restrict ourselves to just three of the large business groups in India who are strong players in businesses that have crying needs for technology-enabled transformation.
Those groups are Tata, Mahindra&Mahindra & Vedanta/Sterlite—three of the largest, most forward-looking businesses who have strong play in businesses that need significant transformation.
Within these groups too, we selected only those businesses that have a dire need for transformation. So, instead of a TCS or a Mahindra Holidays, we wanted to focus on the journeys at Tata Steel, a large manufacturing company and Mahindra Finance, which primarily operates in rural areas of India. 
Here are the imperatives behind the digital transformation initiatives of these companies.
The Imperatives
Why was this transformation necessary? And how is this round different from the past changes? After all, changing business processes is something businesses are not trying out for the first time! 
"Applying technology to business needs has been done since ever…but what is happening today is – you can impact all the three layers, strategy, product and processes today which was not possible earlier," says Sarajit Jha, Chief, Digital Value Acceleration at Tata Steel, one of the largest manufacturing companies in India and a leading steel company globally
Newer companies are, of course, in better positions to take full advantage of the new regime. And they are disrupting age-old business models. Earlier, an aggressive new challenger would look at taking away your market share; now, it can make your business irrelevant.
Adds Jha, "You rework your products/processes/strategy to remain relevant. If you don't, there is a large price to be paid. "Yesterday, it was excellence that was driving the change; today, it is survival."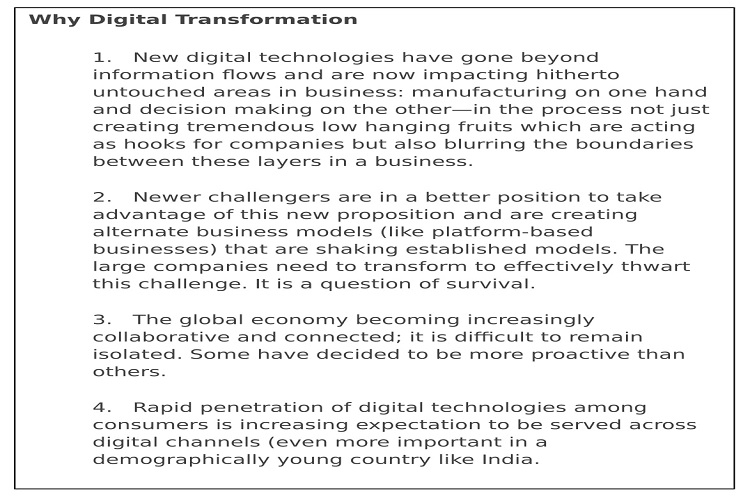 These are the companies that have taken a proactive stance to be on top of that change, rather than being pushed to act.
That is what Dr Anand Agarwal, CEO, Sterlite Tech says quite unequivocally.
"We are dealing with telecom companies, social media companies, cities. And we see each of them is itching to transform—to become significantly different from what they are," he says.
"We clearly realized that if we need to continue to be relevant in this ecosystem, for us to rapidly transform and create a lead and enable our ecosystem to transform is an obvious requirement. We have to transform and we have to drive this transformation that is taking place," he adds.
Sterlite itself is changing its positioning from a cable manufacturer to an integrated telecom products and services company rapidly.
"To enable external transformation, we have to do a lot of internal transformation. And that is what we are driving," he adds.
It was similar environmental changes that made Mahindra Finance take up transformation significantly. The company, that operates in rural India, was finding that the world was digitalizing and there was need for it to better customer experience not just by providing information and interactions over mobile phone, which by now has become ubiquitous, but also by bettering customer experience by cutting down on decision cycle time.