The non-cloud datacenter hardware and software spend has dropped to pull down the overall market growth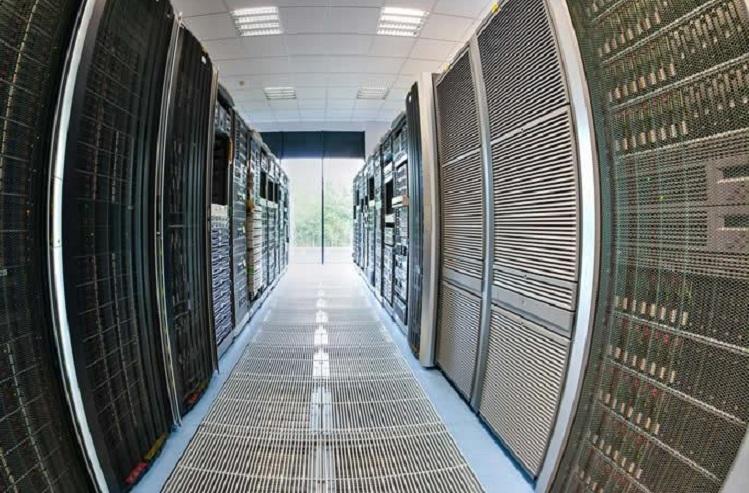 In what could be seen as yet another testimony of a definite trend of a shift to the cloud, the quarterly datacenter infrastructure spend by the public cloud segment has seen an impressive growth between 2015 and 2017, even while the overall market remains flat between Q2 2015 and Q2 2017.
According to new data from Synergy Research Group, quarterly spend on all datacenter hardware and software has grown by just 5%, while the public cloud portion has registered a growth of 35%. The private cloud infrastructure market has grown by 16% in this period. The non-cloud datacenter hardware and software spend has dropped by 18%, pulling down the overall market growth.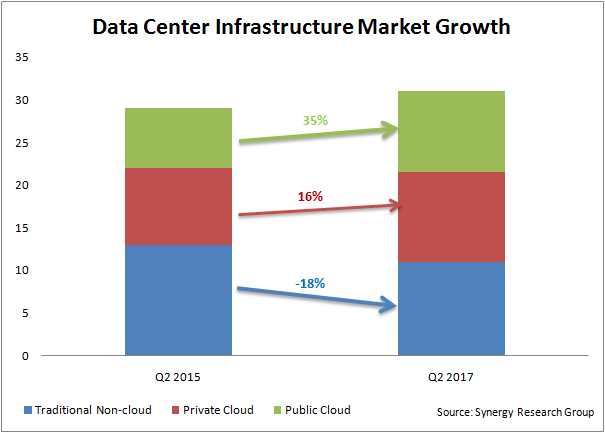 In the public cloud market, Cisco is the leading individual vendor, followed by Dell EMC and HPE, while in the private cloud segment, Dell EMC led, followed by HPE and Microsoft. 
Total datacenter infrastructure equipment revenues, including both cloud and non-cloud, hardware and software, were over USD 30 billion in the second quarter, with public cloud infrastructure accounting for over 30% of the total. Private cloud or cloud-enabled infrastructure accounted for over a third of the total. Servers, OS, storage, networking and virtualization software combined accounted for 96% of the Q2 datacenter infrastructure market, with the balance comprising network security and management software. By segment, HPE is the leader in server revenues, while Dell EMC has a strong lead in storage and Cisco is dominant in the networking segment. Microsoft features heavily in the rankings due to its position in server OS and virtualization applications. Outside of these four, the other leading vendors in the market are IBM, VMware, Huawei, Lenovo, Oracle and NetApp.
"With cloud service revenues continuing to grow by over 40% per year, enterprise SaaS revenue growing by over 30%, and search/social networking revenues growing by over 20%, it is little wonder that this is all pulling through continued strong growth in spending on public cloud infrastructure," said John Dinsdale, a Chief Analyst and Research Director at Synergy Research Group. "While some of this is essentially spend resulting from new services and applications, a lot of the increase also comes at the expense of enterprises investing in their own datacenters. One outcome is that public cloud build is enabling strong growth in ODMs and white box solutions, so the datacenter infrastructure market is becoming even more competitive."