China and India will lead global growth, says a new research.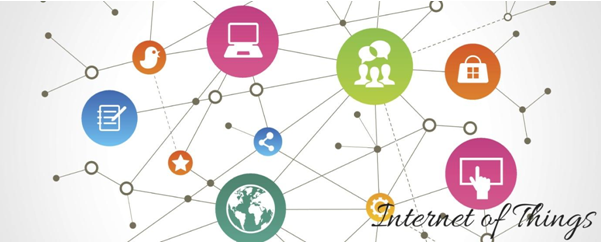 The global connected retail market size is expected to reach USD 53.75 billion by 2022 according to a new report by Grand View Research.  Asia Pacific is estimated to be the most flourishing regional market growing at CAGR of nearly 25% between 2012 and 2022. "Developing countries in Asia Pacific including China and India are anticipated to witness considerable growth owing to the increasing adoption of Internet of Things," the research firm specifically notes.
At present, North America dominates the global connected retail industry accounting for over 35% of the revenue share in 2014. Companies in this region, especially in the U.S. are investing the most in IoT infrastructure, which is projected to drive the regional growth over the next seven years.
Emerging retailing formats such as omni channel retailing are anticipated to fuel industry growth over the next seven years. Omni channel retailing offers a seamless and flexible shopping experience to customers by integrating and aligning channels. It creates opportunities for retailers to capture more sales and increase loyalty and brand awareness.
The widening presence of mobile devices and the expanded use of mobile networks such as e-commerce engines are expected to serve as facilitators for a unified online/offline retailing experience, the study notes.
Hardware segment, with 60% share of the total industry in 2014, has dominated the market over the last few years, owing to the increasing proliferation of connected devices at retailer and consumer levels. Further, hardware growth is stimulated by IoT including sensors and communication chips. RFID amongst hardware components is anticipated to grow at a CAGR of over 23%.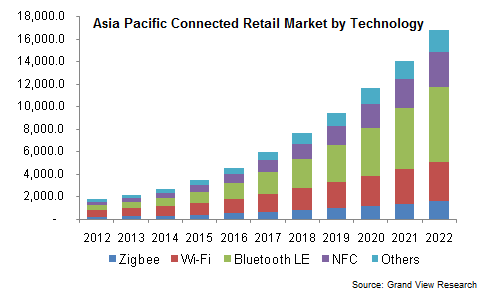 However, the software segment is expected to witness highest growth with a CAGR of nearly 24% over the forecast period. Software segment is flourishing due to increasing number of IoT applications across the industry. Retailers are increasingly adopting internet of things (IoT) to interact more with its customers and to gain a competitive advantage. For example, in December 2015, BMW UK has launched an exclusive end-to-end online service wherein customers can pick, finance and make a purchase for cars online. The aim of BMW retail online is to provide the dealer more opportunities and channels to get in touch with potential customers.